Nick van Woert: Untitled (2010)
Plaster bust and polyurethane plastic / 25.5 x 20 x 9 inches (via)
EXTRA!, May 2011: Jonathan Vanderweit

Interview by Vasi Hîrdo for Ceramics Now Magazine - Issue Two

Ceramics Now Magazine: Tell us who you are and what you do.
My name is Jonathan and I make photographs in Denver, CO, USA. I have been shooting for about ten years, but have really begun to focus on the craft of photography since early 2010. I also work as a videographer and creative director for a small nonprofit organization here in Denver.
What is your present photography project, what's its history and how do relate to it?
Jonathan Vanderweit: My work focuses on the exploration of the world around us with specific regard to the interaction between humans and the natural environment. This means finding areas where nature has begun to reclaim the world of people, which here  in the US often happens in formerly industrial/manufacturing areas as well as at the fringes of cities and towns. I love finding where our maintenance crews haven't caught up or which taken on a kind of serendipitous equilibrium between the forces of creation and ruin.

My next two photo projects are extensions on this theme. One is a series of portraits of people who wear glasses or contact lenses. The photos will be displayed in pairs, the left a normal portrait of the subject in their glasses and the right will be a shot without them.  The image on the right will have the focus corrected to account for the person's natural visual acuity, with a different effect for each person depending if he/she is nearsighted, farsighted, or has astigmatism.

The second project will use some of the locations I have discovered over the last year–walls, doorways, stairs, the urban features of Denver–as settings for exquisitely-dressed floating protagonists. These photos will explore the habitation of spaces that have previously been considered industrial or austere by inhabiting them with individuals bursting with style and weightlessness. Gven the labored past of many of these dwellings, one would expect that they be drab and deserted. In fact the opposite is proving true, homes in lofts and warehouses have strong draw for creative people and have become a highly desired place of residence.

How it all started? What was your first camera and what devices do you have now?
My first camera was an Olympus OM-1 with a 50mm lens, which was a gift from my father when I was around 15 years old. Today, I primarily shoot with a  Nikon D700 and I also have a Nikon FE2 that I use when I don't feel like carrying much, as well as a Mamiya RZ67 medium format system which is huge and exquisite serves as a constant reminder of what a camera actually does.

The instant feedback of shooting digital has accelerated my learning curve and gives me loads of flexibility when processing my images, but I will continue to shoot film for the sheer fact that it feels like creating a real thing (which makes me shoot more slowly and thoughtfully), and that the look of many film types is hard to duplicate digitally.
Kathleen Henderson: Holy Ghost (2010)
Paper, wax, wire / 16 1/2 x 25 1/2 x 9" (via)
Over the course of two posts late last week and today, I've used recent data from the Los Angeles County Museum of Art to posit this question: At what point should an art museum make general admission free to the public?
For example, LACMA derives about three percent of its revenue from admissions fees. Is that such a small amount that they'd better fulfill their mission, serve their community — and maybe their bottom line too — by going free? Read part one here.
When MAN's readers pointed out that museum membership programs — a significant source of revenue — might suffer if art museums went free, MAN asked four museums that once charged and then went free for their before-and-after membership data. (The museums: the Baltimore Museum of Art, the Indianapolis Museum of Art, the Minneapolis Institute of Arts and the Nelson-Atkins Museum of Art, which is pictured above, at right.) Their responses may surprise you. Read part two here.
(via)
Leivos is a website that features interviews and works of new and recognized illustrators and graphic artists. Shyra & Veronika are the editors.
Super talented illustrator and wonderful person from Barcelona Javier González Pacheco has found time in his busy schedule and answered our questions.
L: What drew you to illustration in the first place? Where did all begin?
J G.P: All started when my mother, when I was only a baby, showed me for first time in my life a lot of color pencils in the floor, my small hands went directly for catch the first color of my life and draw a lines, this color was the yellow, and since this time, I have a special connexion with it.
L: Describe your personal style in 3 words.
J G.P: Free squares brushstrokes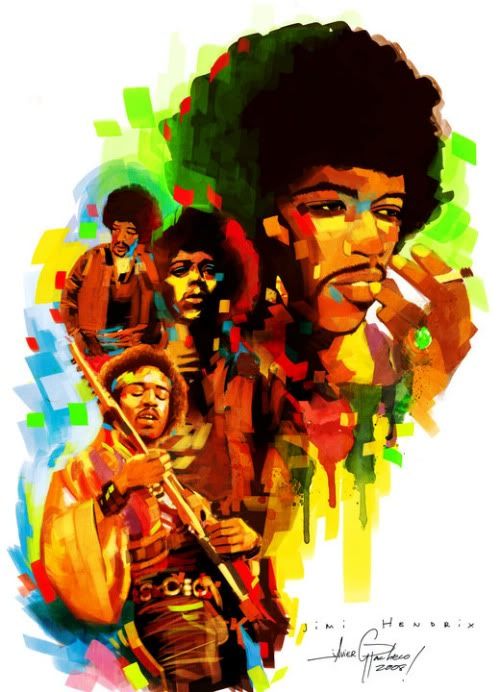 L: Your works have stunning kind of "golden inner light"! What methods do you use to apply colors?
J G.P: How I said before, I have a obsession with this "golden inner light" as you say, this yellows, this hot colors, like burning sometimes, is a pleasure for me use it, I need it, so, in the mayority of my works, you will can see always a detail in hot colors, even if is a cold illustration, sure that will have a little red brushstroke in some zone for example, I like the contrast between cold and hot colors, because I feel how the eyes and mind vibrate with this play of contrast, so infact, my method of apply colors is only painting in totally instinct way, in all my life I has been a totally observer of the nature, because is the best teacher for use the colors, you have only to see a sunset for know it, or see how some animals have a amazing mix of colors, like some frogs, some insects, the wings of a butterfly for example, or the great giant color pattern of a lot of flowers, all around you will be your teacher in the use of colors, lights, shadows, forms and much more.
 So, with all this knowledge acquired with the observation, I try to do it in my creations too, I like to work traditional and digital and I like to mix both disciplines too, when I do it in traditional style I use watercolors, acrylics, ink, graphite of different hardnesses, calibrated markers tip, pens etc, when I work in digital I use Photoshop, creating my own brushes and textures, and sometimes, what I said before, I mix traditional and digital, painting a base in the old fashioned way, scanning thousands of things in search of textures, mixing traditional strokes with digital strokes, I try to create confusion for the people don´t know what is digital and what is traditional. 
L: Do you love to travel? What is your typical day like in Barcelona?
J G.P: Yes, I like to travel, is a way of learn too about all, for the life, for be good with myself and for inspiration, a travel always activate me the desires of paint, I can´t stop of do what I love, so I will have always a moment for draw something, even in the corner of a paper napkin of a pub, I will have the necessity of draw some stupid thing!.
  My days in Barcelona are very simples, I like a lot to be with my friends that, as me, they like, value and love the art in all the giant aspects that have this world, so for me, I enjoy of a good afternoon of talk, drink a beer in good company and eat some "tapas"!, but the most important for me is walk, I need to do it, because is my moment of me with myself, looking the city, the lights in the builds, the persons, their expresions, as I say before, all around me is my teacher for create, so this is my moment of study and learn, I feel very good after a good walk, I feel more clear my mind and I like to thought the next works and ideas while I´m walking. 
L: Who inspire you - some famous people or maybe your friends? 
J G.P: I love the expressionist painters like Klimt, for his use of the decorative elements with the human forms, Egon Schiele for his style doing the anatomy and faces and his strokes, and the mix of colors of Kandinsky, a lot of cómic artist too like Bill Sienkiewicz, Ashley Wood, James Jean, Sean Phillips, Brian Bolland, Alex Ross, Teddy Kristiansen, Tim Bradstreet, Travis Charest, Dave Mc Kean, Mignola, Drew Struzan, John Bolton, Scott Hampton, P. Craig Rusell, Frank Miller, Miguelanxo Prado, Dave Johnson, Dave Gibbons and much more, and of course, I admire great friends and amazing artists  Bruno Redondo, Iban Coello and  Sergio Sandoval.
L: What can we expect from you in the nearest future?Any projects?
J G.P: The life of an illustrator is always a surprise!, anyway, in this period, I´m concentrated in editorial works.
L: If you were a superhero, what would your special powers be?
J G.P: For me the best power would be teleportation:
"All the day painting, so tired, ehmm, let´s go to Miami Beach! (teleportation now!)"
"I have to draw a lion, let´go to Africa! (teleportation now!)"
"I need a break!,  would be a pleasure feel free sensations in Big Canyon, let´s go! (teleportation now!)"
Yeah!
Thank you Javier!
http://javiergpacheco.blogspot.com/
→ Like Leivos on Facebook.
(Source: leivos)
Paul Carey-Kent's Top 10 London Shows for April
The most literal kind of figurative is figures themselves: they haven't always been fashionable but there are plenty around at the moment, ranging from Nancy Spero at the Serpentine to Bill Viola at Blain/Southern to the examples (more to my taste) with which I start, before moving on to works which evoke people less directly… (via)
(Source: saatchiart)
Moonwalker by Lemke Patrick / Oil On Canvas / 2007
From the The 2K11 Collection, Saatchi Online's Collection of the Week.
(via saatchiart)
Sol LeWitt: Scribble Wall Drawing #15 (detail), 2007. Graphite 152.4 x 152.4 cm / 60 x 60"
(Source: rerylikes)
The Killers - Romeo and Juliet (Dire Straits cover)