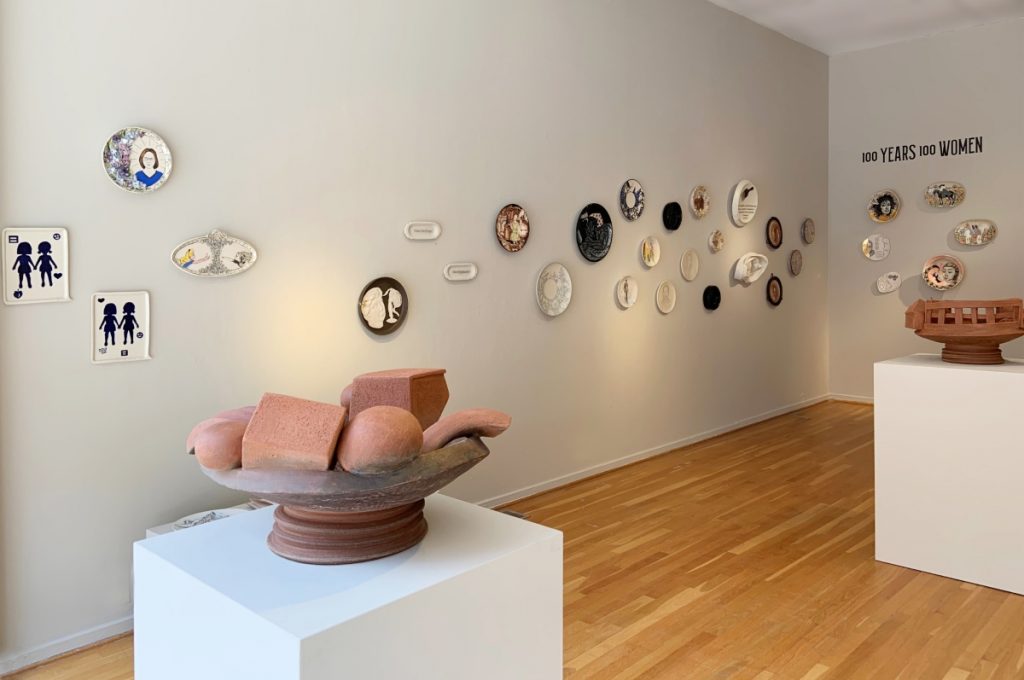 100 Years 100 Women, a ceramics exhibition celebrating women is on view at The Clay Studio, Philadelphia
August 18 – September 27, 2020
August 18th, 2020 marked the 100th anniversary of the ratification of the 19th Amendment, giving women in the US the right to vote. The Clay Studio is using the anniversary as an opportunity to celebrate the work for women's rights that has been done, while simultaneously acknowledging the work that remains. Women have fought hard in so many ways, against extreme injustice, to gain a foothold for themselves and others, for their children, and for all children. This work, both public and private, is deserving of celebration and admiration.
For 100 Years 100 Women, The Clay Studio invited 50 artists to each choose two women they admire and honor them by making a modern-day commemorative plate. Diversity and perspective were core to the development of the exhibition. The artists selected to participate reflect the true wide range of cultures and gender identities of people making art in clay. By choosing artists across cultures and gender identities, The Clay Studio welcomes an illustration of women important to each artist within their varying experiences. All perspectives on this topic were welcome as well as a wide definition of women, transgender, and female identifying people. Plates honor such respected women as American abolitionist and political activist Harriet Tubman, politician Stacey Abrams, German Sea Captain Carola Rackete, and even artist Grace Tessein's grandmother, Florence Bracaglia. Artists participating in 100 Years 100 Women include Syd Carpenter, Katherine Hackl, Ryan Kelly, Ahrong Kim, Gunyoung Kim, Jennifer Ling Datchuk, Roberto Lugo, Stephanie Osser, Isaac Scott, and Alex Stadler.
"We are thrilled to present 100 Years 100 Women as a thank you to all the women who have come before us and are making a difference today. The heroes highlighted in the exhibition are diverse, embody the spirit of female empowerment, and deserve recognition for their contributions to society," said Jennifer Zwilling, Curator of Artistic Programs at The Clay Studio. "The goal of 100 Years 100 Women is to present a gallery of heroes who will inspire us to keep fighting for justice and equality."
About The Clay Studio:
The Clay Studio is a nonprofit arts organization with internationally renowned artist residency programs, classes and events, exhibitions, community engagement programs, a shop, and more. We serve as a place where established and emerging artists come to shape their careers, a vital resource for arts education at local schools and community organizations, and a destination where people from all walks of life can explore the vast world of clay.
Contact
215-925-3453
info@theclaystudio.org
The Clay Studio
137-139 North 2nd Street
Philadelphia, PA 19106