Adam Shiverdecker is a sculptor and educator living in Berkeley, California and is Associate Professor of Spatial Art at San José State University. He has held multiple artist residencies, including The Archie Bray Foundation for the Ceramic Arts, Greenwich House Pottery, and the Tyler School of Art. His work has been included in numerous solo and group exhibitions at venues including: The Museum of Craft and Design (San Francisco), Everson Museum of Art, The Nelson-Atkins Museum of Art, Kimball Art Center, Greenwich House Pottery, and San Jose Institute of Contemporary Art. He holds a B.Ed. from The University of Toledo (Ohio) and MFA from The University of South Carolina.
Visit Adam Shiverdecker's website and Instagram profile.
Featured work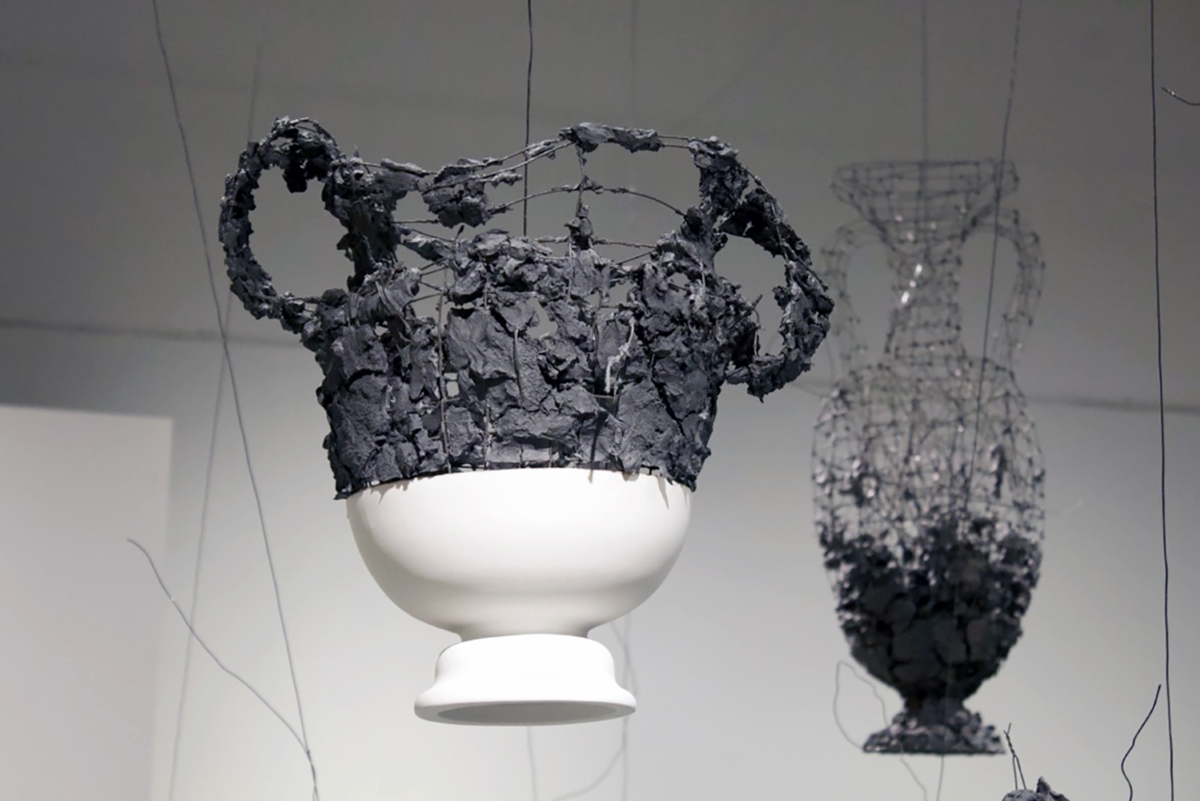 ---
My work imagines what would happen if the entire military arsenal were simply pushed into the ocean. I'm a committed pacifist, but I am also drawn to the sleekness, the power, and the materiality of machines of war. My work attempts to represent my ambivalence to icons of military might by taking the forms of fighter jets, submarines, and missiles and denaturing their surfaces. By reforming weapons out of wire, I reference both the practice of children's war games and modeling, as well as everyday forms of construction like fence-building. I then coat these structures in irregular amounts of clay, allowing for an arbitrary amount of decay. It is this fantasy of decay – of a culture that could regard weapons of war as follies, as disintegrating monuments to an earlier era – which my work tries to trigger.

I also apply this logic to historical forms, specifically Greek ceramic vessels. These vessels represent an ancient culture that both celebrated and venerated conflict and war by depicting scenes of Greek soldiers and gods alongside each other. My process of creating forms from wire and then coating those forms with clay and allowing the clay to fracture over the wire forms, eluding to forces of decay, speak to a culture's disintegration as this seems to anticipate elements of our own bellicose culture.