Ceramics Now is a digital publication. The printed magazine was published between 2011-2015.
Ceramics Now Magazine is a journal that invites us to think about the various facets of contemporary ceramics and its creators by publishing thoughtful interviews and articles.
The journal is published independently and is advertising-free, with 124 pages perfect bound in full color and printed on quality paper with a matte cover. It is also available in digital format, to enjoy reading on your desktop, tablet, or phone.
Ceramics Now Magazine Issue 3 is our latest issue (published in 2015) and features six articles and 34 in-depth interviews categorized into five sections: Environments and Perspectives, Corporealities, Material Reflections, Terra Nova, and Spiritual Territories.
If you'd like to receive articles, interviews and news in your inbox, subscribe to our newsletter – Ceramics Now Weekly.
The print magazine is sold out. Only the digital issues of Ceramics Now Magazine are available for purchase.
Buy the digital issues of Ceramics Now Magazine
---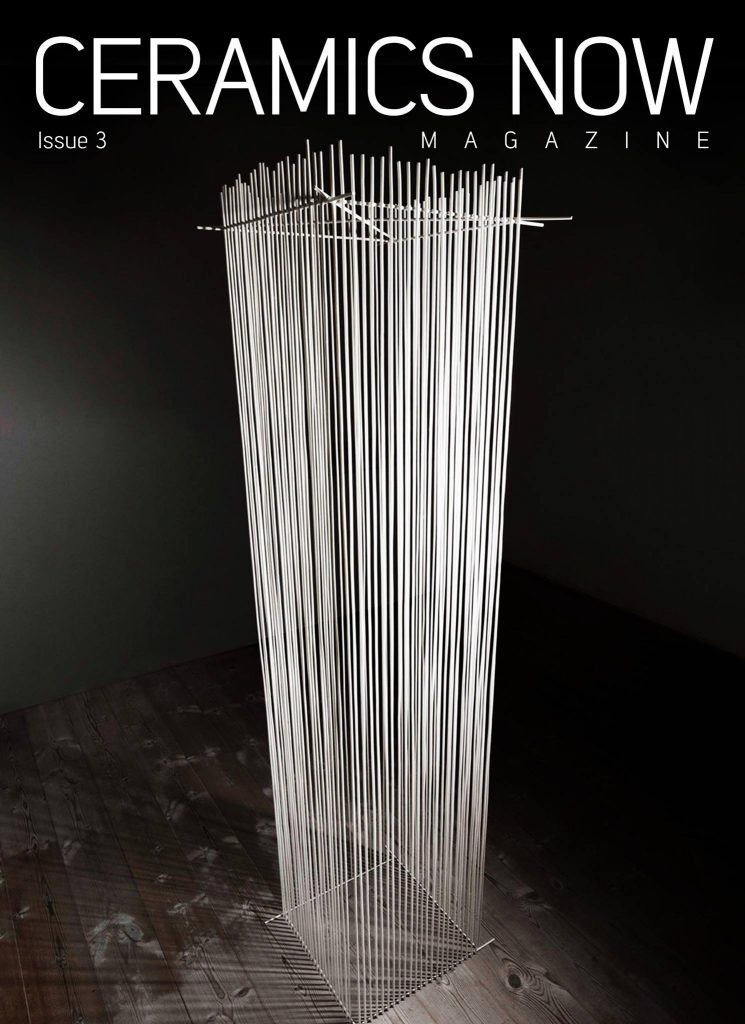 Ceramics Now Magazine – Issue 3
Artists interviewed in Ceramics Now Magazine Issue 3 (alphabetical order): María Albornoz, Jamie Bates Slone, Ester Beck, Wilma Bosland, Andrew Casto, Alfonso Espronceda, Magda Gluszek, Tatiana Gvozdetskaya, Jason Hackett, Margaret Haden, Heidi Hentze, Xanthe Isbister, Kevin R. Kao, Karin Karinson, Kirsi Kivivirta, Jana Krejzová, Alexa Kus, Lung-Chieh Lin, Lauren Mabry, Akihiro Maeta, Ian McDonald, Enric Mestre, Ken Mihara, Jeffrey Mongrain, Masaru Nakada, Harumi Nakashima, Erica Nickol, Giorgio Di Palma, Lucía Pizzani, Irina Razumovskaya, Ufuk Tolga Savaş, Kristine Tillge Lund, Beatriz Trepat, Siang-Syuan Zeng.
The issue also includes six articles written by our contributors. Debra Sloan writes about the history of contemporary ceramics in the province of British Columbia, Canada. Lilianne Milgrom does a three-way interview with artists that are in the 'grey area' of fine art/design/craft/décor. Erez Maayan presents Roy Maayan's exhibition that dealt with the artist's return to his biographical memory of dining. Laetitia Wilson writes about Here&Now14, an ambitious show that featured the works of 12 Australian artists. Lucy Gent spotlights Kerry Jameson's latest exhibition of imaginative, hybrid creatures. And Rachel Dickson presents a personal perspective to 3D printed ceramics.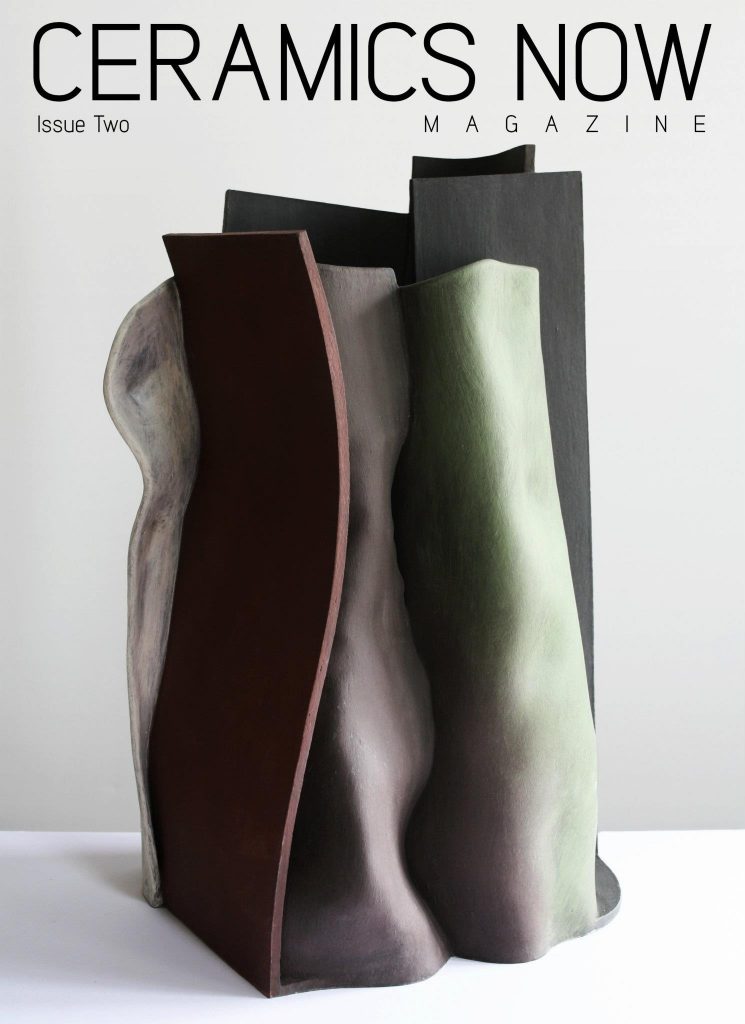 Ceramics Now Magazine – Issue 2
Ceramics Now Magazine Issue 2 introduces the work of over 35 international artists, beginning with Ken Eastman, Kimberly Cook, Patricia Sannit, Marianne McGrath, Annie Woodford, Suzanne Stumpf or Ruth Power, and continuing with a special feature on Romanian ceramic artists, and a preview feature for Copenhagen Ceramics gallery. The issue also inaugurates the magazines' new review category. Digital cover: Romana Cucu Mateias / Print cover: Ken Eastman.
Content: Ken Eastman, Brian Kakas, Patricia Sannit, Steve Belz, Kimberly Cook, Deborah Britt, Annie Woodford, Jenni Ward, Kwok-Pong Bobby Tso, Liliana Folta, Cindy Billingsley, Paula Bellacera, Teresa & Helena Jané, Virginie Besengez, Els Wenselaers, Avital Sheffer, Yoichiro Kamei, Jason Hackett, Ryan Blackwell, Walter B. Stephen (review by Jill Beute Koverman), Cybele Rowe and Lauren Ari (review by Daniel Fleischmann), Allison Luce (review by James Romaine), Mungyeong Traditional Tea Bowl Festival (by Shamai Sam Gibsh & Stephanie Young), Max Cheprack, Suzanne Stumpf, Marianne McGrath, Kathy Pallie, Debra Fleury, Bente Skjøttgaard, Bodil Manz, Arina Ailincăi, Marta Jakobovits, Romana Cucu Mateiaş, Aniela Ovadiuc, Oriana Pelladi, Eugenia Pop, Cristina Popescu Russu, Bogdan Teodorescu, Anti-Utopias.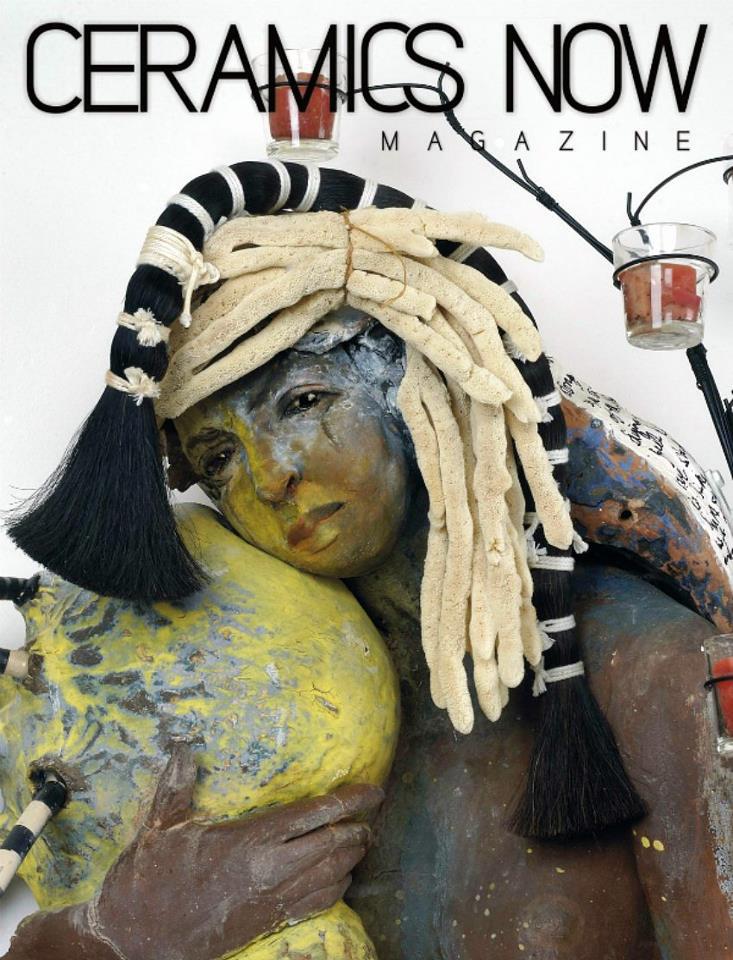 Ceramics Now Magazine – Issue 1
Arthur Gonzalez's work is on the cover of the Ceramics Now Magazine Issue 1, introducing an amazing interview about his work. The issue also presents Roxanne Jackson's work (digital issue cover), as well as two special features with the Denver Art Museum (Overthrown: Clay Without Limits) and Keiko Gallery (Japanese artists).
Content: Arthur Gonzalez, Roxanne Jackson, Claire Muckian, Carol Gouthro, Carole Epp; Denver Art Museum: Gwen F. Chanzit (curator), Katie Caron and Martha Russo, John Roloff, Clare Twomey, Paul Sacaridiz, Linda Sormin, Del Harrow, Benjamin DeMott, Mia Mulvey; Keiko Gallery: Niisato Akio, Kawabata Kentaro, Takeuchi Kouzo, Hayashi Shigeki, Tanoue Shinya, Fujita Toshiaki, Murata Yoshihiko, Jorie Johnson, Takeda Asayo, Mariko Husain; Simcha Even-Chen, Connie Norman, Blaine Avery, Cynthia Lahti, Liza Riddle, Shane Porter, Antonella Cimatti, Ian F. Thomas, Ian Shelly, Mark Goudy, Patrick Colhoun, Chang Hyun Bang, Shamai Gibsh – Saggar firing & Terra Sigillata painting, Margrieta Jeltema – Paper porcelain, John Shirley – Soluble metal salts, Jim Kraft – Coil Building, Merete Rasmussen, Maciej Kasperski, Wim Borst, Photographer Jonathan Vanderweit, The Young Artists' Collective.
Contributors: Andra Baban, Rachel Dickson, Daniel Fleischmann, Shamai Sam Gibsh, Vladimira Horotan, Erez Mayaan, Lilianne Milgrom, Alexandra Mureșan, Tudor Oltean, Cora Pojaru, James Romaine, Anca Sânpetrean, Debra Sloan, Ileana Surducan, Laetitia Wilson, Stephanie Young, Gavril Zmicală.
Editor in Chief: Vasi Hîrdo
Art Director: Andrei Sîncrăian
ISSN 2248-115X
Buy the digital issues of Ceramics Now Magazine