Mendy Arp was born and raised in Northern Germany. After graduating high school, she moved to Bremen and worked in many different places, including a chemical factory and the "Roncalli" Circus. During this time, she decided to become a potter so that one day she could study "free sculpture/ceramics" at an art college.
In 1997, Mendy Arp started an apprenticeship at the pottery Niehenke in Hasbergen near Osnabrück. After her three-year training as a ceramist, Mendy Arp applied to the University of Arts in Bremen and began studying free sculpture with a focus on ceramics in 2000. There she slowly developed her own ceramic language. Her early work was characterized by stoneware objects combined with different textiles. During her studies, Mendy Arp spent several semesters abroad at the Ecole supérieure des arts décoratifs in Strasbourg in 2004-2005, where she continued her focus on ceramics. She created assemblages of different shapes that she glazed in a strong red color (Red Form Series).
In 2005 Mendy Arp won the "Keramik im Pulverturm" sponsorship award from the city of Oldenburg and moved back to Bremen. One day she found a small bulbous narrow neck vase from "Royal Porzellan Bavaria Germany," number 17 from the 1940s or 1950s. This day was a turning point in her work because she fell in love with this vase and immediately molded it. Since then, the duplicated forms of that vase have played a major role in many works, for instance, in "Auflösung" or "Parasit VI."
Mendy Arp received her Master's Degree in Free Sculpture/Ceramics under Prof. Fritz Vehring in Bremen in 2007. Today she lives and works in Axstedt, between Bremen and Bremerhaven. Her work is exhibited nationally and internationally and is represented in private and public collections.
Visit Mendy Arp's website and Instagram page.
Featured work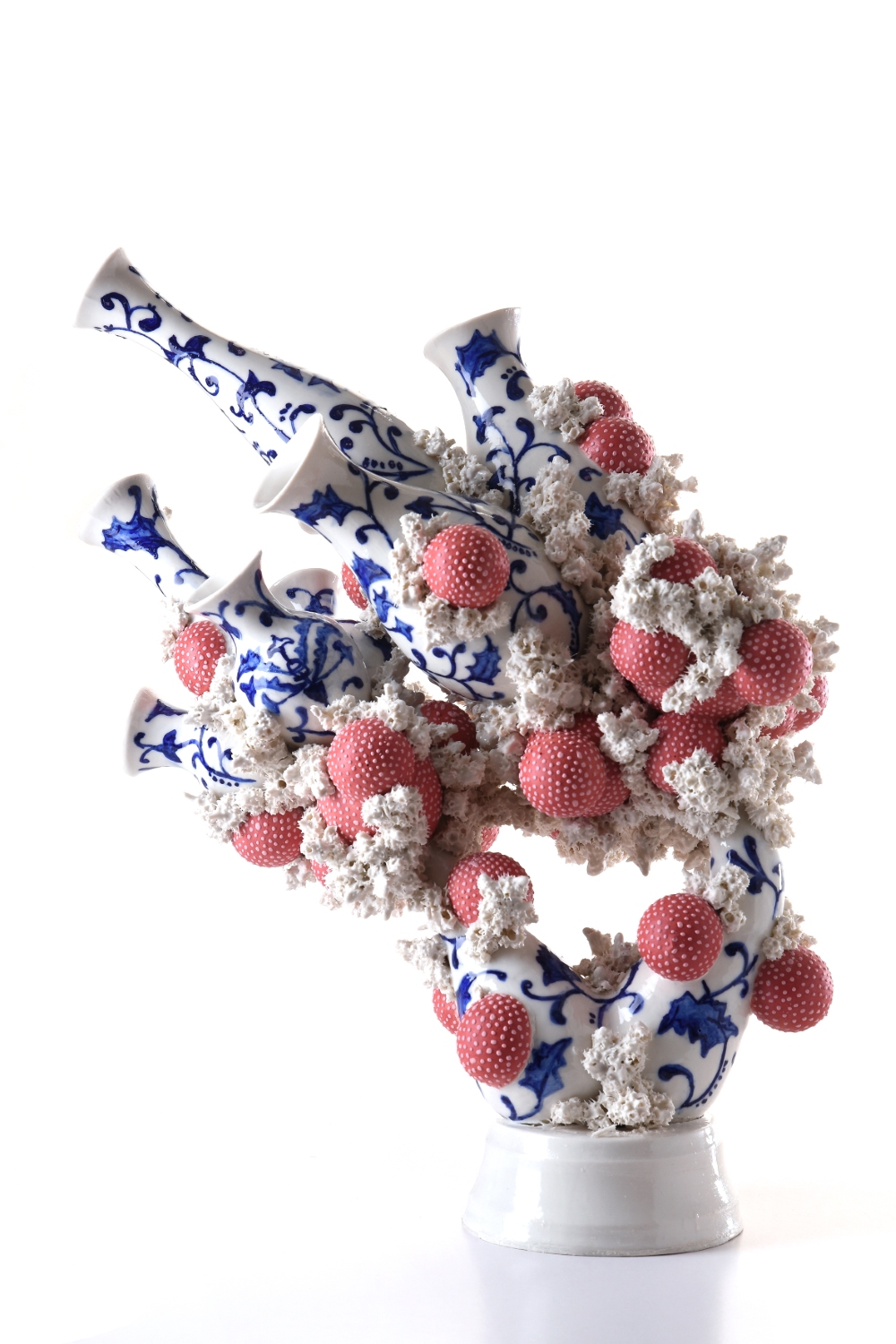 ---
I am a passionate collector. I collect ceramic, metal, wood, and plastic forms (garbage), dried flowers, plant remains, animal carcasses, bones, words, motifs, ideas, and more. By making molds, I duplicate the collected items. Furthermore, I dip dried plant remains in porcelain slip, acquiring an extensive series of forms that repeat but vary. The molded and dipped pieces are joined together in their raw state with wheel-thrown forms – thus, I obtain "grown objects" that oscillate between organism (nature) and construction (culture).

Strong colors, ornaments, decors, motifs, and sometimes words are essential in my work. They allow me to create aesthetic contrasts and rhythms that, in addition to the pure forms, evoke cultural-historical memories or connections to contemporary themes.

I love to push ceramic material to its limits. For example, in the "Parasite" series, I use porcelain, which warps during the firing and may lose its statics as a result. In my work process, I give a piece a specific direction in which it might fall in the heat. I must be careful to find the point that will make the piece tilt but not fall over. Nevertheless, it happens that a piece tips over in the kiln. But so far, all of these pieces have been recovered. This precarious balance and the uncertainty of almost falling are reflected in the finished pieces.