November 21, 2020 – July 25, 2021
Pure white is the colour of his spirit that never stops in pursuit of the truth
Kuroda Taizo (1946– ) is known worldwide for his graceful, tranquil white porcelain works. He traveled to Paris at the age of twenty and experienced the art of pottery for the first time in Canada in 1967, which led him to working on it with great interest. After his return to Japan, Kuroda held his first solo exhibition in 1982. White porcelain became the center of his creative activities since 1992, when he first showed his white porcelain works to the public.
Kuroda's white porcelain works are thinly potted and, while having a delicate, tense outline, their surfaces display soft, elegant circular wheel marks, each work delivering its compelling charm. He compares the creation of white porcelain to expressing "a word between 'yes' and 'no'". In other words, he views his works as forms of expressions that cannot be explained in words.
This exhibition showcases approximately sixty white porcelain works by Kuroda, mostly from the collections of Ise Cultural Foundation and The Museum of Oriental Ceramics, Osaka. The artist's world is introduced through his major works, from vases, having particular forms that have drawn inspiration from the meiping vase, to "cylinders," which are simple forms comprising straight lines and circles, naturally made out of the rotation of the potter's wheel.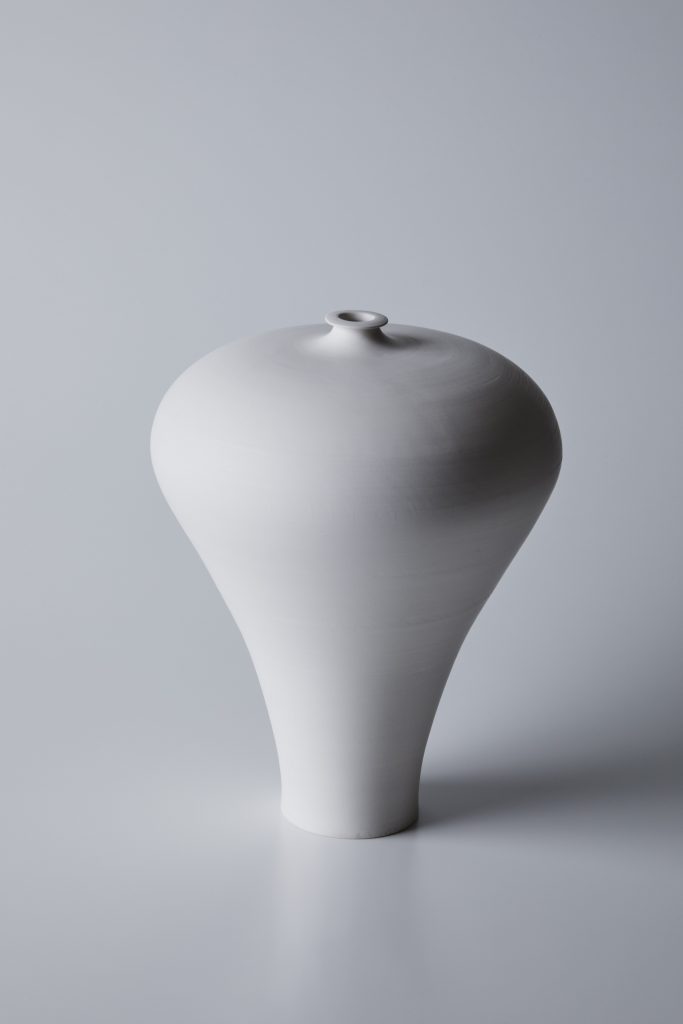 This work has a cylindrical body with a conical top, a unique form producing a sharp impression. The thin mouth rim, producing a gentle undulation, has been delicately potted. Kuroda mentions that he has been fascinated by "the material with which I can draw a line in the air like magic, by using my own hands, fingers and the potter's wheel." He compares the act of throwing to "creating a one-time-only abstract painting in the air." Although at first glance this work seems to have a geometric, minimalist form, the wheel marks and traces of burnishing on the surface make one realize the rich texture and the subtle nuance embedded in the body.
Although this conical work with a hollow interior and a small mouth at the top may be categorized as a "vessel", it is a rare wheel-thrown form. While a cone is triangular when viewed from the side, it is a three-dimensional object consisting of a curved surface. The vessel, made of simple components, interacts with the space and anything adjoining it, encouraging unfettered interpretation to the viewers. Kuroda says, "I want to pursue truth from the methodology called 'white porcelain'." Unlike the approach of contemporary art, which reflects social phenomena, Kuroda's creative activities may be an attempt to express his "quest for truth" using a visual form.
Ento or cylindrical form is one of the major forms of Kuroda's works. Cylinders are simple forms consisting of circles and straight lines produced by raising the walls vertically, using the rotary motion of the potter's wheel. The extremely thin mouth rim was made by low-speed rotation of the potter's wheel. The unglazed surface was carefully burnished. It can be said that this is an appropriate size of a wheel-thrown, handmade work that enables maintenance of the atmosphere of tension. The Ento is embedded with Kuroda's determination to fulfill his responsibilities as an artist to "represent the invisible by a visible work." The elegant Ento is a beautiful embodiment of the artist's ideal.
This work has a small foot from which the walls make a gentle, elegant curve as they open widely upwards, raising its center of gravity and producing a sense of lightness and floating feeling. A large crack was deliberately made into the top section before firing. While it reminds one of particular Iga water jars known as Yaburebukuro ('burst bag') that display bold cracks, it is also in line with the idea of Lucio Fontana, who sought "to create a new dimension in art and connect with the universe" by producing his series of works Concetto Spaziale ('Spatial Concept'). The sharp, powerful slash made as if breaking through the tranquil atmosphere of the work may be an attempt by the artist to seek an approach contrary to his other works.
Architect: Ando Tadao
Contact
06-6223-0055
Address
1-1-26 Nakanoshima
Kita-ku, Osaka
Japan