Ahryun Lee is a ceramic artist born in South Korea and based in Munich, Germany. A graduate of both Fine Arts and Design in Ceramics at the Seoul National University in Korea (2011) and Royal College of Art in the UK (2016), Seoul-born ceramics artist and designer Ahryun Lee has built a career by pushing the boundaries of her chosen medium. Her shifts with cross-cultural transitions influence her perspective on ceramics. By focusing on materiality, she investigates the fertile territory of ceramics for experimentation and potential creative speculation within contemporary art.
Color plays a vitally important role in her work, the bold and intricate textures present the audience with an otherworldly atmosphere. Instinctively driven by senses, in particular tactility, Ahryun creates vivid objects with organic shapes, contrasting colors, patterns with dots, abstract squiggles, stripes, etc. The audience often feels a sudden urge to touch the curious sculptures.
Her creative purpose is not just to develop a personal identity in artistic expression but also to fuel curiosity and stimulate emotions in the viewers. On top of this, Ahryun has an interest in finding new possibilities in ceramics, in which ways ceramics can develop further beyond its traditional context.
Lee has exhibited internationally in prominent shows such as Design Miami, Salon Art and Design in New York (US), Milan's Salone del Mobile (IT), Bröhan Museum (DE), Museum of Decorative Arts (CZ), Schloss Hollenegg (AT), Collect Art Fair (UK), Beirut Art Fair (LB), Dubai Design Week (DXB). She was selected for Artist in Residence at Künstlerhaus Stadttöpferei by Dr. Hans Hoch Foundation in Germany, and she was the winner of the Future Lights in Ceramics Award from the European Ceramic Competition held by Porzellanikon in Germany.
Visit Ahryun Lee's website and Instagram page.
Featured work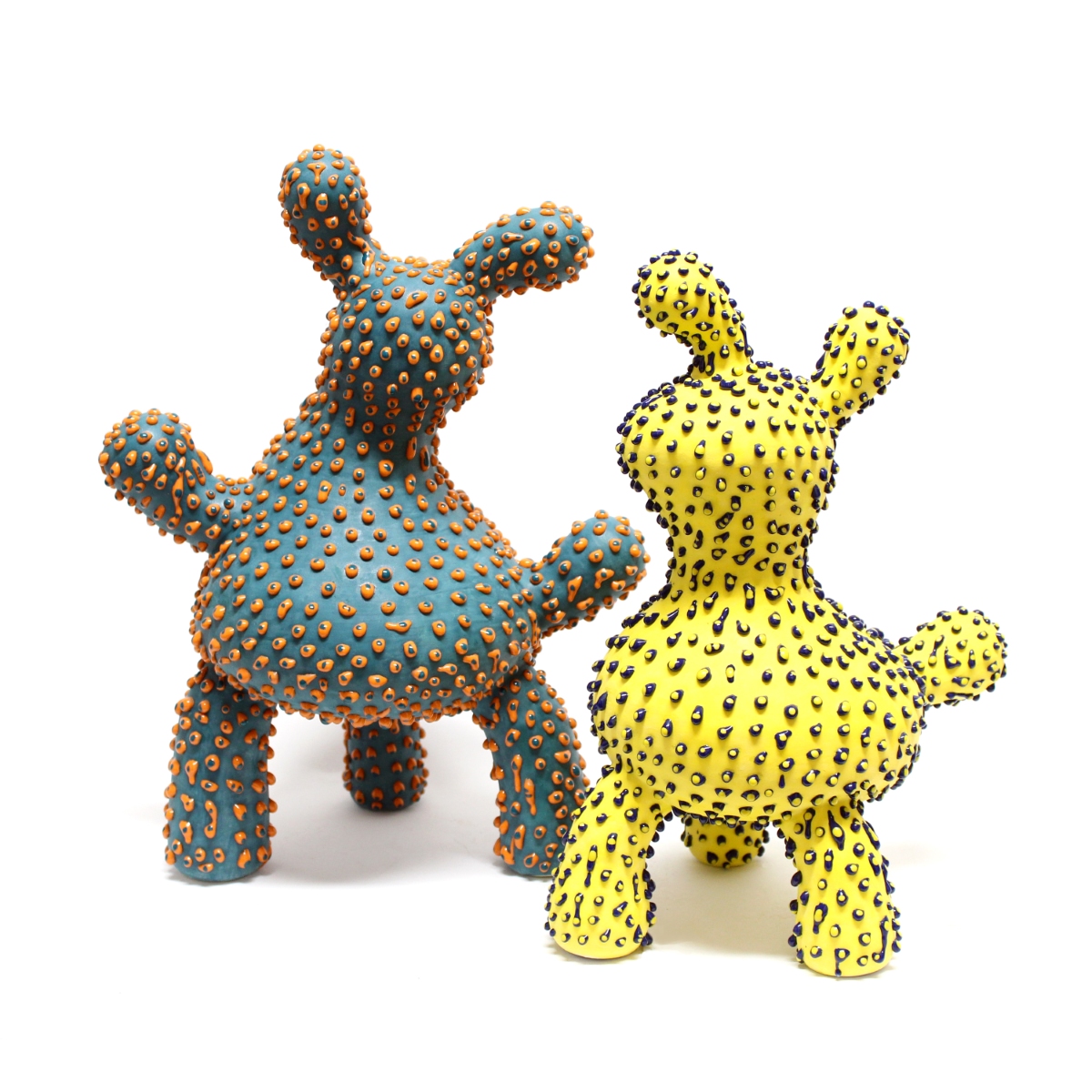 ---
Ceramics is an enchanting area that has numerous creative possibilities, especially contemporary ceramics with its boundless opportunities. Clay is an intriguing and impressive medium, the ceramic material becomes fertile territory for experimentation and potential creative speculation within contemporary art. Its versatility of expression with unique materiality allows the ceramic artist to increasingly utilize the material to create and produce outstanding aesthetic results; creating an ambiguity to define ceramic and place it in particular categories breaking down the territories that exist between Art, Design and Craft.

My work has developed from contemplating the area between function and non-function to seeking the possibilities which cross the borders between design products and artistic objects. As you can see in my portfolio, my work is crossing the aesthetics between geometric and organic. Influenced by skill-based education in Korea, my practice was established with professional technical skills alongside fundamental knowledge of materials. Material drives my creativity and this medium-specific approach enables me to understand materials in depth.

My work cannot be featured as only one style as it has various sides from deliberate elaboration to spontaneous communication with the material. I use ceramic material more expressively and unconventionally to create extraordinary surface quality. I attempt to challenge every conventional notion in ceramic art, transcending its utilitarian roots, whilst pushing the material to become more attractive and stimulating visually.