Alison Kay was born in Dublin in 1953. She studied at Dun Laoghaire College of Art and Design (IADT) from 1971-1974 specialising in ceramics. She set up her own ceramic studio in Sandycove, Co. Dublin in 1977 where she worked for 6 years. She taught Ceramics adult education classes with the VEC in Dun Laoghaire from 1990-2000. In 2004, she set up a studio in Shankill, Co. Dublin where she works full time as a Ceramic Artist.
Kay has exhibited both nationally and internationally. She has been an invited artist at the Royal Hibernian Academy annual exhibition and a regular exhibitor. She showed at the Irish Pavilion in Shanghai in 2010. She was selected to show at Ceramics Art London in 2013. Exhibitions have included Vase: Function Reviewed at the National Craft Gallery, Kilkenny, 2016, curated by Brian Kennedy. Crossroads at the J.Caciolla Gallery New Jersey, USA. 2017. Somewhere In Between at SO Fine Art Editions, Dublin, 2019. Conjuring Form, Donneraille House, Cork, 2021, and Made In Ireland, at the National Craft Gallery, Kilkenny, 2021.
She was selected to be part of the Crafts Council of Ireland's Portfolio programme in 2007 and their Critical Selection programme in 2021. She was one of twelve Irish artists to show at Collect, London with the Crafts Council of Ireland in 2022.
Kay's work is in many private and public collections including the National Museum of Ireland, the OPW, the Consulate General of Shanghai and Dun Laoghaire/Rathdown County Council. She won the Ceramics Ireland Peter Brennan Pioneering Award in 2012 and the Royal Ulster Academy Perpetual Silver Medal for Sculpture in 2016.
Visit Alison Kay's website and Instagram page.
Featured work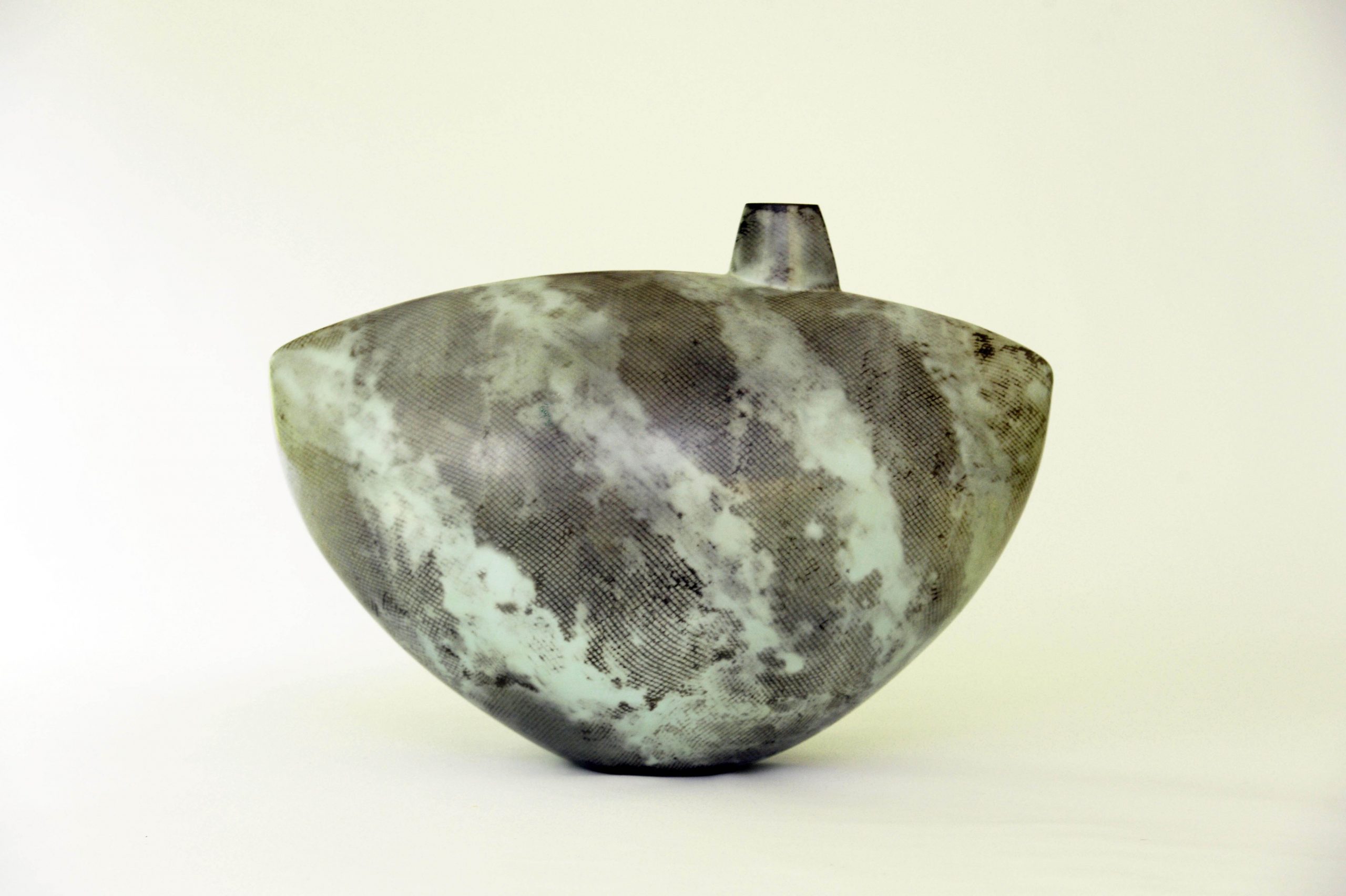 ---
Clay has been the central force in Alison Kay's creative practice over the past 40 years. Her deep interest in plants and the natural world has fed into her work. Inspiration comes from diverse sources; the shape of seed pods, aerodynamic forms, car designs, atmospheric impact on surfaces.

Her ideas develop in an organic way and the works evolve by making changes to what has come before. She enjoys returning to certain forms as with a piece of music and fine tuning the design.

Through the slow process of coiling, pairing back, adding openings and meticulously refining the surface, she becomes fully engaged with each piece.
She applies thin layers of Terra Sigillata to the surface which is then polished. After the biscuit firing, she adds a pattern of clay resist to the piece and then smoke fires it. Afterwards, it is cleaned and polished.

Integrating surface and form is a continuing engagement for Kay, as in nature where surfaces are eroded and polished by weathering. The process of smoke firing imbues an aged and timeless quality to the work.