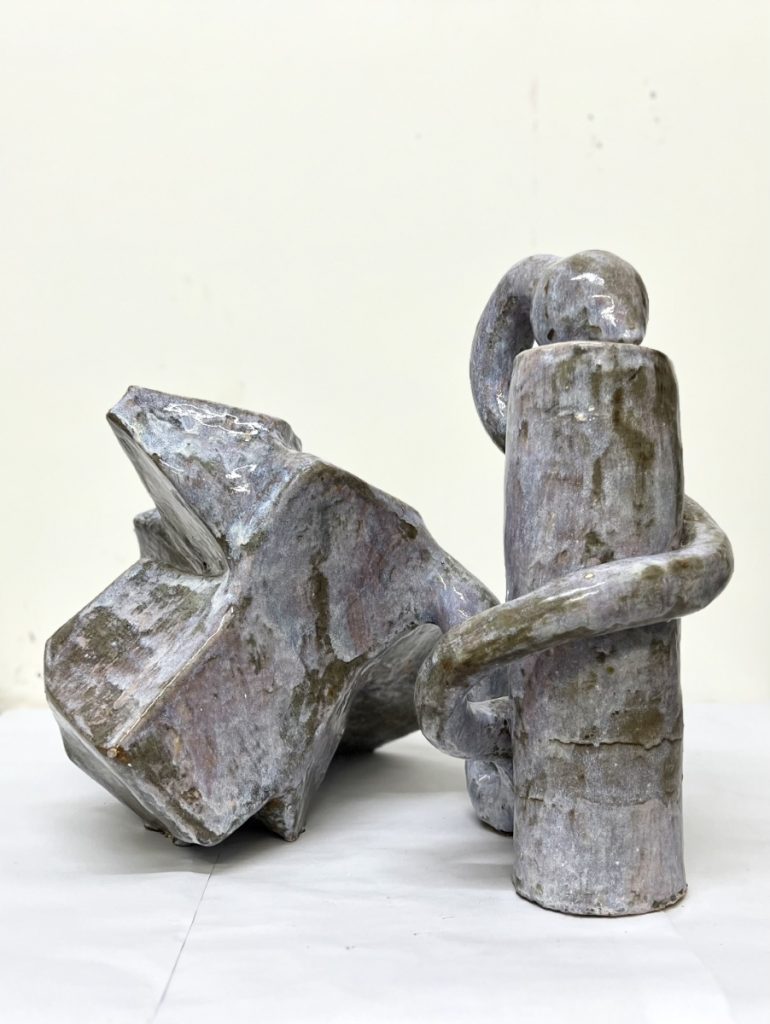 Our lives are intertwined with categories in which we like to place things. Objects are defined by form, color and scale, but most importantly, by their function and our understanding of them. Through my ceramic sculpture, I want to show how breaking these conventions can bring a new order and understanding to objects and ourselves within the world.
I am drawn to things that are multi-dimensional: they defy boundaries both physically and metaphorically. Life does not exist within a static state, so why should objects? This ever-shifting plane or mindset we live in is diminished in the way many works are displayed. I feel it is important to break this and situate artwork in the same fluid state it was created in.
Ceramics have a unique relationship with objectivity because they are seen in many categories, such as art, home, museum, sculptural, functional, and decorative. The culture of ceramics is perfect for exploring objects that exist within the 'in-between.' With the history of this medium and my unique ambiguous forms, I am able to address the ability of an object to be multi-dimensional and in a state of flux. I do this through merging opposing forms: Including geometric and organic, and playing with scale, and manipulation of context and color to create works that are suggestive, acting as prompts. My hope is that the forms uniquely connect and resonate with each viewer, encouraging discussion and challenging their understanding of how they place, see and experience objects.
Captions
Femme Fatal, 2023, Glazed Stoneware. Photo © Beatrice Galletley
Who am I?, 2022, Glazed Stoneware, 36c38c50 cm. Photo © Beatrice Galletley
Mischevious, 2022, Glazed Stoneware, 52x55x107 cm. Photo © Beatrice Galletley
Devils Advocate, 2021, Glazed Stoneware, 35x51x33 cm. Photo © Tutu Arel
Cosmos, 2021, Glazed Stoneware, 39x35x30 cm. Photo © Tutu Arel
Too Hot To handle, 2021, Glazed Stoneware, 38x45x18 cm. Photo © Chris Roberts
Red Hot, 2021,Glazed Stoneware, 4x5x6 cm. Photo © Tutu Arel
Shift Me, 2021, Glazed Stoneware, 21x 15×14 cm. Photo © Tutu Arel
Edge, 2021, Glazed Stoneware, 35x29x25 cm. Photo © Tutu Arel
Order and Chaos, 2022, Glazed Stoneware, 21x27x58 cm. Photo © Beatrice Galletley
Grow, 2020, Glazed Stoneware, 26x23x18 cm. Photo © Milo Brown
Metamorphic, 2022, Glazed Stoneware, 54x56x58 cm. Photo © Beatrice Galletley
Shape Shifters Collective, 2020, Glazed Stoneware, 26x23x18 cm aprox. Photo © Milo Brown
What am I to Become? series, 2020, Glazed Stoneware, 31x48x35 cm / 30x15x38 cm / 38 x 30 x 20 cm. Photo © Milo Brown