David Pottinger is one of Australia's finest ceramic artists. He is well known for employing the technique of 'Nerikomi', a Japanese term that refers to the layering, cutting and merging of different coloured clays.
David Pottinger started his educational training in ceramics at the Kelvin Grive College in 1987, and completed a Masters degree in Visual Arts at the Royal Melbourne Institute of Technology (RMIT) in 2005. His works are part of many international collections and have been exhibited across the world in multiple exhibitions, including at the National Gallery of Australia in Canberra and the Victoria & Albert Museum in London. He lives and works in Melbourne, Australia.
"With literally thousands of joins in any given piece, Pottinger's work is a testament to the chance art of ceramics. In the making, every piece teeters on the brink of failure (it is not uncommon for entire firings to be split, cracked or broken) which makes every success at once unique and serendipitous.
Pottinger's vessels are not merely fine examples of the technique of nerikomi; he intentionally uses nerikomi to suggest a multiplicity of readings emerging from the surfaces and volumes of his work. He does this through intricate layering and patterning that build tensions and complimentary rhythms around and through the work. This patterning is in no way regular, but rather governed by the technique of nerikomi itself. This technique will often see the random tug, pull and drag of patterns around vessels as the clay shifts in response to the layering and joinery process. This layering and patterning allows a deep contemplation of the finished vessels and suggests that the forms are constantly shifting through a process of plaiting, twining and weaving in, out and through the pots." Colin Batrouney
Featured work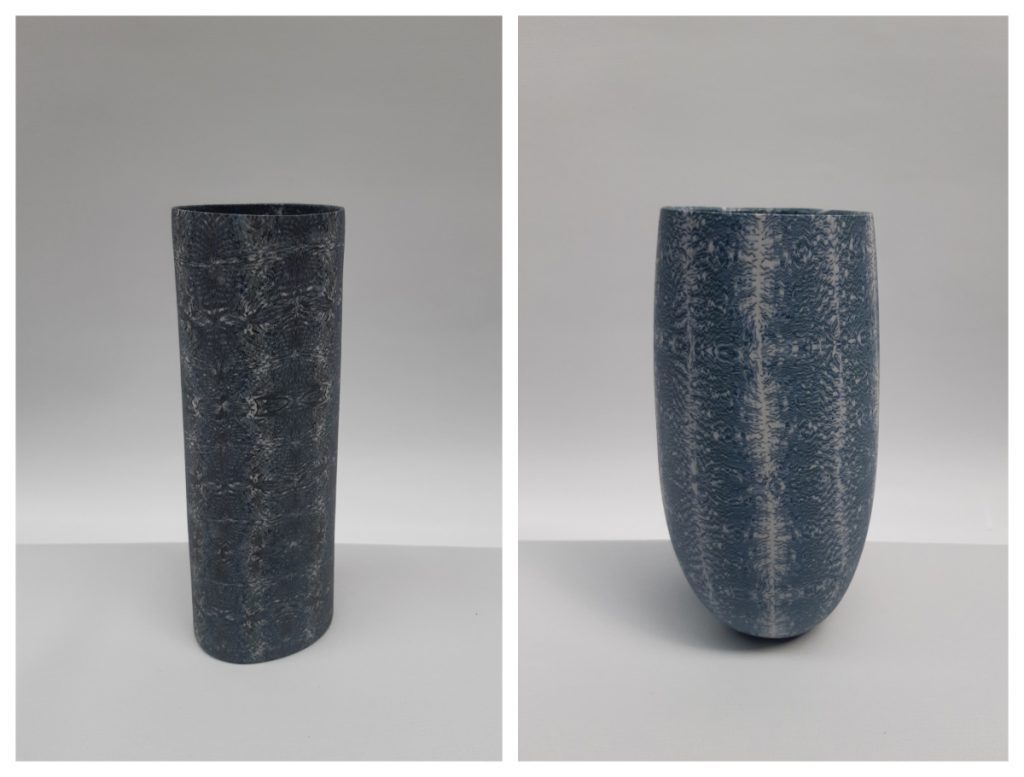 ---
My work is an exploration of form through the interplay of colour, tension, rhythm and pattern in porcelain, utilising the ancient technique of Nerikomi. 'Nerikomi' (or 'Neriage') is a traditional Japanese decorative technique that involves the layering and stacking of coloured clay bodies (porcelain), and then cutting or slicing through the clay to reveal delicate striated patterns. My work is inspired by the palette of nature, the colours of the sky and trees, the water and the earth, the rhythms and shifts of the winds as the seasons changing from winter to spring. This work is also suggestive of the paradox of nature: constantly shifting, moving, growing and dying and yet remaining complete and whole.

Within my practice, my main fascination is the physical act of making. Inherent in the pieces themselves is the story of the maker, the finger marks, the laying of the coloured porcelain sheets, the patterning, the compression of the block over time. All these elements combine to create pieces that include skill, chance and possibility. The resulting pieces invite a dialogue with the viewer, to consider what sits beyond craft, to go deeper into their personal responses to the forms.