Dominique Stutz is a French ceramic sculptress born in Mulhouse, East France. She has practiced ceramics since 1999. In 2009, she opened her Studio in the basement of her family house. In 2013 she left her job and passed a professional degree at the Institute of Ceramics Arts in Guebwiller with the Congratulations of the Jury. Since then, she has dedicated herself to her ceramic practice.
Stutz was awarded the Prize « de la terre au bronze » of the Art Foundry Barthélémy and the Prize « Solargil 2017 ». Her works have been shown nationally and internationally: Céramique 14 Contemporary Ceramics Exhibition, Paris, Contemporary Art Exhibition Mac Paris, Paris, Tupiniers International Ceramic Market, Lyon, ArtCeram Ceramic & Glass Biennal Event, Sèvres, Ceramic Art Andenne, Belgium, Keramisto International Ceramic Fair, Milsbeek, and Vitrine Céramique, MMAQ Gallery, Canada.
Visit Dominique Stutz's website and Instagram page.
Featured work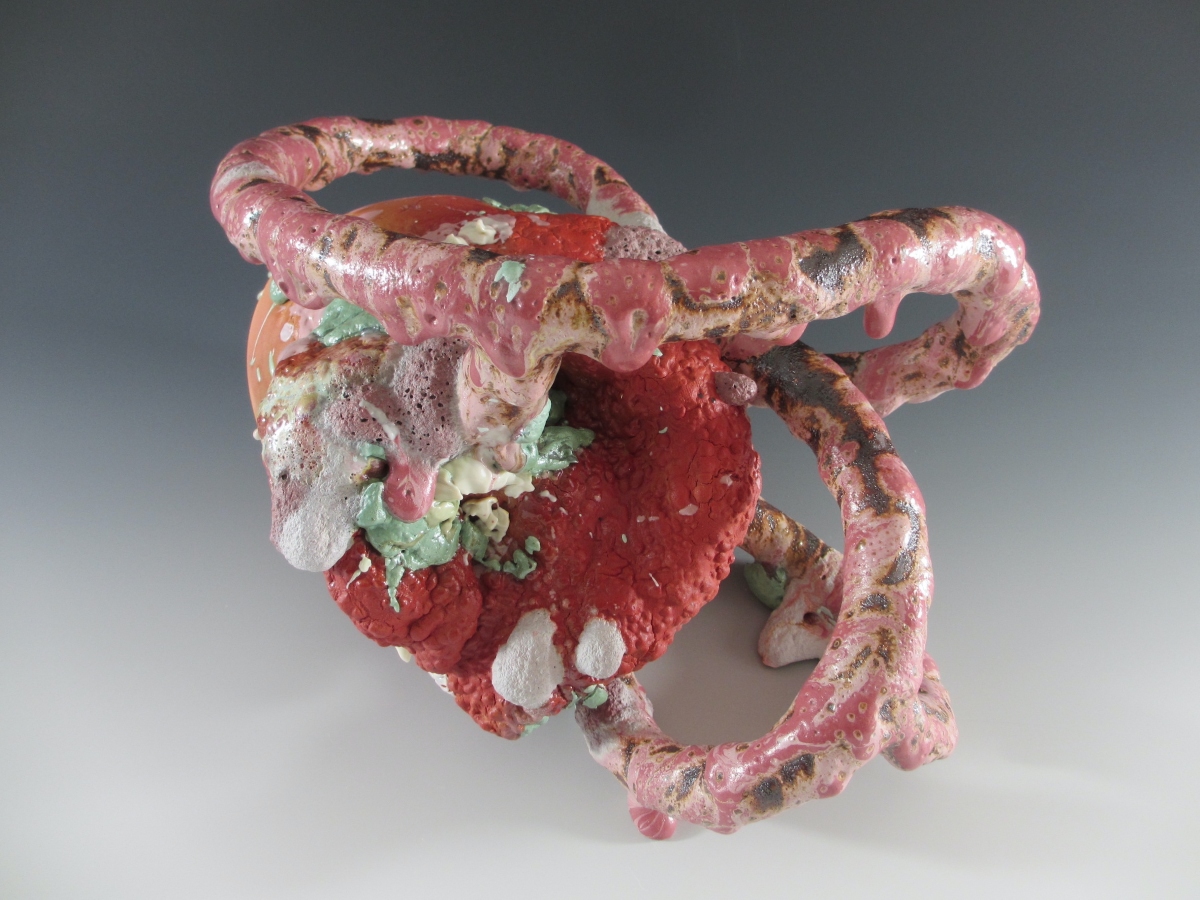 ---
These works stem from my fascination with micro-organisms unveiled by electron-microscopy: a multitude of structures, shapes, surfaces, and a wealth of colors. These hybrid entities reflect the link between the domains of life, such as kingdoms, species, and individuals.

Clay artifacts that result from a mutation or adaptative trans-mutation, recombination of living, with a resilience of the Anthropocene. Every entity is a universe in becoming, an original life, a prelude of development and evolution. Each is part of a life cycle in an uninterrupted sequence of growth processes, fulfillment, and maturity. Released and given life.

The research for glazes is an integrative part of my ceramic practice. It is a willingness to reproduce living by another process than nature, exploring an area where inert and organic are mixed. My work has been inspired by Ernst Haeckel's classification of micro-organisms, by Rob Kessler's photographies who worked closely with scientists in botany and palynology, imagery of deep-sea fauna.

My pieces are built using various ceramic techniques: slab construction, coiling, stamping, press-molding, pinching, wheel-throwing, and carving. l construct around the emptiness, using slabs that get their form once dropped onto elements gifted by nature (seeds, fruits, vegetables, tree branches) or on manufactured packaging shapes that I find interesting. All those possibilities give me a wide range of formal units: this is my endless personal library. I then joint them to create new entities.

One of my other ways of collaboration with clay consists of a totally free-forming progression using coiling and pinching techniques. A permanent part of my work is dedicated to glaze research and rigorous testing, which often takes me much more time than building objects. My work can sometimes involve multiple firing at high and low temperatures.

All these processes provide me with everyday satisfaction and a lot of fun. The most challenging aspect of my work resides in creating another new organic world, showing familiar references.

I feel intensely stimulated by reaching crafted pieces that release a dynamic tension between power and finesse, evoking the duality of textures and colors as a raw and chaotic adaptative force of nature.

By observing various species, I try to find the best encounter between the results of glaze chemistry and a formal artistic investigation. I prepare glaze to become a form and a bulk rather than just a surface. I use vibrant colors to bring freshness, vitality and joy to my work. I play with bright matte and highly tactile surfaces.

I share my vivid perceptions of form and movement through the abstract organic objects I produce. I try to insert a blow-up effect into some parts of my sculptures. This effect is based on my fascination for micro-organisms unveiled by electron-microscopy. Their shapes and curves may suggest living entities' growth or mutation. Shapes of human body parts, plants, or animal parts are aggregated together, proposing a hybrid identity.

I search for the right balance between textures, colors, shapes, energies, and rhythms so that the result will trigger a feeling and will suggest an emotional response. Every day I intend to write my own and hopefully distinctive language through the ceramic medium.