Eusebio Sanchez is a Spanish artist based in Brighton, UK (b.1979). Inspired by the history of ceramics and modern art Sanchez produces refreshing, energetic, and animated ceramic sculptures. Sanchez graduated from the Brighton School of Art (2015) and the Royal College of Art (2017). Sanchez also has a degree in History of Art from the University of Malaga, Spain (2004).
Since Sanchez finished his master's degree in 2017, he won the FRESH award 2017 at the British Ceramic Biennial and undertook an art Residency at the International Ceramic Research Center in Denmark (2018). In 2019 Sanchez was selected as one of the emerging talents for the Hothouse program by the Crafts Council and was one of the Emerging Makers finalists at the ICF in Aberystwyth. As the winner of FRESH, Sanchez was invited by the BCB to develop a new body of work that was launched at the 2019 Biennial. Sanchez has also shown his work at the artgenève 2020 art fair with Taste Contemporary Gallery.
Solo shows include 'Material Journey' at the Apple House Gallery in Denmark (2018). Selected group shows include 'Ride Your Pony No.03' at the Warrington Museum and Art Gallery (2019), 'FRESH winner' at the British Ceramic Biennial (2019), "Emerging Makers' at ICF Aberystwyth (2019), 'Incognito' at ROSL Royal Over-Seas League (2019), 'Ceramics' at Doddington Hall (2018), FRESH at British Ceramic Biennial (2017), RCA show (2017), Exhibition at Sarah Griffin's private collection as part of London Craft Week (2017), The Emerging & The Established at Christie's (2017), 'Collections' curated by Preston Fitzgerald (2017).
Eusebio has worked for the University of Brighton as a ceramic technical demonstrator since 2017, and has recently been a visiting lecturer at the Cardiff School of Art and Design. Sanchez's work has been featured in the UK's most relevant craft magazines, such as CRAFTS and Ceramic Review.
Visit Eusebio Sanchez's website and Instagram page.
Featured work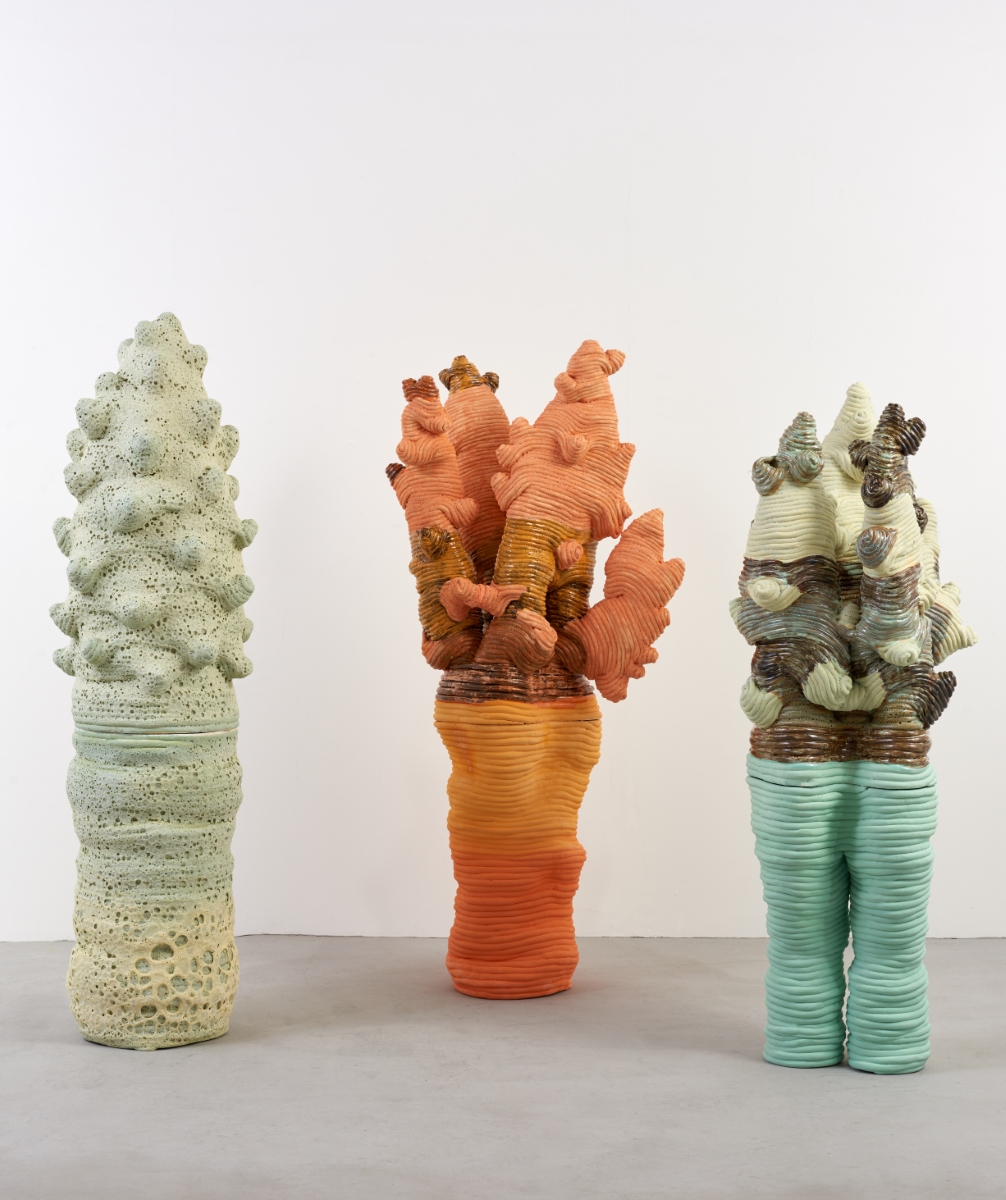 ---
I celebrate the prehistoric method of hand-building coiling. It is fascinating that this process is rooted in the history of craft and ceramics so profoundly and still plays a crucial role in contemporary making.

Japan's Neolithic pots made in the Jomon period were very sophisticated and complex. In my practice, I achieve that sophistication, setting myself different exercises to explore form and how far I can stretch the process. Jomon literally means 'cord marked' and like in the Jomon culture, I choose to expose the coil revealing the process often hidden in most ceramic works.

I use the coil as a drawing method, by analogy to how draughtsmen use a pencil. I like to think that I am 'taking a coil for a walk,' an expression I borrow from Paul Klee's expression: 'drawing is taking a line for a walk.' When making a piece of work, I know where I want to start and have an abstract idea of how I may want it to look. Frequently the job takes me on a material and narrative journey, and as I progress, I make decisions to shape the final form differently from the one I had in mind. I let the form be, and serendipity happens in the search for a new structural complexity.

In a world that is becoming digitalized, I have created a relationship with clay where my hands act like an analog 3D printer. As a result, my sculptures echo the aesthetic of this technology.