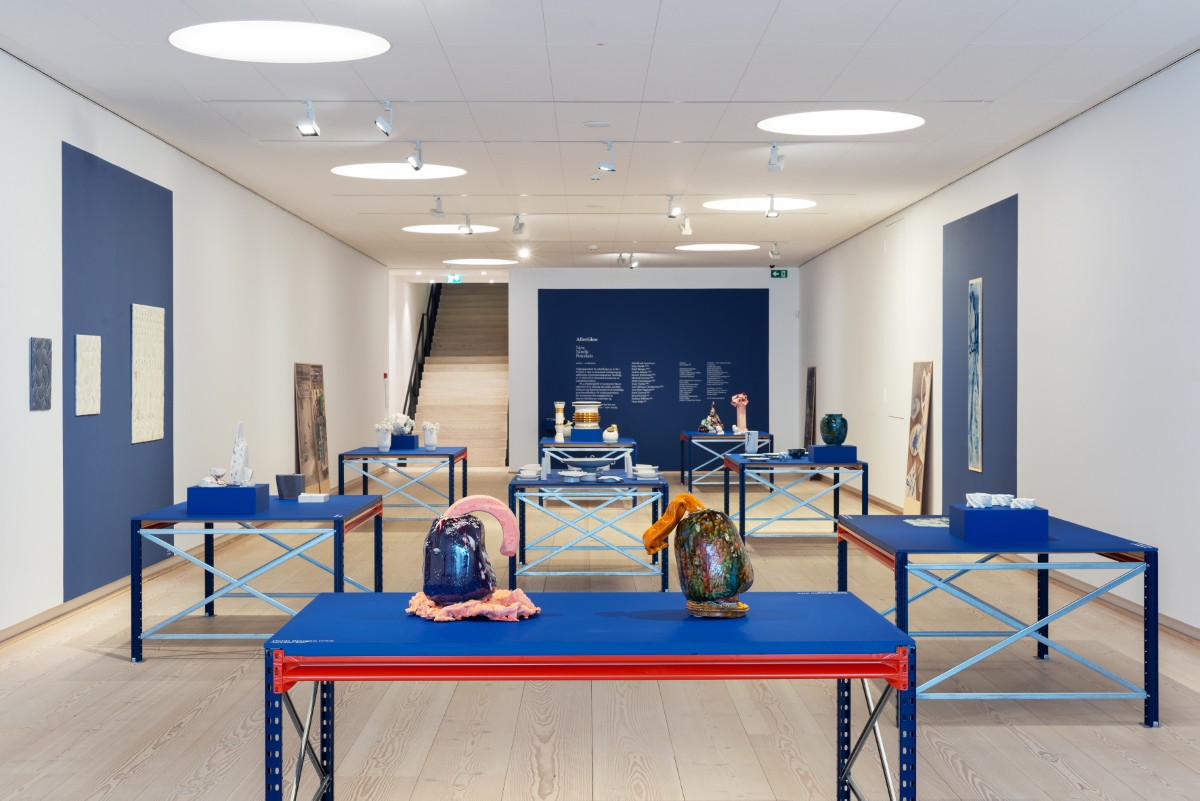 AfterGlow – New Nordic Porcelain is on view at CLAY Museum of Ceramic Art, Denmark
March 26 – August 21, 2022
In this exhibition, Norwegian, Swedish, Finnish and Danish ceramicists have embarked upon the Nordic porcelain tradition. The works in the exhibition have been created during the past three years by 13 artists in residences at Nordic porcelain factories and workshops.
The Nordic porcelain factories have flourished throughout the 20th century, but can we really talk about a common Nordic tone or expression? This question has been the starting point for the project, which stems from the New Nordic Porcelain Forum, an informal collaboration between exhibition venues, artists and others who are interested in the cultural heritage of the major Nordic porcelain industries. In recent decades, the trend has been that both design and production have been outsourced from the old, traditional factories.
During the residencies, the artists have dug into the stories associated with the various factories, their collections and production facilities and considered whether there is a common Nordic expression within porcelain production.
AfterGlow – New Nordic Porcelain is, in fact, three different exhibitions. The two others are presented at Kunsthall Grenland in Norway and Gustavberg's Porcelain Museum in Sweden. In connection to the project, a publication will be published with contributions from e.g., the American curator and historian Glenn Adamson and the Danish expert in Danish design history, art historian Mirjam Gelfer-Jørgensen.
Participating artists: Irene Nordli (NO), Heidi Bjørgan (NO), Andrea Scholze (NO), Martin Woll Godal (NO), Michael Geertsen (DK), Mette Hannemann (DK), Anne Tophøj (DK), Ane Fabricius Christiansen (DK), Ann-Britt Haglund (SE), Karol Zarbock (SE), Kirsi Kivivirta (FI), Pauliina Pöllänen (FI) and Veera Kulju (FI)
Project managers/curators: Bettina Køppe, Køppe Contemporary Objects & Catrine Danielsen, Kunsthall Grenland
The overarching purpose of the New Nordic Porcelain Forum is to explore if there is a common Nordic tone or expression in porcelain making. Porcelain originally came to Europe from China, and initially designs and patterns were closely linked to the Chinese tradition.
During the golden age of the Nordic porcelain industry, services and patterns were developed that drew on Nordic nature, with the Flora Danica pattern as the principal example. Today, the world of design is becoming increasingly globalized. Not only is production moving out of the Nordic countries, designs and patterns are now also being created in international studios, rather than in a collaboration between ceramicists, artists, and the specialised craftsmen of the factories.
The goal of the project is to prepare a common presentation of contemporary porcelain by Nordic artists – a collection of artistic statements that reflect on the artistic potential, historical meaning and functional possibilities of porcelain.
Contact
info@claymuseum.dk
CLAY Museum of Ceramic Art
Kongebrovej 42 5500
Middelfart
Denmark
Photo captions
Exhibiton view. Photo Jacob Friis-Holm Nielsen
Andrea Scholze, NO, Forest Beings, created at Arabia Art Department Society, Finland. Photo Jacob Friis-Holm Nielsen
Ane Fabricius Christiansen. Photo Dorte Krogh
Ane Fabricius Christiansen. Photo Dorte Krogh
Irene Nordli, NO, Figurine. Photo Dorte Krogh
Irene Nordli, NO, Figurine. Photo Dorte Krogh
Karol Zarbock, FI, Clay trompe l'oeil, created at Arabia Art Department Society, Finland. Photo Jacob Friis-Holm Nielsen
Andrea Scholze, NO, Forest Beings, created at Arabia Art Department Society, Finland. Photo Jacob Friis-Holm Nielsen
Heidi Bjørgan at Norsk Teknisk Porselen, Frederikstad, Norway. Photo Dorte Krogh
Martin Woll Godal, NO, The Mould, created at Gustavsberg Porlinsfabrik, Sweden. Photo Jacob Friis-Holm Nielsen
Martin Woll Godal. Photo Jacob Friis-Holm Nielsen
Michael Geertsen, DK, Technical Classicism, Norsk Teknisk Porselen, Norway. Photo Jacob Friis-Holm Nielsen
Pauliina Pöllänen, Relief. Photo Jacob Friis-Holm Nielsen
Michael Geertsen at Norsk Teknisk Porselen, Frederikstad, Norway. Photo Dorte Krogh
Michael Geertsen, DK, Technical Classicism. Photo Dorte Krogh
Pauliina Pöllänen, Relief, Gustavsberg Porslinfabrik. Photo Dorte Krogh