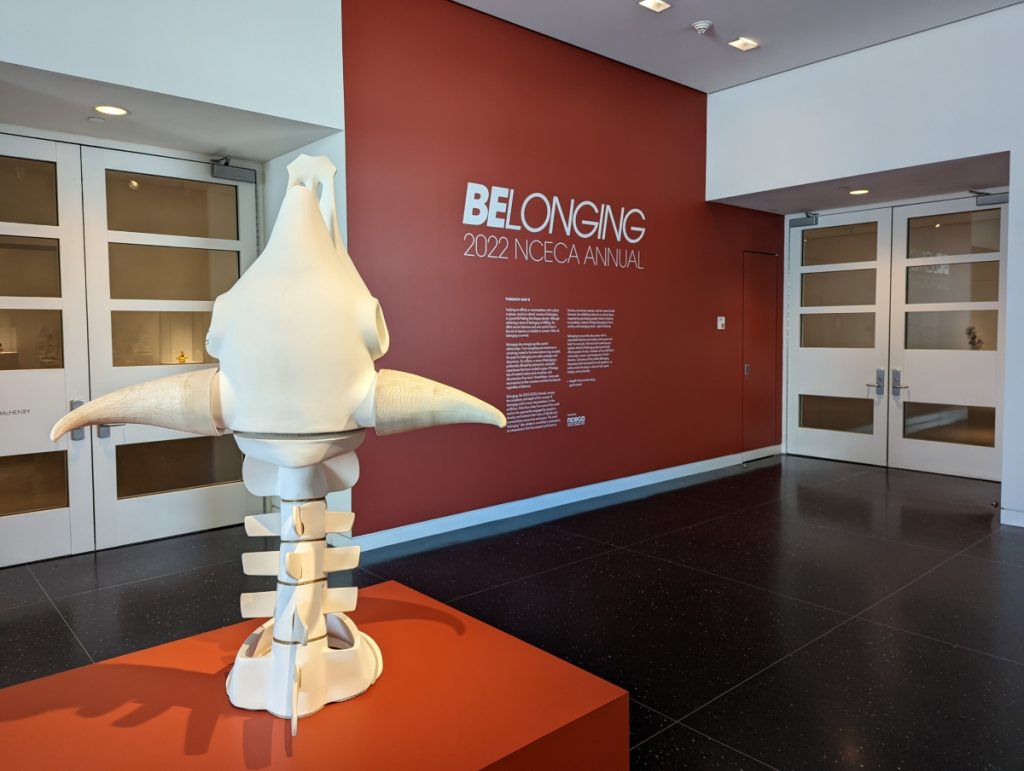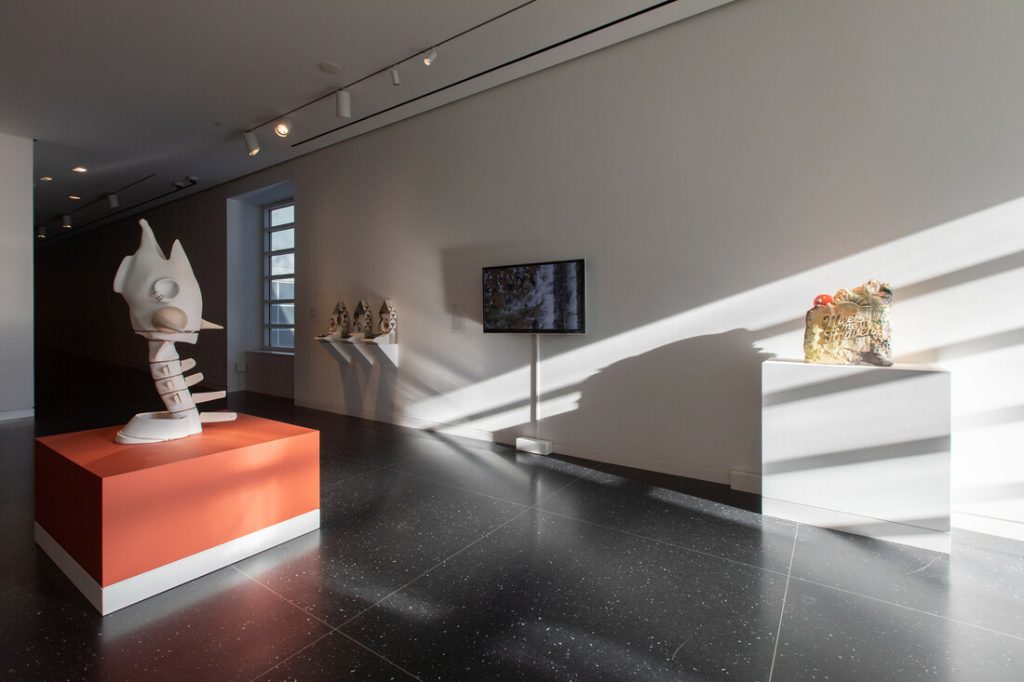 Belonging, the 2022 NCECA Annual Exhibition is on view at Crocker Art Museum, Sacramento
February 20 – May 8, 2022
In conjunction with the many NCECA festivities taking place throughout Sacramento, the Crocker will host one of the conference's cornerstone events, Belonging, the 2022 NCECA Annual Exhibition. Featuring works from invited artists Alex Anderson, Natalia Arbelaez, Habiba El-Sayed, Cannupa Hanska Luger, and Salvador Jiménez-Flores, as well as more than fifty pieces selected through an open call for submissions, these diverse ceramic artists explore the important concepts of belonging and identity in their individual practices. Guest curator Angelik Vizcarrondo-Laboy explains the curatorial premise of the exhibition:
A sense of belonging implies an affinity or connectedness with a place, social or cultural group. Belonging is survival. It is a powerful feeling that shapes our identity. Belonging explores the intangible and tangible approaches we engage in developing and maintaining our sense of connectedness across time and space, and also relates to ownership or possession, an interpretation that has caused much harm to humans, non-human species, and natural resources.
This exhibition seeks to upend normalized power dynamics by prioritizing the human desire to belong to something and will also explore the coded ways in which we navigate inhospitable environments, push back against oppressive systems that deny belonging, and the role of community in fostering inclusion.
Guest Curator
Angelik Vizcarrondo-Laboy is a New York and Los Angeles-based curator, writer, and arts administrator of contemporary art and craft. Her current research focuses on the subversive power of humor, cuteness, and leisure as tools of protest. Amplifying the voices of BIPOC artists is central to her practice. She serves as Assistant Curator at the Museum of Arts and Design (MAD), New York.
Invited Artists
Alex Anderson is a Los Angeles-based artist who works in ceramics. He was the recipient of the Crocker Art Museum's fourth John S. Knudsen Prize. Anderson explores "the state of race relations in America." He explains that his ceramic sculptures operate "as avatars of [his] own experience in the world as a black person socially contextualized by the western paradigm."
Natalia Arbelaez is a Columbian American artist born and raised in Miami to immigrant parents. Her preferred ceramic media are terracotta and majolica, clay bodies typically found and used in Columbia. Currently, she is a visiting artist at The American Museum of Ceramic Art (AMOCA) in Pomona, CA, completing research on the work of historical and influential women ceramicists of color. Arbelaez says that "my work takes the place of a storyteller, from my personal narratives of my Colombian family's immigration to the research of pre-Columbian South American presence to my American, latchkey, afterschool cartoon upbringing. I combine these stories with research, familial narratives, and cartoon embellishments that create surreal stories."
Habiba El-Sayed is of Guyanese Egyptian descent and is based in Toronto, Canada. Inspired by Islamic architecture and human vulnerability, El-Sayed uses a variety of materials, as well as performance and temporal techniques to illustrate her concepts. Her work focuses on connecting, exploring, and interpreting aspects of her identity, particularly as a Muslim woman living in a post-9/11 world. El-Sayed explains that "the Islamic influence in my art organically grew from my exploration of identity. However, I do question what defines Islamic art. I'm a Muslim, and this is Islamic art, even if it doesn't have geometric patterns."
Cannupa Hanska Luger is a New Mexico-based multidisciplinary artist who uses social collaboration in his practice. Raised on the Standing Rock Reservation in North Dakota, he is an enrolled member of the Three Affiliated Tribes of Fort Berthold and is of Mandan, Hidatsa, Arikara, Lakota, and European descent. Luger states that as "a Native contemporary artist and craftsperson of North America, I am motivated to reclaim and reframe a more accurate version of 21st-century Indigenous culture and its powerful global relevance. My practice is rooted in the traditions of generations before me and augmented by the requirements of survival. The tradition of making things work is what influences my practice most."
Salvador Jiménez-Flores is an interdisciplinary artist born and raised in Jalisco, Mexico. Currently residing in Chicago, he is Assistant Professor in Ceramics at the School of the Art Institute of Chicago. His work spans community-based projects, drawing, ceramics, prints, and mixed-media sculpture. He states that "the move from a rural town in Mexico to a major metropolis in the United States had a tremendous impact on my life and my art. At first, art was merely a way of coping with the transition, but due to my limited English in those early years, art eventually became a tool for self expression. In my work, I document the journey of adapting to life in the United States, all while looking back at what I left behind in Mexico."
Contact
cam@crockerart.org
Crocker Art Museum
216 O Street
Sacramento, CA 95814
United States
Images copyright Belonging: The 2022 National Council on Education for the Ceramic Arts (NCECA)
Photo captions (for images of individual works)
Habiba El-Sayed, Narcissus, 2021. Acrylic, unfired porcelain, and steel. Photo courtesy of the artist.
Salvador Jiménez-Flores, The Resistance of the Hybrid Cacti / La resistencia de los nopales híbridos, 2016–ongoing. Terracotta, porcelain, underglazes, gold luster, and terracotta slip, 96 x 96 x 96 in. Photo courtesy of the artist.
Cannupa Hanska Luger, (Be)Longing, 2019. Ceramic, steel, ribbon, fiber, video, approx. 42 x 89 x 80 in. Photo courtesy of Kate Russell Photography.
Alex Anderson, Spiraling, 2020. Earthenware, glaze and gold luster, 22 x 17 x 2 in. Crocker Art Museum, John S. Knudsen Endowment Fund, 2021.49.
Natalia Aberlaez, Colonización Española, 2019. Terracotta majolica and luster, 20 x 17x 9 in. Photo courtesy of the artist.