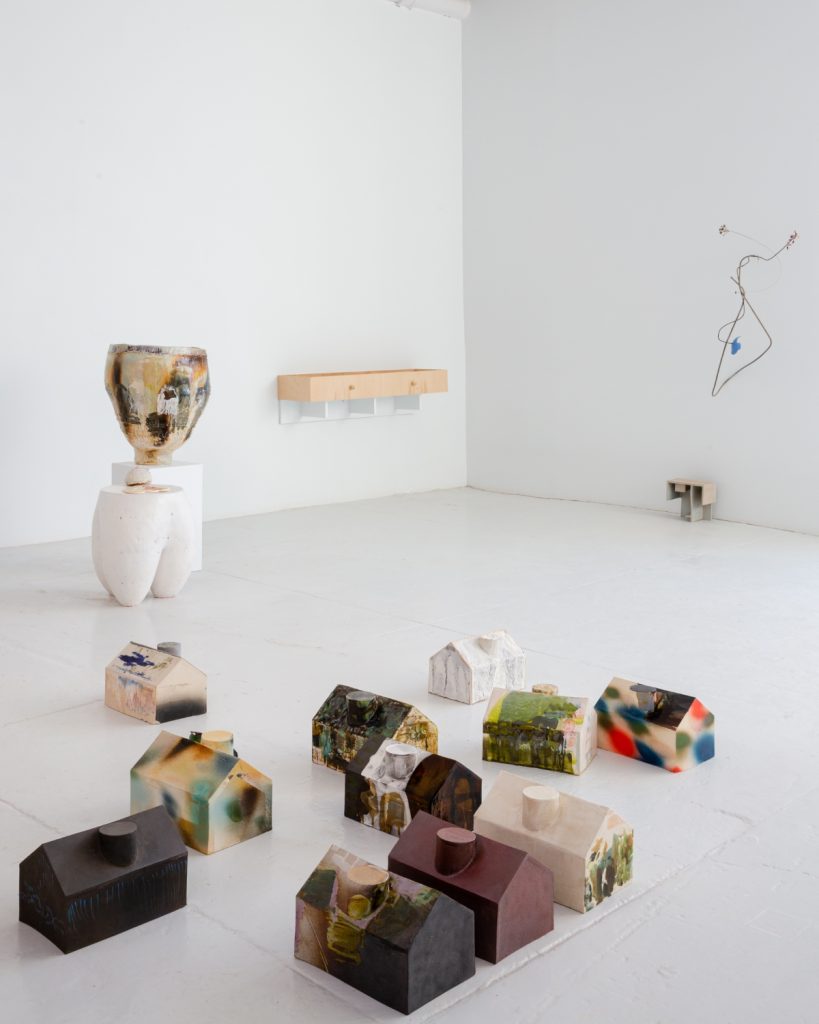 December 9, 2022 – February 4, 2023
Sculpture Space NYC – Center for Ceramic Arts is please to present: "Permission", the first solo exhibition of Brazilian-born artist Bruno de Abreu-Grizzo.
Building on a background in fashion and illustration, de Abreu-Grizzo has developed a distinct sculptural practice that largely revolves around the multifaceted nature of ceramics. The artist's compositions blend abstract and figural forms, polished structures juxtaposed with rough vessels, appearing at once grounded and weightless. Occupying both horizontal and vertical surfaces, such as pedestals and walls, de Abreu-Grizzo's sculptures come to fully inhabit their spatial surroundings creating ensembles of autonomous pieces while responding to a diversity of contexts and situations.
In the installation on view at Sculpture Space NYC-Center for Ceramic Arts, de Abreu Grizzo takes the home as a central point of departure, "a mythic place, the location of childhood memories," to reflect on his early years in Brazil and to contemplate how the home can be found outside the physical structure and becomes an extension of the self. His ceramics, which include vessels and figures, exude a poetic quality in their raw tactility, while his seemingly effortless use of color and glaze plays against each unique form. The organic shapes are almost visceral, leaving your fingers with the sensation of kneading the clay. In addition to ceramics, several enamel copper pieces showcase the artist's deep investment in the material process, drawing out an aesthetic harmony in every structure.
One piece that spells out "Permission" lends the exhibition its title. Evoking the monumentality of Brutalist Brazilian architecture, this structure forms a counterpart to the motif of the house.
There is a power dynamic in giving and receiving permission, an outer and inner conflict that has been a running thread throughout de Abreu-Grizzo's life as a gay artist and an immigrant. At Sculpture Space NYC-Center for Ceramic Arts, de Abreu-Grizzo presents the results of allowing himself to inhabit a space where permission is no longer needed to feel at home in one's artistic practice.
Bruno De Abreu-Grizzo received his BFA from the Columbus College of Art and Design. He began his career as a fashion designer in Paris for Lanvin and Calvin Klein in NY. He launched his eponymous clothing label in 2006, for which he won two Gen Art awards.
In the years following, de Abreu-Grizzo moved away from fashion design to set up an illustration and animation studio focused on advertising while pursuing other interests and mediums, first ceramics, then metal-smithing and enamel, and since 2020 has dedicated full time to making art.
Sculpture Space NYC – Center for Ceramic Arts is a ceramic and sculpture center founded in 2013. Sculpture Space NYC's mission is to stimulate creativity, new ideas and collaboration in ceramics-based investigations. Artists, designers, and craftspeople of all backgrounds converge in this center to experiment, learn, make, reflect and grow artistically. The not-for-profit gallery maintains an ongoing exhibition schedule featuring works of recent graduates from renowned institutions such as Alfred University and RISD, as well as the work of emerging and established artists.
Contact
info@sculpturespacenyc.com
Sculpture Space NYC – Center for Ceramic Arts
47-21 35th Street
Long Island City, NY 11101
United States
First two photos by Brian Ferry