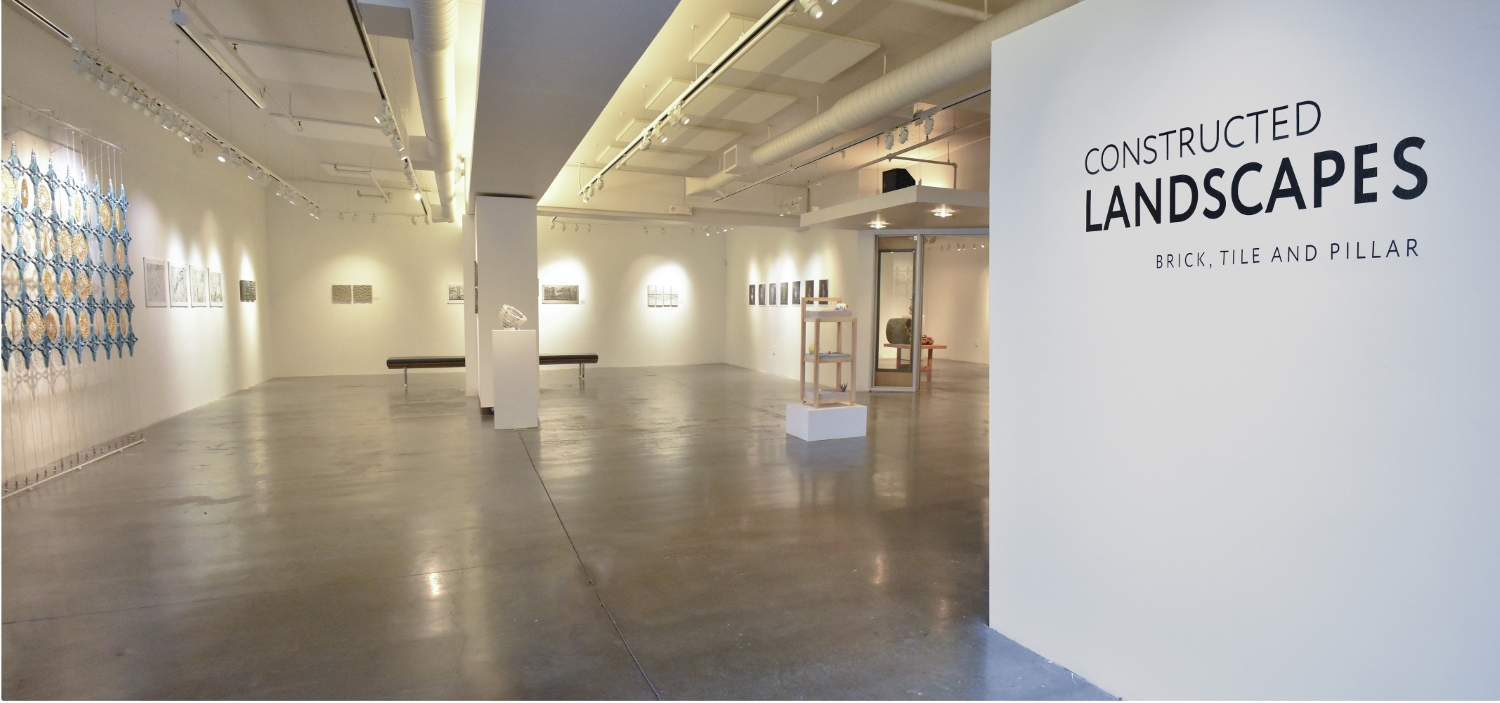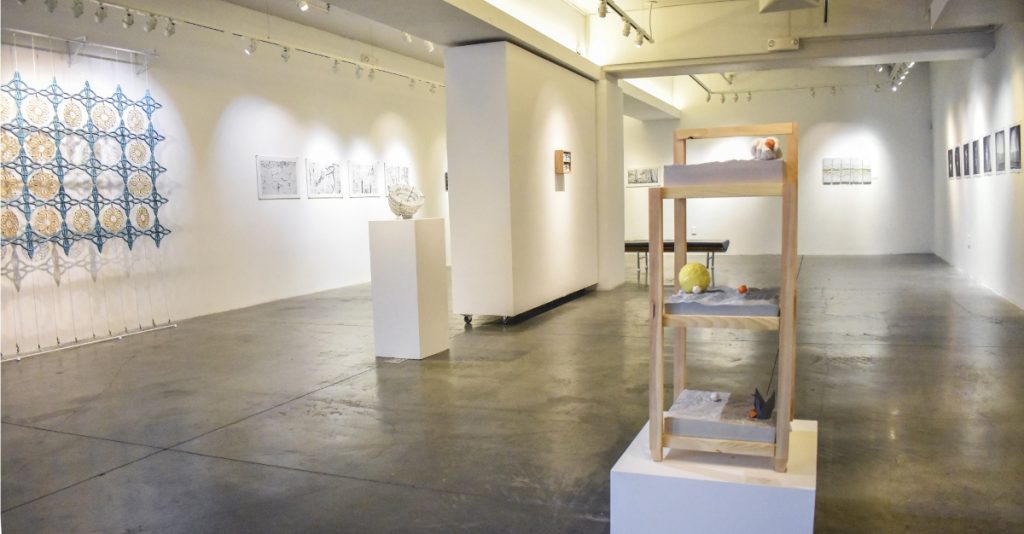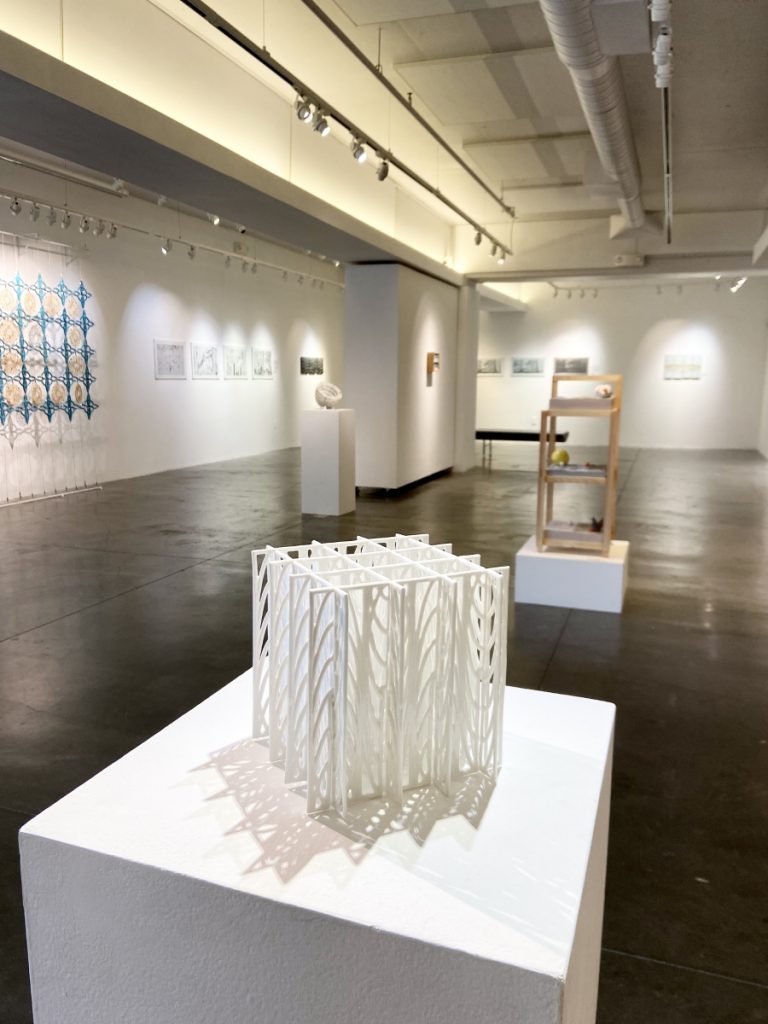 Constructed Landscapes: Brick, Tile and Pillar is on view at Blue Line Arts, Roseville, CA
February 11 – March 26, 2022
A concurrent exhibition with NCECA 2022
This exhibition explores the interface between nature and culture through the liminal space of architecture. Through the modules of the brick, tile, and pillar, the artworks in this show explore architectural ornamentation influenced by natural forms and patterns, through mimicry and reproduction, as well as translation and re-adaptation. These characteristics are relevant to Michael Hann's theory of diffusion, adoption, and adaptation, as outlined in his book, Symbol, Pattern & Symmetry. Originally applied to the evolution of cultural pattern motifs, it has been applied to this exhibition by relating diffusion to the acquisition of the natural object; adoption, a direct copy of its form; and adaptation, taking the form and abstracting it.
Plant-based or nature-based design, is apparent in the included works. The depictions of the arabesque, the mandala, and plant foliage show an underlying system of geometry and symmetry, which stem from the natural world.
The artists in this exhibition use digital processes to abstract architectural ornament by editing, selecting, and modifying images and forms. Through doing this, process and design act as a vehicle to convey authorship as well as individual and collective experiences.
Featured artists: Eliza Au, Audrey Ann, Grace Nickel, Sarah Heitmeyer
Curated by Eliza Au
Blue Line Arts is a host venue for NCECA's Multicultural Fellowship Exhibition and three Concurrent Exhibitions by vetted guest curators.
About NCECA Concurrent Exhibitions
The annual conference of the National Council on Education for the Ceramic Arts (NCECA) provides opportunities to build and strengthen professional networks and experience lifelong learning with friends, colleagues, mentors, and students. During the 2022 conference, lectures, demonstrations, networking opportunities, and engagement with vendors, nonprofit organizations, schools, and galleries will be available throughout the region.
During this time, Blue Line Arts will be featuring 4 Concurrent exhibitions in collaboration with NCECA, hosting guest curators and artist groups from around the world who are creating work with clay. Stop by to see their interpretations of this year's theme: Fertile Ground.
Contact
info@bluelinearts.org
Blue Line Arts
405 Vernon St. #100
Roseville, CA 95678
United States
Photo captions
Images 1-11: Installation view, Constructed Landscapes: Brick, Tile and Pillar at Blue Line Arts, Roseville, CA
Audrey An, Mobile Thoughts, Ceramics & Wood, 16 x 17 x 42 in. Photo Credit: Andrew Castaneda
Audrey An, Symbiotic Places, Ceramics, Foam & Wood, 18 x 23 x 47 in. Photo Credit: Audrey An
Eliza Au, Lattice Screen, 2021, Stoneware, 10 ft x 8 ft x 1 in (l x w x d). Photo Credit: Stephanie Gerhart
Eliza Au, Lattice Screen, detail. Photo Credit: Stephanie Gerhart
Eliza Au, Raised Tile, 2021, Stoneware and Porcelain, 32 x 66 x 1.5 in. Photo Credit: Megan DeSoto
Eliza Au, Raised Tile, detail. Photo Credit: Megan DeSoto
Sarah Heitmeyer, Sky-Water Symmetry, Stoneware, Glaze, 24" W x 16" H x 0.5"D. Photo Credit: Sarah Heitmeyer
Sarah Heitmeyer, Water Symmetry Studies 1-4, Stoneware, Glaze, 11" W x 11" H x 1"D each, group of 4: 24" x 24". Photo Credit: Sarah Heitmeyer
Grace Nickel, Espalier 1-5, 2015, Jingdezhen porcelain tile with laser marked image, 49.5 × 72 × 0.7 cm
Grace Nickel, Kaolin Plume, 2019, inkjet print, 48.3 cm × 48.3 cm
Grace Nickel, Robin's Egg Blue Plume, 2019, inkjet print, 48.3 cm × 48.3 cm
Grace Nickel, Tangerine Plume, 2019, inkjet print, 48.3 cm × 48.3 cm