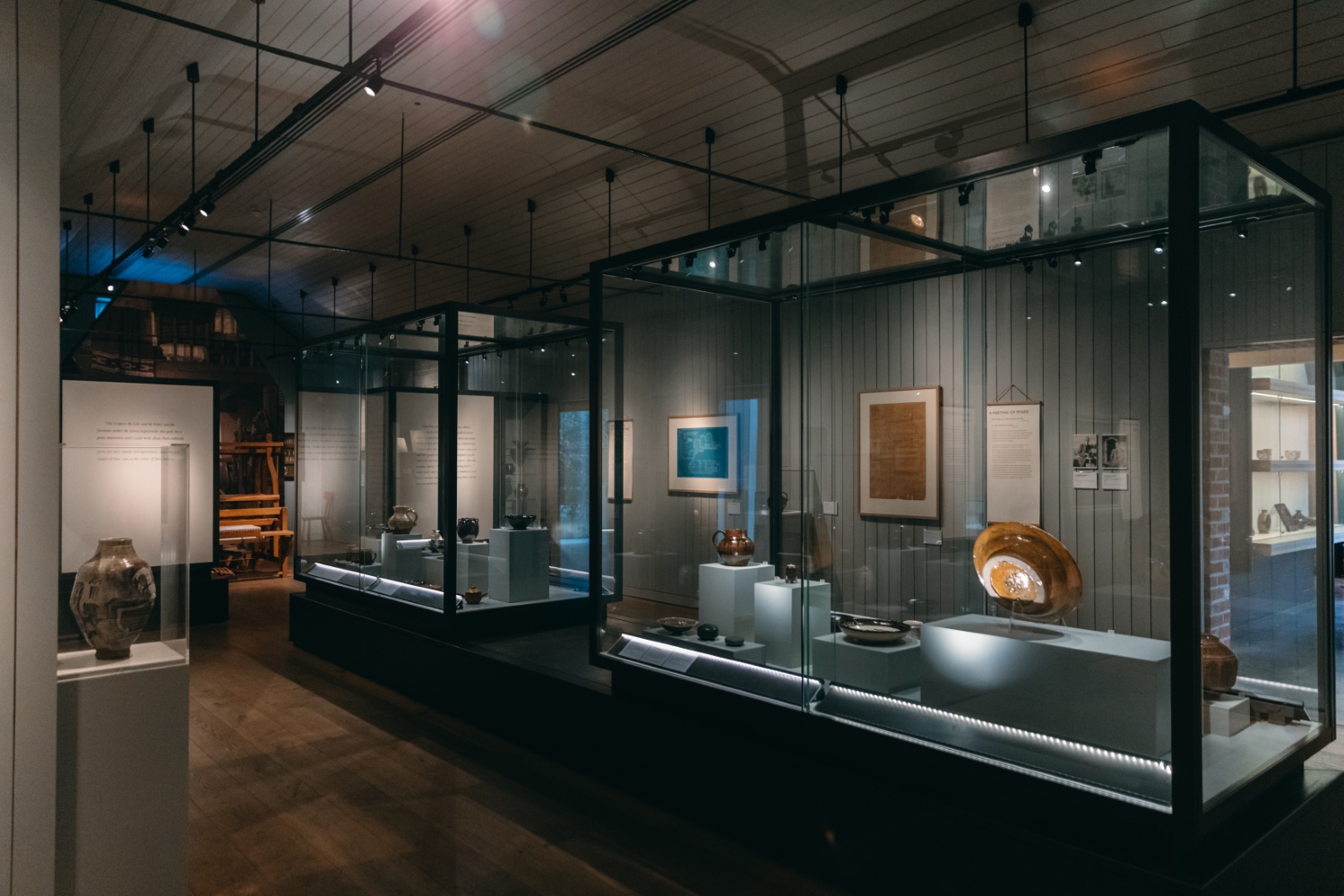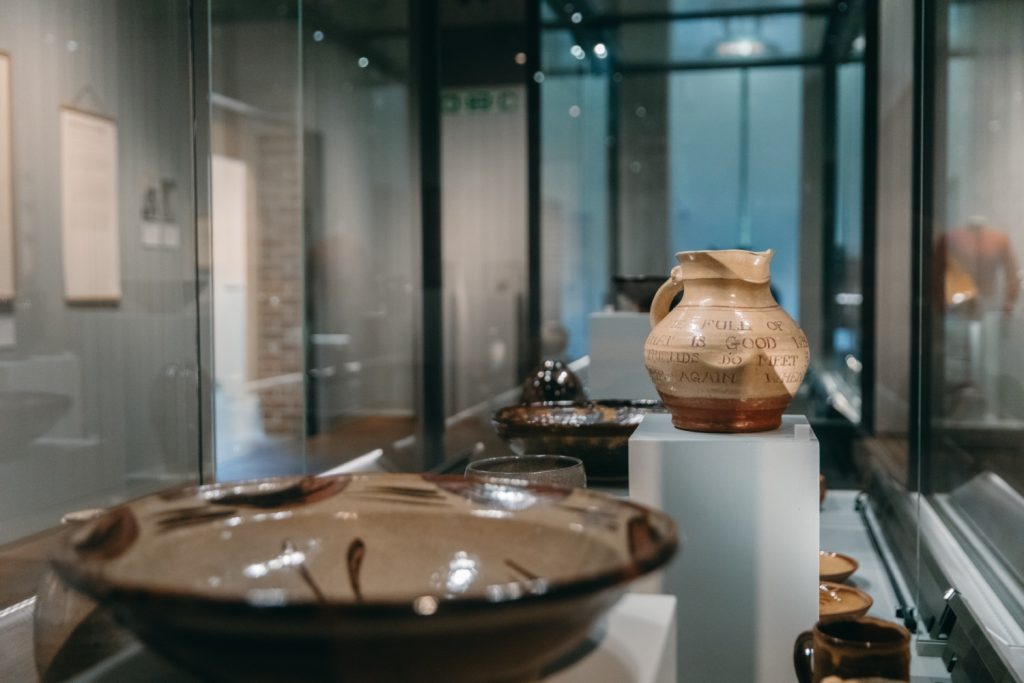 Shōji Hamada: A Japanese Potter in Ditchling is on view at the Ditchling Museum of Art + Craft
October 22, 2022 – April 16, 2023
Shōji Hamada: A Japanese Potter in Ditchling will explore how a young potter's visit to a tiny village in East Sussex shaped the course of the craft movement in both Britain and Japan. In 1921 Shōji Hamada (1894 – 1978), a key figure in the Mingei Japanese folk-art movement, travelled with his friend Bernard Leach (1887 – 1979) to the village of Ditchling from St Ives.
The exhibition will focus on the cultural exchange between the East and the West at this key moment in the emergence of the studio pottery movement. On display will be over 70 ceramics ranging from traditional British slipware to rich tenmoku-glazed jugs, iron-brush decorated plates and intricate sgraffito etched jars, including 25 pieces by Hamada. The exhibition will also feature ceramics, paintings and textiles by some of the leading figures of the modern British 20th-century art, design and craft movement: Ethel Mairet, Frances Hodgkins, Ben and Winifred Nicholson and William Staite Murray amongst others.
The loans are supported by the Weston Loan Programme with Art Fund. Created by the Garfield Weston Foundation and Art Fund, the Weston Loan Programme is the first ever UK wide funding scheme to enable smaller and local authority museums to borrow works of art and artefacts from national collections.
The exhibition will begin with early works created by Leach as a result of his stay in Japan between 1909 and 1920. It was here Leach met Hamada and pottery became his focus. Leach studied religiously under mentor Ogata Kenzan VI for two years, in the artist colony of Abiko, learning traditional techniques that had been passed down for centuries. Kenzan's work is represented in the exhibition by an exquisite pot with black-and-white sgraffito decoration, featuring a pattern typical of his work, derived from 12th-century traditions in Korea and Japan. In 1920 Hamada and Leach moved to St Ives in Cornwall, where they set up their pioneering pottery. Collaborative works from this period including a raku dish with a brushed decoration of a ship in iron oxide will be displayed alongside solo works by Leach. These showcase Leach's passion for Japanese traditions, including a plate decorated with cherry blossoms and mountains. The Leach Pottery is known for having the first traditional Japanese climbing kiln in the West. The original blueprint for the three-chambered kiln, built by potter Tsurunoske Matsubayashi, will be displayed alongside Leach's own sketch for a second, unrealised kiln.
Hamada spent three years living in England and a major theme of the exhibition will be his experience of the village of Ditchling and its resulting impact on his life and work. Throughout the 20th century, Ditchling attracted many artists and craft workers who experimented with communal life and self-sufficiency. Among them was pioneering weaver Ethel Mairet and the exhibition will evoke the atmosphere of Gospels, her home and workshop, which captivated
Hamada. On display will be pieces from Mairet's collection of historic international textiles, examples of which adorned her home and workshop alongside her own weaving. Textiles on display will include a golden embroidered silk skirt length from Saurashtra, India; historical textiles purchased from a bazaar in India; and an embroidered and printed pocket from Persia. Many of the works in the exhibition also speak to the concept of 'truth to materials' – the notion that materials should be used where they are most appropriate, with their innate qualities being worked to best effect.
Letters between Leach and Mairet will be displayed alongside some of his diaries which connect Leach with key players in early 20th-century modern art, craft and design. Hamada later wrote about his time in Ditchling, 'People there were not just escaping to the country; they had one leg in the city and went there anytime they wanted'. Upon his return to Japan Hamada decided to adopt a rural lifestyle but he continued to be completely connected to, and invested in, international craft, design, architecture and art. In Japan, Hamada set up his pottery in the artisan pottery town of Mashiko near Tokyo, and developed it as an internationally significant centre for studio pottery that today plays host to over 600 potters.
Led by ceramics pioneer William Staite Murray, the 1920s was a vital period for artist potters. Murray begun positioning his pots as fine art, sitting between painting and sculpture. Within the context of abstract modernism, Murray exhibited his work alongside paintings by Winifred Nicholson, Ben Nicholson and Frances Hodgkins. Works by these artists, alongside those by pioneering studio potters including the Martin Brothers and Katharine Pleydell Bouverie, will all be on display. Before Hamada returned to Japan, his pottery was featured in a number of exhibitions in London at this time, including his first solo show at Paterson's Gallery in 1923. Several pieces from this exhibition will be on display including a stoneware plate with sgraffito decoration.
The second section of the exhibition will show pages from a collaborative book by Ditchling artist Sir Frank Brangwyn (1867 – 1956) and Japanese wood engraver Yoshijiro Urushibara (1888 – 1953). Printed by Ditchling Press in 1940, this rare book contains exquisite wood engravings taken from lively and humorous observational sketches of people by Brangwyn.
Brangwyn, who trained under William Morris, had taught etching to a young Bernard Leach at the London School of Art. Urushibara was employed by the British Museum to restore and reproduce their Japanese prints, and he and Brangwyn collaborated on several commissions for book illustrations.
Contemporary works by ceramicists Jennifer Lee and Shōji Hamada's grandson Tomoo Hamada, that show Hamada's continued legacy on both Eastern and Western ceramic tradition, will also be on display. Lee's practice uses ancient coiling techniques and primary materials and her hand-built unglazed stoneware pots are characterised by their smooth surfaces and rich colours. Heavily influenced by Japanese tradition, Lee was artist in residence at Mashiko Museum of Ceramic Art in 2019. Tomoo Hamada's work uses clay from Mashiko and is decorated with the ancestral glazes his grandfather was fond of, reddish brown kaki, creamy nuka, cobalt blue and green seiji.
Sophia Weston, Trustee of the Garfield Weston Foundation, said: "The Weston Loan Programme enables smaller museums to bring important artworks to local audiences, where they take on a new significance in the context of regional history and heritage. This exploration of the artistic exchange between Japanese and British makers and craftspeople is a wonderful example of the programme's aims and we are delighted to support the display of these pieces in Ditchling.
About Ditchling Museum of Art + Craft
Ditchling Museum of Art + Craft specialises in showcasing the artists and craftspeople who made Ditchling a creative hub in the 20th century, such as sculptor, printmaker and typeface designer Eric Gill, designer of the London Underground font Edward Johnston, and printer Hilary Pepler. After a £2.4 million redevelopment the renamed Ditchling Museum of Art + Craft opened in September 2013. The museum was an ArtFund Museum of the Year finalist in 2014 and was placed on the RIBA Stirling Prize Midlist in 2014.
Contact
enquiries@ditchlingmuseumartcraft.org.uk
Ditchling Museum of Art + Craft
Lodge Hill Lane, Ditchling
East Sussex, BN6 8SP
United Kingdom
Photos by Rosie Powell