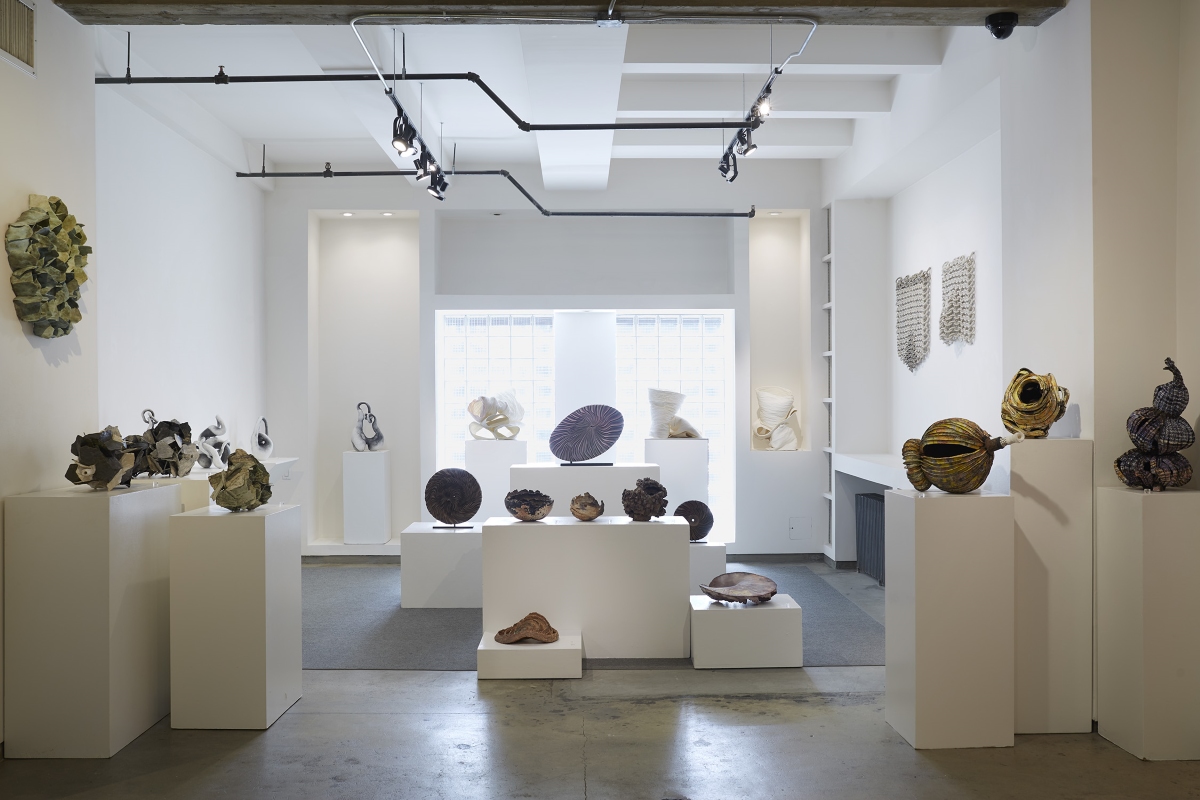 The Space Between is on view at Cavin-Morris Gallery, New York
April 6 – May 27, 2023
Quoting curator Phyllis Kudder Sullivan:
Miles Davis famously said, Music is not in the notes, but in the silence between the notes. To Richard Serra, space was a "material," the articulation of which took precedence over other concerns. Whether it is a pause in time or a void in space, the design principle of negative space is encompassed in the Japanese concept of Ma, a philosophy maintaining that absences are as powerful as presences, that emptiness gives substance to the vacuum and defines the tangible. Each of the artists in The Space Between makes the unfilled space within their work an essential element that imbues their work with meaning.
Marc Leuthold plays the silence in the negative spaces of his subtly carved wheels. Radial patterns of intricate crests and valleys correspond to the rhythmic repetition of notes and rests in musical arrangements.
Linda Casbon and Allan Drossman find Ma within interior spaces. With a nod to the rich heritage of the traditional pottery container, Allan Drossman's charred clay vessels draw the viewer into the energized, hidden depths of the vortexes within their crusty walls. Similarly, Linda Casbon taps into the concept of containment. Her wall-mounted constructions define space between their thin slab walls much as a blueprint designates volume and functionality. The "rooms" are visual sanctuaries within an energetic totality.
In Cheryl Ann Thomas' work, there is a similar idea with form and non-form. The effect of high temperature firing on her thin-walled porcelain abstractions results in slumped forms. The extreme heat causes the symmetrical walls to gently collapse in the kiln, as if the forms were slowly deflating.
Silences in the form of absence define the work of Judit Varga, whose enigmatic breached or abandoned pods and cocoons permeate a sense of emptiness. Similarly Ruth Borghnicht's compositions of interlocking rings allude to what no longer exists. In the case of Borghnicht's metaphorical chainmail it is the body that the defensive armour would have concealed that is absent.
Phyllis Kudder Sullivan and Judi Tavill construct forms that contain more air than clay. Phyllis Kudder Sullivan starts with nothing, building her net-like sculptures from the inside out. Her process, an over-under technique associated with weaving, necessitates that she first constructs an armature. This support is in fact the negative space, defined by the philosophy of Ma as the space "in between." The twisting, biomorphic clay arms of Judi Tavill's organic sculptures embrace silences between multiple entanglements of ties and knots. The implied movement through interior space gives her forms the illusion that they are expanding and contracting.
The artists in The Space Between manipulate clay and air; form and non-form. Viewers are invited to take a slow, attentive look at their work. Those who take the time to appreciate the emptiness in the space between are rewarded with a greater sense of Ma and a deeper appreciation for the power of stillness.
Contact
info@cavinmorris.com
Cavin-Morris Gallery
529 West 20th Street, 3rd Floor
New York, NY 10011
United States