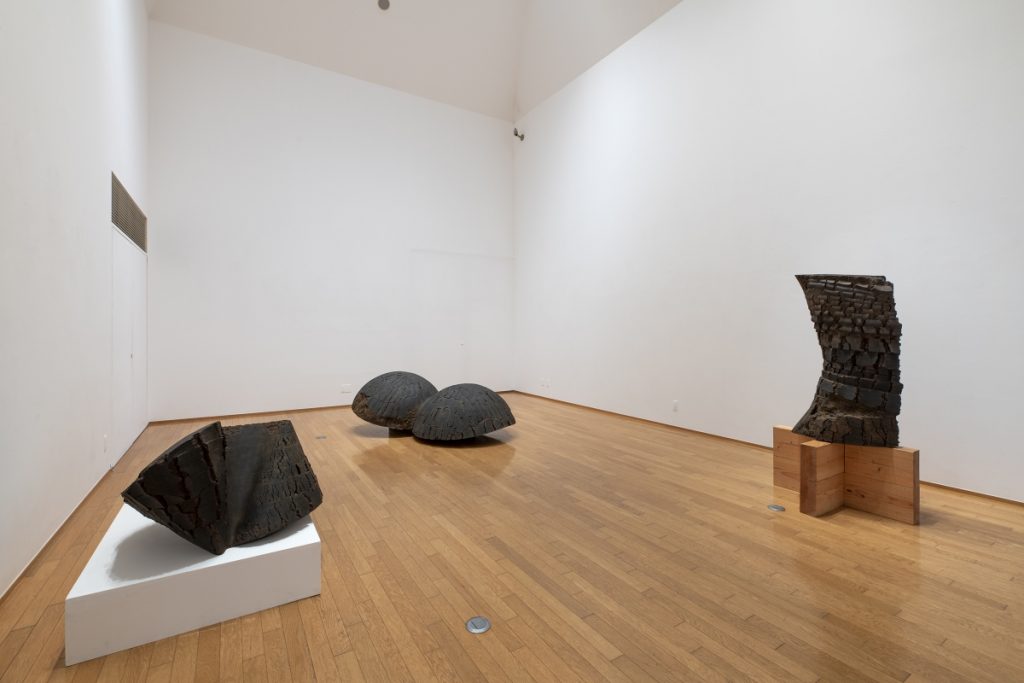 Yo Akiyama: Far Calls and Textures is on view at ARTCOURT Gallery, Osaka
May 10 – June 11, 2022
Ever since Akiyama began to invoke the image of fissures, that phenomenon beyond human understanding, to the surface of his ceramic works, he has earnestly questioned our relationship to the earth, that surface connected to the soles of our feet. Akiyama has developed his unique form of expression, breaking ground on themes such as the lithosphere, gravitation, seismology, and rhythm. He scrutinizes the mechanisms of nature and the structures of origin. By establish- ing his production agenda on themes such as interior and exterior, creation and decay, continuity and breakdown, and centrifugal and centripetal forces, Akiyama continues to explore his materials and 'form', the root of all things.
Akiyama first encountered the world of pottery in the early 1970s, when he was a student under Kazuo Yagi. Using black pottery, Akiyama continued to search for a mode for his expression. He eventually found a connection between "clay" and himself when working at a facility for the mentally disabled after graduating from university.
Through playing with clay, Akiyama observed how these people used their physical sensibilities to interact with the materials. Through insights into the materiality of clay and the hidden energy in stones in the natural world, his image of pottery expanded. He experimented with novel ways of interacting with clay beyond merely using it as a material for modeling.
One day, Akiyama wondered if it would be possible to peel the surface of the clay as if peeling a tangerine. He made a sphere of clay and roasted it with a burner to transform the exterior and interior. In this process, Akiyama witnessed the moment when a crack ran across the surface of the clay. He then removed the fragments of clay from the fire. The sphere's interior retained its original curved soft shape, but the exterior had hardened and cracked. He flattened these or organized them into units, and in 1980 began to exhibit them as the Peneplain series. Cracks divide the succession of curved surfaces, which resemble the gentle perpetual undulations of the earth. On this dynamic scale, Akiyama interacts with clay, further deepening the ceramic form.
This exhibition will center around a large work from the Peneplain series, created by applying iron powder after firing, and two large works from the Metavoid series that he has worked on since the 2000s. In the latter, Akiyama focuses on the spacial relationship of the structure of a vessel. In addition, we will display ten smaller works that contribute to the installation. Akiyama's eye, which captures the cracks on the surface of the clay, turns to the earth and the larger world beyond the horizon. The expression of the clay created by his hands is meticulous and brimming with an abundance of energy. We invite you to the forefront of Akiyama's quest to experience the 'form' that he pursues.
Contact
info@artcourtgallery.com
ARTCOURT Gallery
OAP Art Court 1F
1-8-5 Tenmabashi, Kita-ku, Osaka
Japan
Photos by Kazuo Fukunaga. Courtesy of ARTCOURT Gallery, Osaka
Photo captions
Peneplain 221, detail, 2022, Stoneware, 72 x 214 x 124 cm
Metavoid 37, detail, 2022, Stoneware, 123 x 66 x 50 cm
Heptahedron B, 2022, Stoneware, 23 x 24 x 17 cm
One Seed, 2022, Stoneware, 17 x 42 x 39 cm
Fragment, 2022, Stoneware, 45 x 39 x 15 cm
Metavoid 36, 2022, Stoneware, 61 x 90 x 80 cm
Peneplain 221, 2022, Stoneware, 72 x 214 x 124 cm