Iren Tete is an artist originally from Sofia, Bulgaria who is currently based in Gainesville, FL. Tete is Visiting Assistant Professor at the University of Florida and was recently Visiting Faculty in Ceramics at the Alberta University of the Arts in Calgary, Canada. She earned an MFA in Studio Art from the University of Nebraska-Lincoln in 2019.
Tete has exhibited solo exhibitions at Galleri Urbane (Dallas, TX), Gallery 371 (AUArts, Calgary, Canada), and The Lee Dam Art Center for Fine Art (Marysville, KS), among others. Her work has been featured in numerous group exhibitions, including shows in Nebraska, Texas, New York and Florida. In 2020, she was selected as an Emerging Artist by Ceramics Monthly Magazine and as a finalist for the Hopper Prize. Tete has completed residencies at the Archie Bray Foundation for the Ceramic Arts in Helena, Zentrum fur Keramik in Berlin, Northern Clay Center in Minneapolis, University of Cincinnati DAAP in Cincinnati, among others.
Tete has recently exhibited at the Dallas Art Fair and UNTITLED, Art Miami Beach. In 2021 her work was featured in two biennale exhibitions – Latvia Ceramics Biennale (Daugavapils, Latvia) and Officine Saffi (Milan, Italy).
Visit Iren Tete's website and Instagram page.
Featured work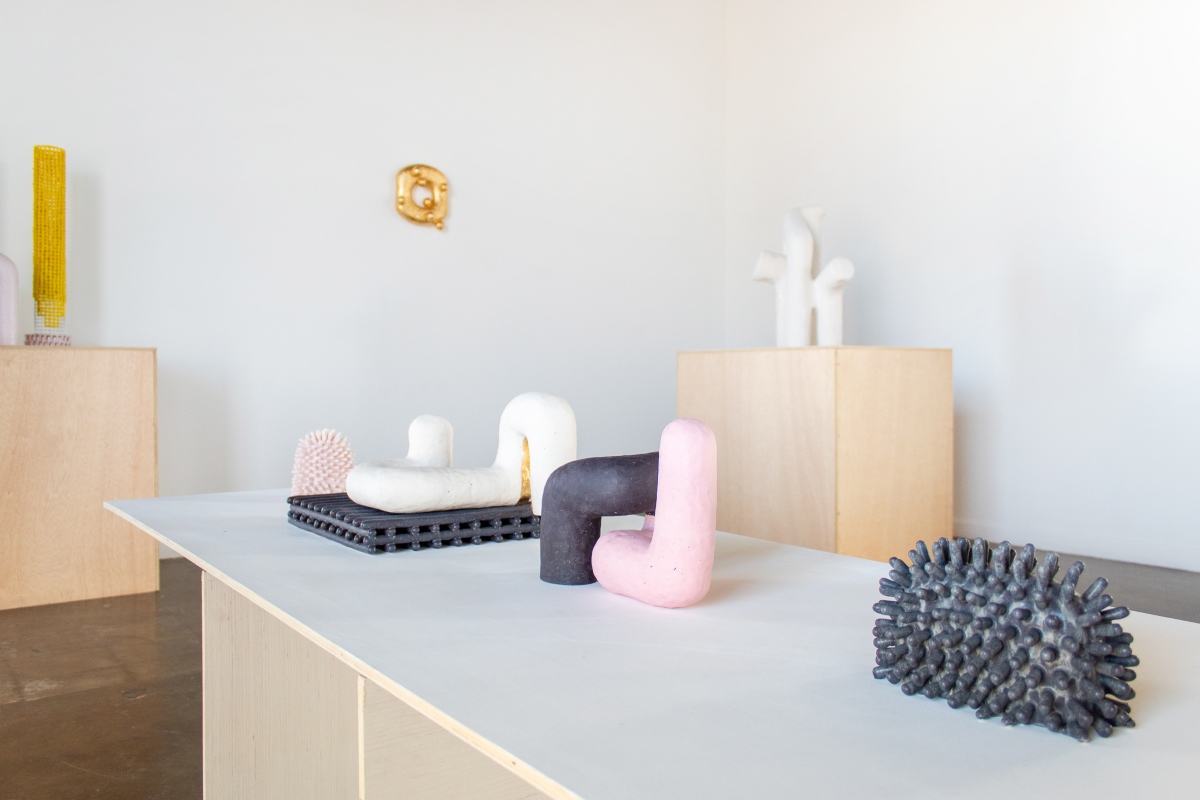 ---
I embrace the lyrical atmosphere governed by magic and surprise and create sculptures that address the mystery that gaps in logic offer. They are, what I call, logical tangles.

I am drawn to forms, materials, and thoughts that are suggestive and exist somewhere between reality, dream, and possibility.

My ceramic lattice forms are simultaneously trellises, ladders, windows, and the modular breeze blocks in Barragán's buildings. Ultimately, they are the structure of a thought.

My work is a reflection of time – both real and imagined. In the silver leaf covered ceramic pieces, the sculptures reflect not only the viewer but also themselves and the space. The reflection is always changing, and light becomes both an active participant and creator of space.

The silver leaf that coats the ceramic underneath exists in an "almost" space. It is almost mirror and almost fog.

Almost is full of promise. Almost has potential.
Almost is a moment that has infinite possibilities.