Jane King is a ceramic artist who received her MA in Ceramics from Bath Spa University in 2012.
"Since 2013, my work has been exhibited widely in the UK and internationally. I was awarded the Medal of the President of the Italian Senate in the 2013 iteration of the International Prize for Contemporary Ceramics, Faenza, Italy, and my work was featured in the international ceramics magazine La Ceramica in Italia e Nel Mondo in June of that year. My work has since been shortlisted for several other national and international prizes, including: the inaugural Craft Emergency Award (Aspex, Portsmouth UK, 2013), the inaugural Young Masters Maylis Grand Ceramics Prize (London, UK, 2014); the inaugural Carter Preston Prize (Liverpool, UK, 2016), the Annex Collection Acquisition Award (London, UK, 2017) and the European Prize for Applied Art (Mons, Belgium and Kilkenny, Ireland, 2018-19).
My work has been exhibited in both fine art and applied arts contexts. I had my first solo show 'Incident!' at the National Centre for Craft and Design, Sleaford, UK in 2015, and I recently exhibited 5 works in MK Calling at MK Gallery, Milton Keynes, UK, showcasing 'the most dynamic work being made in the UK'. A number of my works are held in public and private collections, in the UK, USA and Italy."
Visit Jane King's website and Instagram profile.
Featured work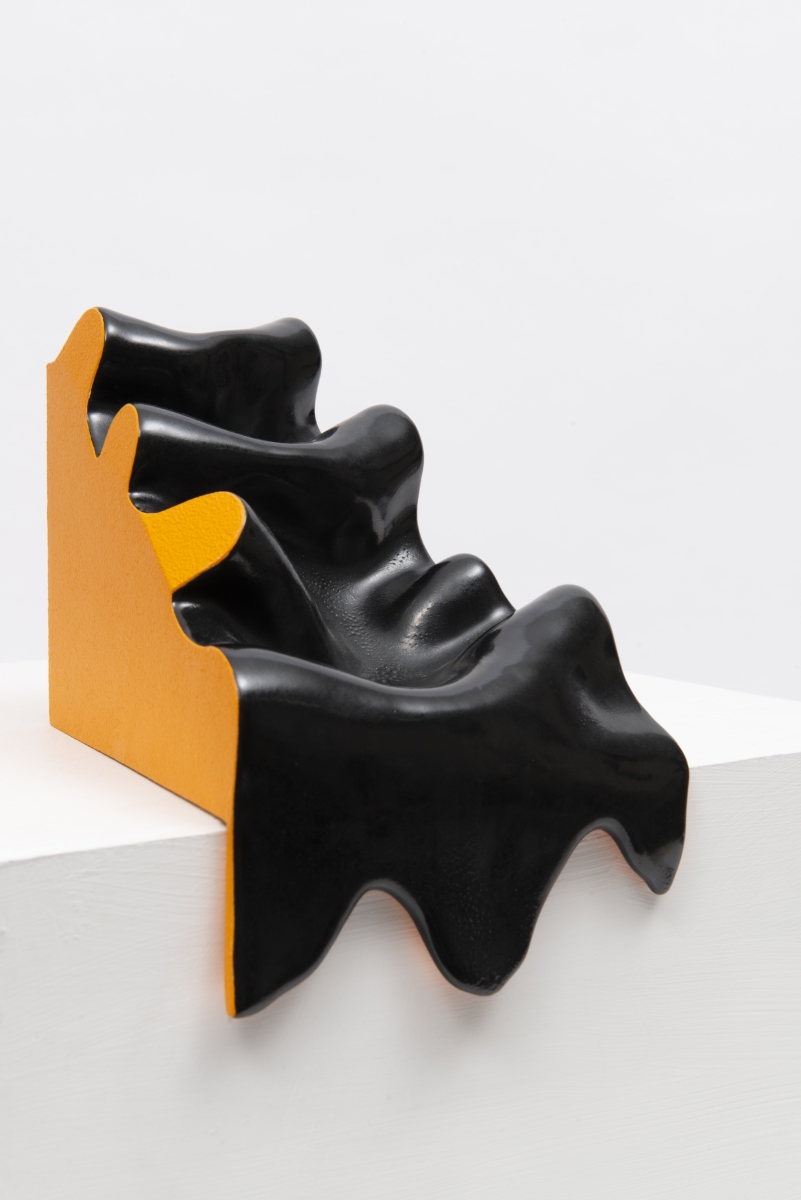 ---
I make small ceramic sculptures which combine opposites of form, texture and colour as metaphors for perfection and control versus imperfection and chaos. Through my work I explore the contemporary obsession with seeking control and perfection in all we do and everything we own. I'm interested in the tendency, prevalent on social media, of masking the chaos and messiness of real life, through the presentation of curated and carefully managed idealised online identities, which generally only highlight success, positive news or a 'perfect' life. My sculptures use physical metaphors to set this obsession in opposition to the chaotic and imperfect nature of real life.

My sculptures are about the drama of contrasts; they are dynamic. Brightly coloured, flat acrylic surfaces are combined in the same object with dark, rough, messy, uncontrolled, collapsed or flowing sections, these oppositions being achieved through the careful construction and refining of some parts, and the loose, free making of others. This approach enables me to explore my themes in a performative way, through my own making processes. Sources of inspiration include the work of other makers, both historical and contemporary – especially those working with clay – and observations of the chaotic or uncontrolled at odds with the human desire for control, in nature; in the wider physical world and built environments; in my life and the lives of people around me, and in world events.

Writing, and in particular drawing are part of my practice. New ideas are explored through words and on paper through drawing and collage, as well as in clay.

My sculptures are intended to be unsettling in their form and in their display, sometimes spilling over the plinth. Small in scale (max 30cm in any dimension), they are intended to have visual and formal energy. Some pieces seem to imply an obscure function.