Janny Baek is an artist and architect born in Seoul, South Korea and raised in Queens, New York. Janny received her BFA in ceramics from Rhode Island School of Design, and worked as a sculptor in animation and toys before completing her Masters in Architecture at Harvard University, and counts her experiences in craft, pop culture, industrial design and architecture as the major influences on her current work in ceramics. After founding her firm, McMahon-Baek Architecture, in 2014, Janny returned to making sculptures and started her ceramics practice in Brooklyn, NY in 2019.
Visit Janny Baek's website and Instagram page.
Featured work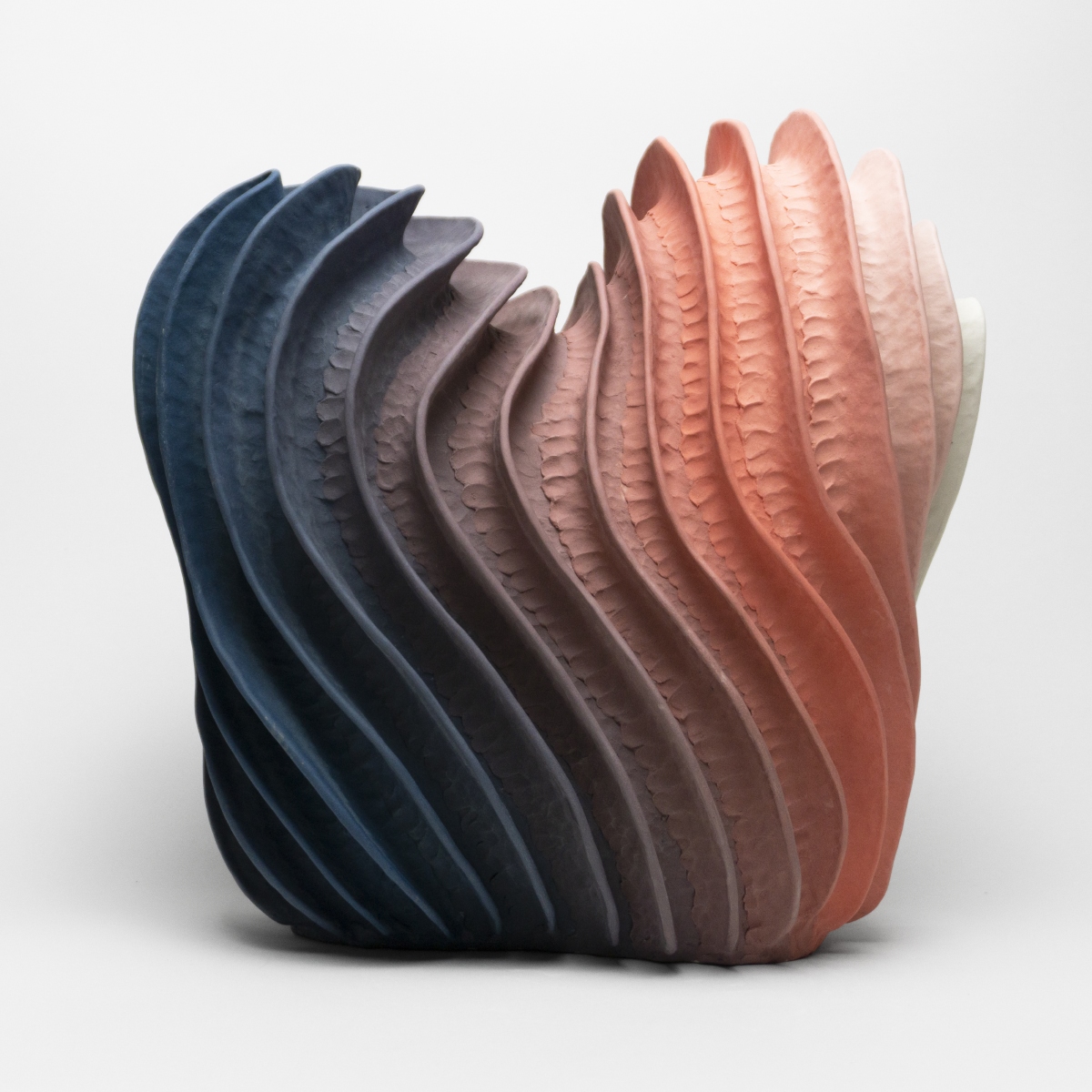 ---
I make soft, amorphous sculptures that are an exploration of matter in transformation, while increasingly engaging the functional meaning of the ceramic vessel as a means of evolution. I make my work to speak visually about the possible, as an intervention that proposes optimism and potential in what feels like a condition of global injustice and corporate indifference. As an artist, I feel a responsibility to contribute to the collective vision of ourselves as humans, and towards this goal my proposals seek to speculate, fantasize, and project a dream of possibility. As a woman artist of color, immigrant, and mother, I wish for the development of a rich collective imagination that encompasses a real representation of our human diversity, and whose focal point is redirected away from existing structures that define power, value, beauty, knowledge. The medium of clay and the forming of objects in this context is an assertion of the physical, inefficient, and real. Through my work, i advocate for the strange, uncategorized, undefined, changeable, hybrid, multiple, alien, and pleasurable.

My forms and surfaces are informed by references to familiar traditions in art and design: organic and figurative forms, geometry in nature, patterns in textiles and architecture, textures that expose the material qualities of clay. Though I use very specific techniques and considerations when working, my pieces intentionally reside in uncertain, ambiguous states of in-between: unity/multiple, soft/hard, solid/intricate, familiar/alien, hidden/revealed. My intention in leaving the work in this state of flux is to create the opportunity for subjective interpretation, open to questions of shifting perceptions and assumptions. From my experience working in animation and toys, I bring an interest in the playful, imaginary, and sci-fi, and my experience in architecture has trained me in materiality and design. I view the making of art, like science fiction and architecture, as an act of speculation that reflects on the present, while intervening to influence the future.