Julia Feld is an artist based in San Jose, California. She is a hand-builder and a painter. In her work she explores psychological and emotional issues of personal nature. She developed a highly personal style that incorporates narrative painting and ceramic sculpture in one work of art. She received her BFA in Spatial Arts, from San Jose State University, California and MFA in Visual Arts – Ceramic Sculpture, from the University of Cincinnati, Ohio.
For the past ten years she has been an active member of the ceramic community. She is a member of the International Academy of Ceramics (ICA), Switzerland; the International Ceramic Artists Association (ICAA), China; and an exhibiting member of the Association of Clay and Glass Artists of California (ACGA).
Julia Feld's work has been shown all over the US and internationally (Italy, France, China, Romania, Hungary, Latvia, Turkey, Serbia) at different galleries and museums. She has received numerous prizes and awards, the most recent are: 2019 Bronze Medal – First Teapot Competition, China; 2018 Grand Prize – Texas International Teapot Tournament, Houston; 2017 Honorable Mention – 3rd Cluj Ceramic Biennale, Romania. Her work was published in 500 Ceramic Sculptures, 500 Teapots and 500 Raku Lark Books publications. She is an adjunct professor and teaches Drawing, Ceramics and Wheel Throwing classes.
Visit Julia Feld's website and Instagram page.
Featured work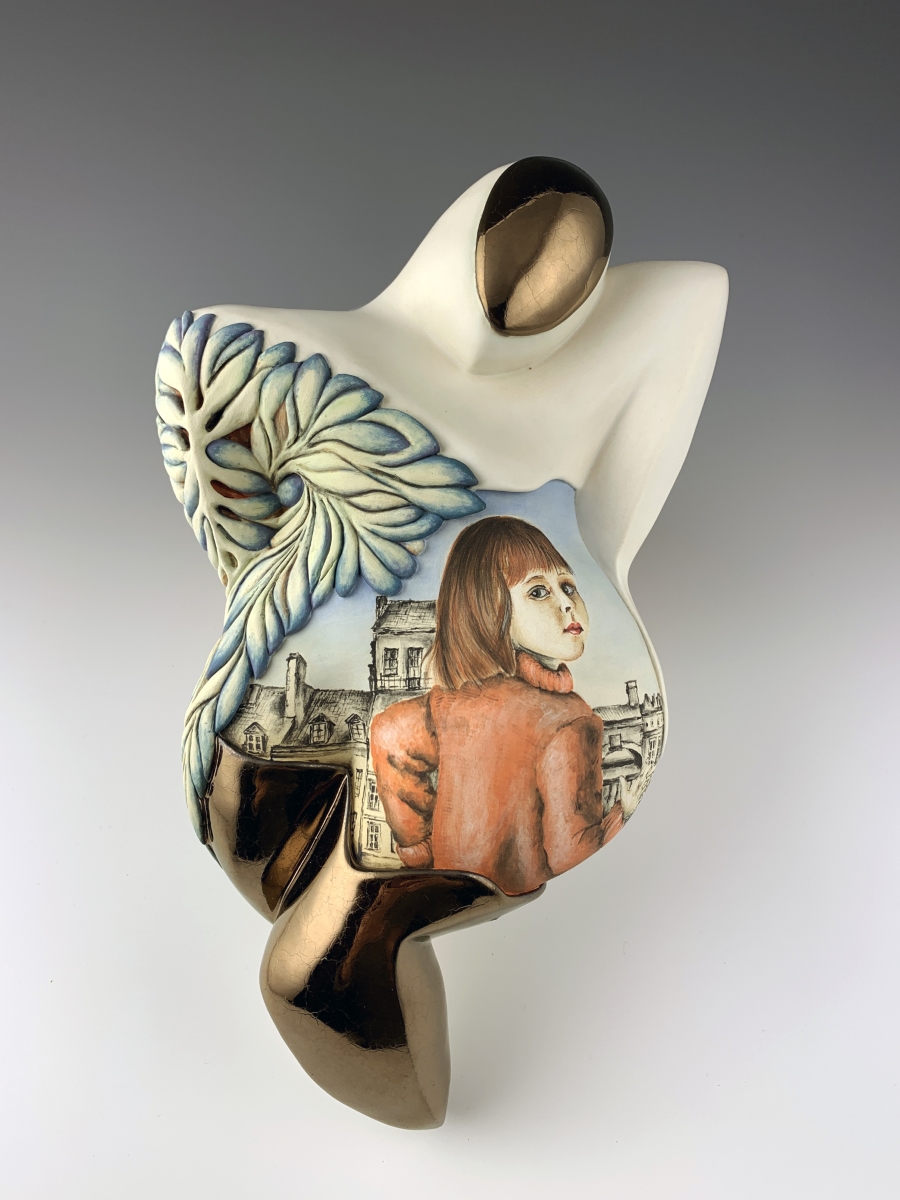 ---
I am a sculptor and a painter. I combine sculptural forms and a painterly surface, in order to create a work of art through the storytelling of narrated, surrealistic, rendered painting. For me painting on clay is not just a decoration; it is a natural fusion between the three-dimensional form and a two-dimensional surface. My sculptures are hand-built out of clay and hand-painted with underglazes.

All my work is an attempt to deal with psychological issues and explore emotions and feelings in depth. I am interested in examining the entity of the form during the process of transitioning from one realm to the other, from one stage of development to the next one. I use an abstract figurative shape to suggest the ambiguity of the process, signify the importance of the change and difficulty of the transitioning.

In my creative process I explore the relationship between sculptural form and the surface treatment and integrate the idea of interchangeability between a flat image and the three-dimensionality of sculpture. My sculptures convey the inner-world of a person – a world remembered or imagined from the past; a world of a dream, or a nightmare; a world of unfulfilled expectations.