Ken Mihara is a ceramic artist born in Izumo, Shimane Prefecture, Japan in 1958. After studying civil engineering in university, Mihara studied under Mingei potter Kenji Funaki for one year, and then embarked on a solo career. He has received numerous leading awards, such as the Grand Prize at the Chanoyu-no-Zokei "Forms of the Tea Ceremony" Exhibition in 2001 and 2008, as well as the Japan Ceramic Society Award in 2008, widely considered to be the most coveted award in contemporary Japanese ceramics. Ken Mihara's works are in 40 public collections the world over, including 2 works in the Metropolitan Museum New York, the Victoria & Albert Museum London, the Los Angeles County Museum of Art, and the National Museum of Modern Art Tokyo, among others.
Ken Mihara has been represented by A Lighthouse called Kanata for over 25 years, and is currently holding his 16th solo exhibition at the gallery.
Artist profile created with the participation of A Lighthouse called Kanata, Tokyo.
Featured work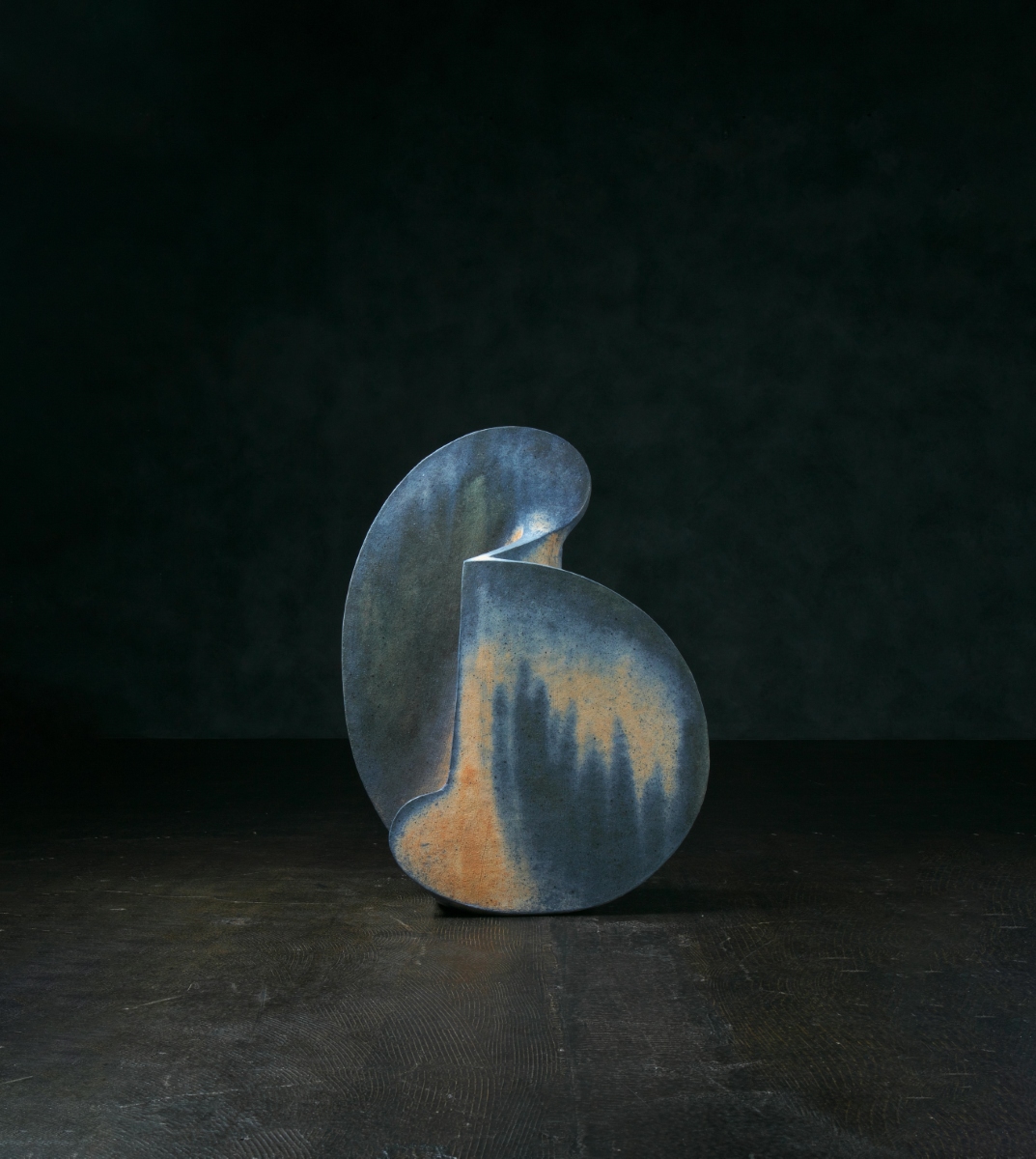 ---
Pristine forests, rugged ravines, gentle rivers, quiet mountains. Such are the landscapes that artist Ken Mihara (1958- ) witnessed as a child, growing up in the majestic scenery of Izumo in Western Japan. With natural surroundings of great beauty, steeped in the mysticism of ancient Shinto lore, Mihara's solemn stoneware are borne and influenced by deeply idyllic environs. His works are far more than odes to nature, however. They are, above all, a window into the artist's soul, and are vestiges of self-expression that capture and convey the Ken Mihara of yesterday, today, and tomorrow.
No man can step into the same river twice. Likewise, Mihara introduces new forms every three to four years, thereby abandoning entire bodies of work, no matter how popular. Mihara's sculptures must change because he himself has changed, much like the turning of the seasons.
Kigen (Genesis). Kodoh (Pulse). Kei (Mindscape) and Kuon (Aetus). Mihara's "4K's", created from 2007 to 2020, mirrored the fluorescence of the artist himself, and serve as clear testament to why nearly 45 museums have collected his work over these years. Mihara's austere poems in clay have captivated a global audience, propelling the artist to become one of the most sought-after artists in contemporary Japanese ceramics today.
Yet regardless of any phase in his career, each and every Mihara work is immediately recognisable as a Mihara. It is the visceral appeal of his clay flavour, the almost Zen-like serenity that brim from his silhouettes, that are unmistakable for any other artist, and which have not changed throughout the years.
The artist does not sketch, nor does he make maquettes. Rather, Mihara allows his hands to "start a conversation with clay", and it is through this silent dialogue that Mihara discovers his heralded forms. He has always preferred the ambiguity, the uncertainty, and more importantly, the unpredictability of the technique that is hand-coiling, and through his powerful hands, Mihara not only finds new forms, but his very sense of self.
Mihara's sculptures do not use any glaze, ash, or slip. Instead, each landscape of colour pours from the clay itself through multiple gas-kiln firings of great intensity and length: a bisque-firing followed by two main firings at 1270 degrees Celsius for 40 hours each. But what is most remarkable is Mihara's philosophy regarding the "memories of clay". The artist believes that any basic clay that one may dig out from the earth holds a distinct and primordial memory of colour. If one fully understands this trait, and knows how to fire it effectively, then that person will be able to "unlock" the memories trapped within clay, and transform that clay into any colour one wishes, simply by the way with which it has been fired. Mihara's bright colours are dictated by flames rich with oxygen, whereas his signature dark blues, grays and purples are the result of oxygen-deprived flames, otherwise known as reduction firing.
It is hard to believe that Mihara takes absolutely no data at all with his firings, and simply controls his flames on memory alone. The artist says that "data can only lead to predicable outcomes. Instead, I wish to fire something that transcends predictability". There is an audacity to his words, yet this audacity stems not from arrogance but from a child-like sense of wonder – an innate wish, perhaps, to surprise even himself with the heightened elation that comes with a new discovery every time he opens the door to his kiln.
Nearly two years have passed since the debut of Mihara's new series Sei (Awakening) at A Lighthouse called Kanata in September 2020, which also was the inaugural show that commemorated our move to Nishi-Azabu and the changing of our gallery name from Yufuku to Kanata. Sei's debut was a great success, with all 15 works in the catalogue selling out during the month-long exhibition.
To Mihara, the act of creating is much like writing pages of a diary, and each work captures Mihara at that very time and place. But we all change with time, and with Mihara, a series of work is only a means to an end, and not the end itself. In this light, if Mihara feels that he has nothing left to say with a particular body of work, he will move on. He must move on. And so, he will.
Wahei Aoyama, Owner of A Lighthouse called Kanata