Meaghan Gates was born and raised in Northern California where she received her Bachelors of Fine Art at California State University, Chico. She earned her Masters of Fine Art at the University of Massachusetts, Dartmouth as a Distinguished Art Fellow in the field of ceramics. At the completion of her undergraduate degree, she worked at the Guldgargaard International Ceramic Research Center in Denmark as an assistant and resident artist. She was also the recipient of a Windgate Fellowship that allowed her to work with a production potter in Seto, Japan and participate in residencies in Japan and China. Meaghan Gates' work has been shown in solo and group exhibitions across the United States and internationally. Along with her artistic work, she has aided in the creation of a ceramic-based curriculum that has been used by the Ammachi Labs at Amrita Vishwa Vidyapeetham (Amrita University) in Kerala, India. Currently, she is an Assistant Professor in Ceramics at the Dixie State University in St. George, Utah, in the United States.
Visit Meaghan Gates' website and Instagram page.
Featured work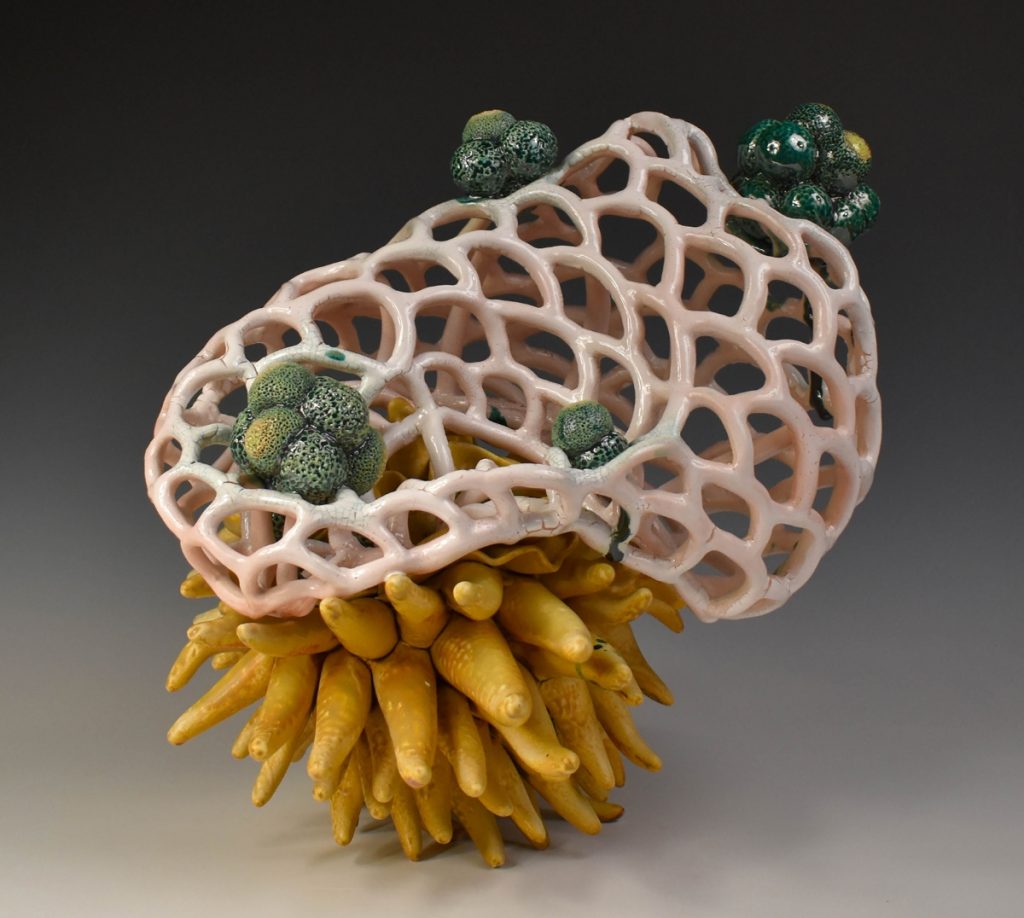 ---
Drawing inspiration from the natural world, my work captures moments of both beauty and the grotesque through precarious moments of flux. There is tension in the movement and growth that I create in my biomorphically abstracted sculptures. This visual dissonance references internalized concerns and feelings of vulnerability that can be anthropomorphized from the observations that I make of the world around me.

Each piece is created using wheel-throwing and coil-building techniques to produce many smaller assembled elements within a form. This mode of building references my interest in the repetition and variation found in the growth patterns and anatomy of biological organisms. The application of glazes, underglazes, and other post-firing treatments provides layers of information to the state of each form. The sculptures that I develop are laden with textures and colors, which aid in creating various scenarios of change. Each piece is intended to stimulate empathy to their captured moment in time and where their action may lead.