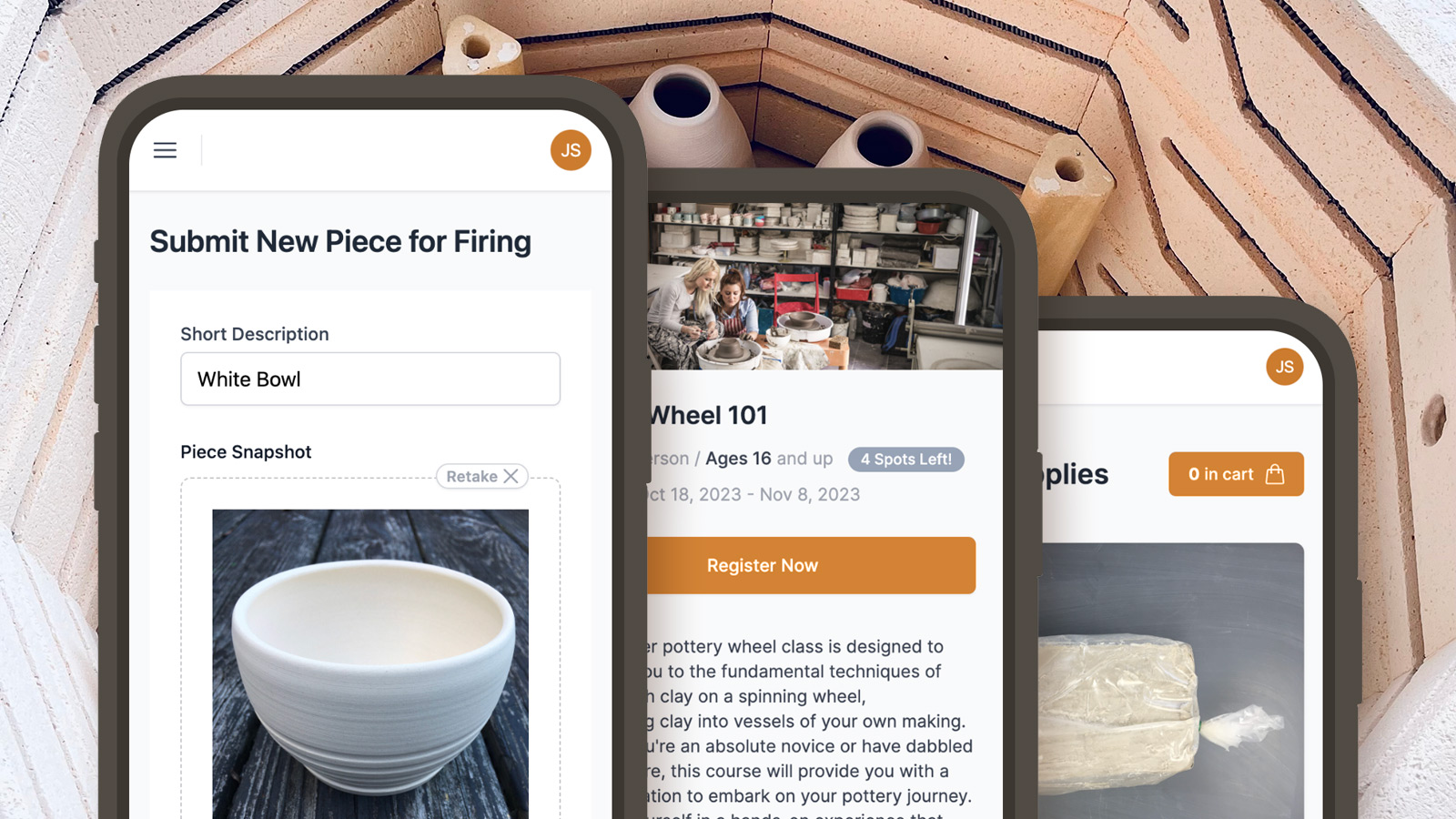 In today's post pandemic world pottery classes have become so popular they fill up as soon as they are offered, member based pottery studios have long waitlists for getting an open studio membership, and more and more community studios are popping up every year in both small and large cities.
These studios give potters the opportunity to create and be a part of a creator community. Behind the scenes, however, managing the operations of a ceramics studio requires a significant amount of time, from managing members, to loading kilns, teaching classes, and invoicing members for expenses. Most studios use a combination of online tools, clipboards and spreadsheets to make it all work. The resulting workload can be time intensive for managers and downright frustrating for members.
Kiln Fire pottery studio software is specifically designed for member-based pottery studios to automate repetitive administrative tasks like firing fees, membership management, supply purchases, class registration and management and more.
Studio owners and managers have more important things to do than paperwork and billing tasks. By seamlessly integrating a suite of features specifically designed for pottery studios, Kiln Fire frees owners and managers from manual processes, allowing them to channel their energy into building their studios and fostering creativity within their communities.
Kiln Fire also brings convenience to studio members. With their credit card information securely stored in the app, members no longer have to repeatedly enter their payment details for every transaction. Whether it's for firing fees, supply purchases, membership renewals, or class registrations, Kiln Fire's secure and encrypted payment process ensures a seamless and frictionless experience. This approach saves time and enhances members' overall engagement by allowing them to focus on their work.
1. Collecting Firing Fees with Ease
Kiln Fire simplifies the firing process by automating the collection of firing fees. When a member is ready for a piece of pottery to be fired, they can use their mobile device to snap a photo, enter the measurements, approve the fee amount, and submit it in seconds. With automatic payments happening on a weekly, biweekly, or monthly schedule, Kiln Fire handles it all. Leaving both members and owners with a smooth and efficient experience.
2. Tailored Membership Plans
Kiln Fire understands that every pottery studio has its own unique plans and pricing and its membership management feature reflects that. With a user-friendly interface, studio owners can effortlessly create and manage membership plans that suit their studio's offerings. Kiln Fire provides the flexibility to define tiers, benefits, and pricing – all with a few clicks. Studio members can sign up for the plan that aligns with their needs and gives them the ability to upgrade, downgrade, or cancel at the right time.
3. Streamlined Supply Purchases
In a pottery studio, access to quality supplies is essential for potters to work on their pieces. Kiln Fire introduces a helpful supplies feature that allows studio members to purchase clay, glazes, tools, and other essentials directly through the app in a members-only portal. This seamless integration not only ensures that members have easy access to the materials they need, but it also simplifies inventory management for the studio, keeping stock levels updated in real-time.
4. Empowering Pottery Classes
The bread and butter of most pottery studios is offering classes. These classes are an important revenue stream as well as a channel to find future members. Kiln Fire takes class management to the next level by enabling studios to list and sell classes through the app. Web visitors can browse classes, see real time class availability, and register themselves or a group. If the class is already full it includes a built in waitlist for each class allowing studios to fill classes even after cancellations.
5. Digital Receipts for Transparency
Kiln Fire includes a digital receipts feature that sends members an emailed receipt whenever a charge occurs, providing them with an instant record of their transactions. Furthermore, all receipts are stored within the app for easy access, eliminating the need for manual record-keeping. This not only enhances transparency but also instills trust within the studio.
By automating billing, invoicing, membership management, supply purchases, class registration, and digital receipts, Kiln Fire empowers pottery studios to thrive in a modern world without sacrificing the essence of creativity and community that has made them a popular choice for beginner and experienced potters alike.
By automating much of the administrative side of managing a studio, the app can enable studio owners, instructors, and members to focus on what truly matters – creating extraordinary pottery and building a vibrant artistic community.
---
Kiln Fire is not affiliated with Ceramics Now