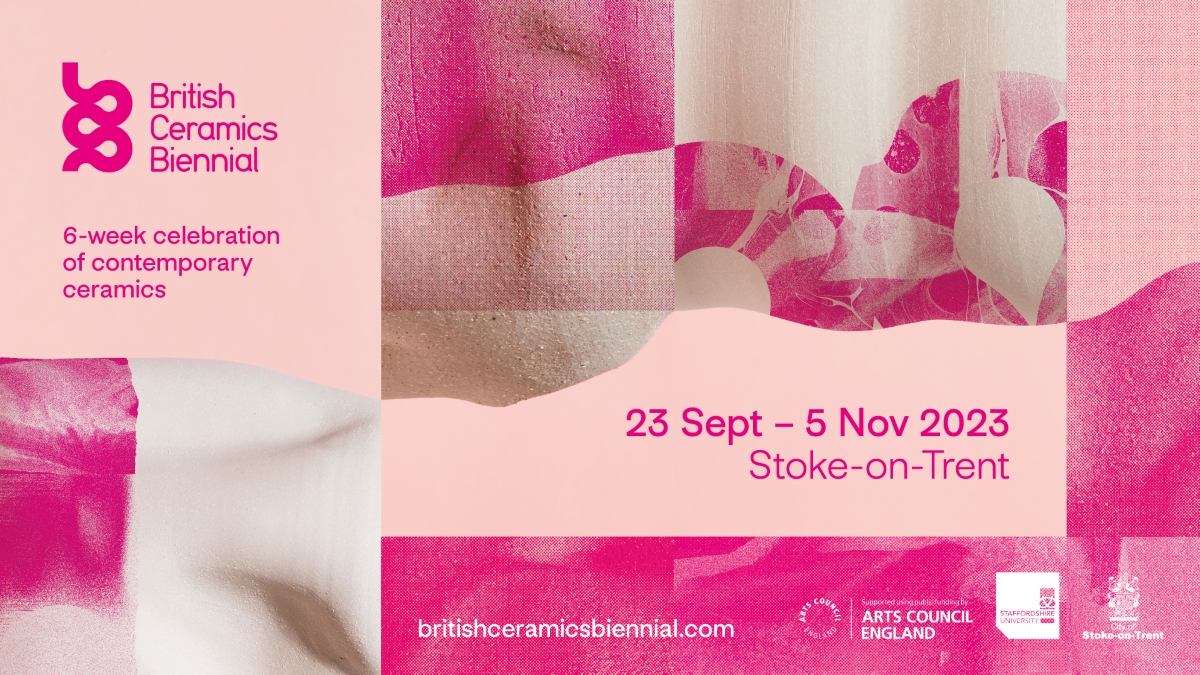 The British Ceramics Biennial announced the 2023 festival program
From September 23 to November 5, the British Ceramics Biennial (BCB) Festival returns to Stoke-on-Trent for six weeks of exhibitions, installations and events shown against the backdrop of the city's industrial heritage. From spotlighting the UK's leading ceramicists to introducing work by international artists and fresh new talent, the BCB Festival is a celebration of the creative potential of clay for storytelling, playfulness, risk-taking and activism. Artists for 2023 include Osman Yousefzada, William Cobbing, Emilie Taylor and Stephen Dixon.
For 2023, BCB introduces a new Festival hub, All Saints Church in Hanley. This historic Arts and Crafts church – built 'by the potters, for the potters' – will be home to BCB's flagship exhibitions Award and Fresh. Award presents major new work by 10 of the UK's most innovative ceramic artists competing for a £10,000 prize: Rebecca Appleby, Ranti Bam, Copper Sounds, Rebecca Griffiths, Dan Kelly, Elspeth Owen, Carrie Reichardt, Mella Shaw, Jasmine Simpson and Nicola Tassie. Fresh is a platform for 25 emerging talents from the UK and Ireland.
Alongside these exhibitions, BCB's first People and Place Commission will see artist Emilie Taylor interpret and respond to the post-industrial landscape of Staffordshire and the people who live there. Known for her large-scale ceramics, Emilie will use heritage craft processes to create a group of six pots that reference Stoke-on-Trent's iconic bottle kilns, each one adorned with sgraffitoed narratives.
On the church altar, 2021 Award winner Stephen Dixon will create Istoriato: culture and conflict, a large-scale allegorical tile panel inspired by the churches and vessels in renaissance and pre-renaissance Italy. The work builds on his Italian research examining the interconnectedness of culture and conflict across history and our own troubled times.
Elsewhere in the Festival hub will be a celebration of new talent from Fresh Talent artists: Dorcas Casey's sculptures formed around stories, myths and dreams; Nico Conti's playful exploration of 3D printing; and Leora Honeyman's series of 'witches' stools that draw links between the cultural rejection of neuro-divergence and the persecution of women with healing and magical power. There will also be a showcase of work by recent graduates and researchers from Staffordshire University.
A new animation commissioned in partnership with Animate Projects will see Staffordshire-born artist Nina Thomas create Place Setting to explore the deaf experience in the ceramics industry. As part of BCB's international partnership with the Indian Ceramics Triennale, artist Neha Gawand Pullarwar will present a series of works inspired by the first wave of the Industrial Revolution and how it shaped Stoke-on-Trent and the colonial Bombay Province, Mumbai. BCB's ever-popular Project Space will give people the chance to get hands-on with clay while exploring the themes of local tile making, ecology and environmental sustainability.
Building on BCB's long-standing collaborations in Stoke-on-Trent, The Potteries Museum & Art Gallery will be home to a new commission by critically acclaimed multidisciplinary artist and writer Osman Yousefzada, whose practice is informed by migratory experience and the rituals that shape our lives. For the Festival, Osman will present an installation, Embodiments of Memory, that explores traditions associated with loss, transcendence and memorialisation.
At AirSpace, William Cobbing presents a series of works exploring personal and communal narratives. Cobbing's exhibition, comprising newly commissioned films and sculptures will also feature the premiere of his newest performance work, all of which will be complemented by a clay-based live art programme and hands-on public workshops.
In the nearby Brampton Museum, Neil Brownsword's Obsolescence and Renewal exhibition will extend the artist's examination of marginalised regional histories associated with the origins of British ceramic manufacture.
Throughout the year, BCB works with people living in Stoke-on-Trent to bring about change through clay. From the Recast addiction recovery programme to the new youth-led project Transferer, BCB's year-round programme will be reflected throughout the Festival with a range of events and displays.
BCB will also run a Festival talks programme, which will include contributions from the Award artists and a series of round-table discussions as part of the Talent Development Programme.
About the British Ceramics Biennial:
The British Ceramics Biennial (BCB) is an arts organisation based in Stoke-on-Trent with a vision to make change through clay.
BCB develops, sustains and expands innovative ceramics practice and improves lives together with artists and creative communities. This is done by delivering an engaging year-round programme of artists' commissions, learning and community projects. All of which feed into a festival of contemporary ceramics that takes place in Stoke-on-Trent.
Initiated in 2009, the BCB Festival has grown to be the single largest contemporary ceramics event in the UK. The BCB Festival presents artworks from the UK's leading ceramicists alongside work by international artists, in exhibitions and special events held across the city every two years.
BCB works in partnership with organisations and individuals in the museums, cultural, industry, business, education, community and voluntary sectors across the city in the development and delivery of projects with a particular focus on public engagement.
British Ceramics Biennial funders:
British Ceramics Biennial is proud to be an Arts Council England National Portfolio Organisation and is supported by the City of Stoke-on-Trent Council and Staffordshire University, alongside multiple project-based funders and sponsors including Potterycrafts (sponsor of Fresh and the Talent Development Programme) and the Paul Hamlyn Foundation (Transferer / Fresh Youth Panel).
Contact
info@britishceramicsbiennial.com