Born in Cleveland, Ohio, Patricia Sannit is a visual artist, with a BA in Art History, Norwegian, and Fine Art from the University of Minnesota and an MFA with High Distinction from the California College of Art. Sannit has also worked on archeological sites in the Near East and Ethiopia, excavating and studying early cultures and art. Sannit exhibits widely, with work in many prominent private and public collections. She has received the Scult Contemporary Forum Artist Award, the Arizona Art Commission artist award, and has had residencies at the Archie Bray Foundation, Red Lodge Art Center and the Belger Crane Yard. Recent exhibits include a solo show at the Mulvane Museum in Topeka, Kansas and a durational performance piece at FORM Arcosanti.
"My art practice is divided between making, a love of all materials, and research. I am a historian by nature and earnestly seek ways to bring relevance to history and make the lessons of experience relate to contemporary culture. My education was heavy on art, but also included art history and archeology. I worked on archeological and anthropological sites in Jordan and Syria and Ethiopia. Those experiences have had a lasting impact on my thought processes, sense of my humanity, and art."
Visit Patricia Sannit's website and Instagram profile.
Featured work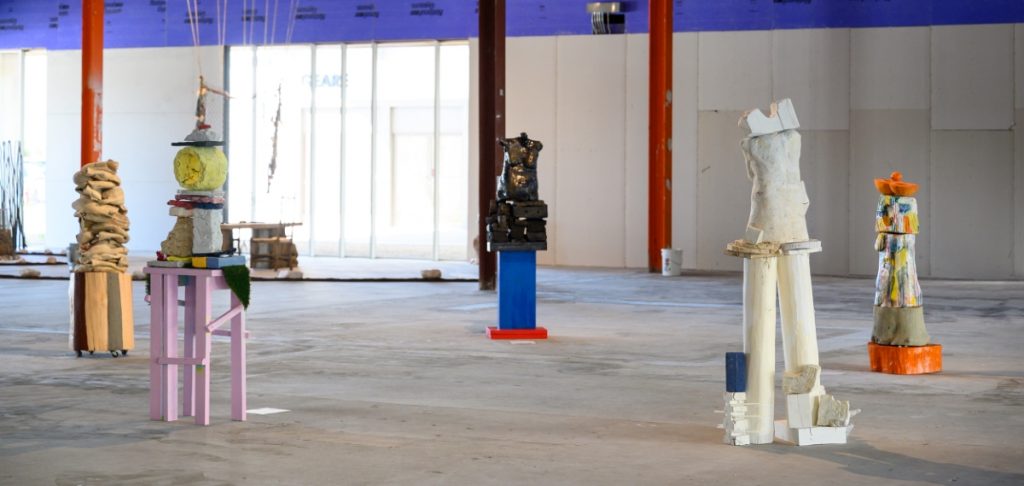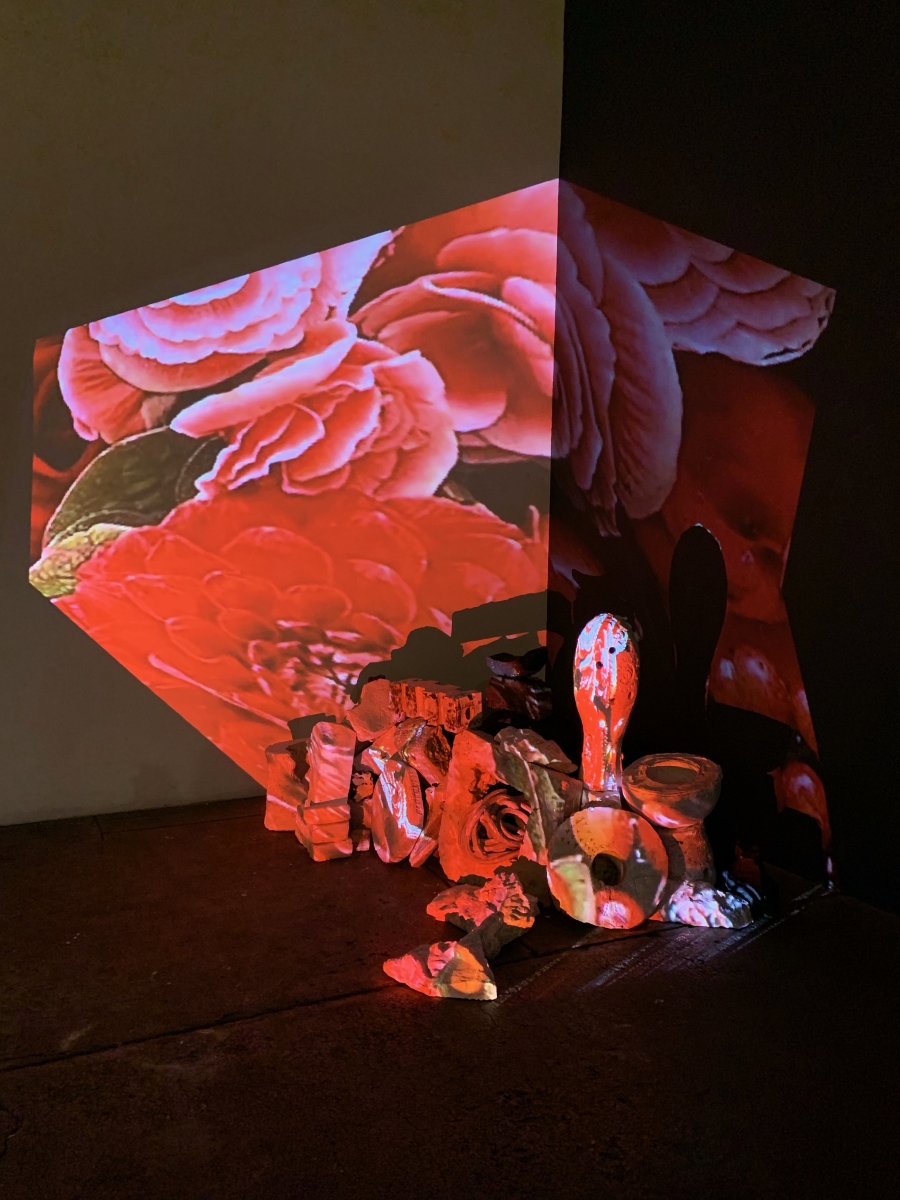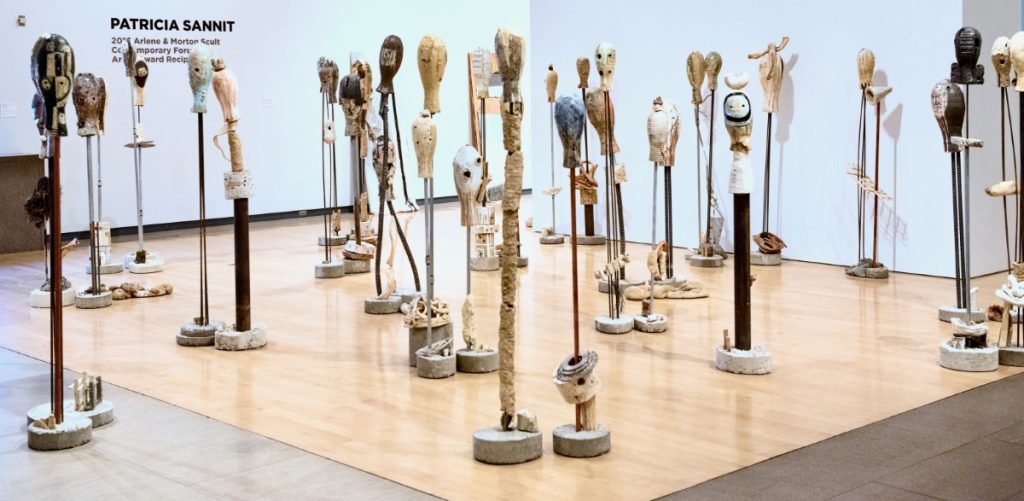 ---
I make art about the qualities that make us human; our energy, industriousness, ego, vulnerability, empathy, and our awareness of our own mortality, which makes us particularly, exquisitely, sensitive to time passing. I (try to) make art that moves people to observe their own humanity and the humanity of others. My career as a sculptor and visual artist has centered around my need to create art that expresses the story of cultures and countries rising and falling, as we humans live our lives and pursue our dreams. I am curious about nearly everything and I try to include all of my interests in my work. I look to history because in history, everything has happened, allowing me to compress many life experiences into my work… it's all in there, hidden, eaten, absorbed, just like it is in life.

I have found clay to be my favorite material; a material that is foundational to human technologies and the development of culture. It is a material that allows me to manipulate it in every way, to exploit its many characteristics and stages, to mark it with the patterns of tradition, and transform it through fire. And, it welcomes me to leave my mark on its body, maybe telling the story of this maker to future generations.

I make objects, large scale sculpture, and installations that appear dubiously sound, stacked and arranged using gravity and balance. My work explores physical balance and precarity, transition and perception, and suggests that everything could be changed or rearranged. The carved motifs originate from my research into the migratory routes of people and the convergent evolution of cultural motifs. Our brains recognize patterns that we universally respond to. In my work I present patterns that welcome this recognition. The migratory pathways of generations of people are the vectors of cultural knowledge. The sharing of skills as the result of both migration and trans-generational teaching has shaped all of us, as humans and the art we make, and does still.

Lately I have been exploring color, the myth of whiteness in classical art, and how color changes our perception of form and content.

History is cyclical, construction, destruction, reconstruction, and I find solace in understanding this continuity. But history is also full of supposition and misrepresentation, and subjective interpretation. Dissecting my own biases and assumed knowledge is inherent in my process. Making work that fosters connections to a broader community and creates space for self-examination is my goal.

My work has helped me change my understanding of time and the connections between people. Making work that connects people to a broader community is my goal.

We live our lives within this swirling cosmos, on this ancient rock, sharing common dreams and desires. As humans we have perpetuated a cycle of creation and destruction. Cultures grow and change, people are born, live vibrant lives, die; we invent, abandon, build again. As I work, I try to understand what it means to be human. I feel pain, I seek beauty. I feel empathy. I am stunned by the randomness of existence. I try to find meaning; I look to the passage of time, to the migrations of people seeking something better, the monuments we have built, and to the personal objects we use that connect us with each other and to a time and place. I love the story of an object, especially one that has lived through time; once perhaps useful, then a discard, then a discovery by an archaeologist, an object of study, then swooned over in a museum, then maybe again, found lying on its side in a storage room. History resonates within our creations. We walk in circles, creating magnificent cities, reaching for something better, leaving it behind. Making a mark. Leaving a mark.