Rebecca Appleby is an artist who lives and works in Yorkshire in the north of England. She received her BA in Ceramics at Edinburgh College of Art in 2001, and is a selected member of the Craft Potters Association of Great Britain and a member of the Royal Society of Sculptors.
Since 2001 my practice has been a continual investigation of balance & structure, within both the built and the natural environment. In 2015 I left a teaching position, committing to my artistic practice. In 6 years, I have successfully built networks & established a professional profile in the ceramic industry. I've forged ahead with my career, achieving awards & high-profile exhibitions including a solo show at Contemporary Ceramics, London, but crucially my direction has changed. I was awarded a public sculpture commission by Leeds City Council in partnership with East Street Arts in 2017 sparking an ongoing interest in sculpture. In September 2019 I started a new body of work titled 'Grace' which is of great personal significance and has also helped to re-ground my practice in an exploration of the symbolic relationship between architectural and bodily decay.
Visit Rebecca Appleby's website and Instagram page.
Featured work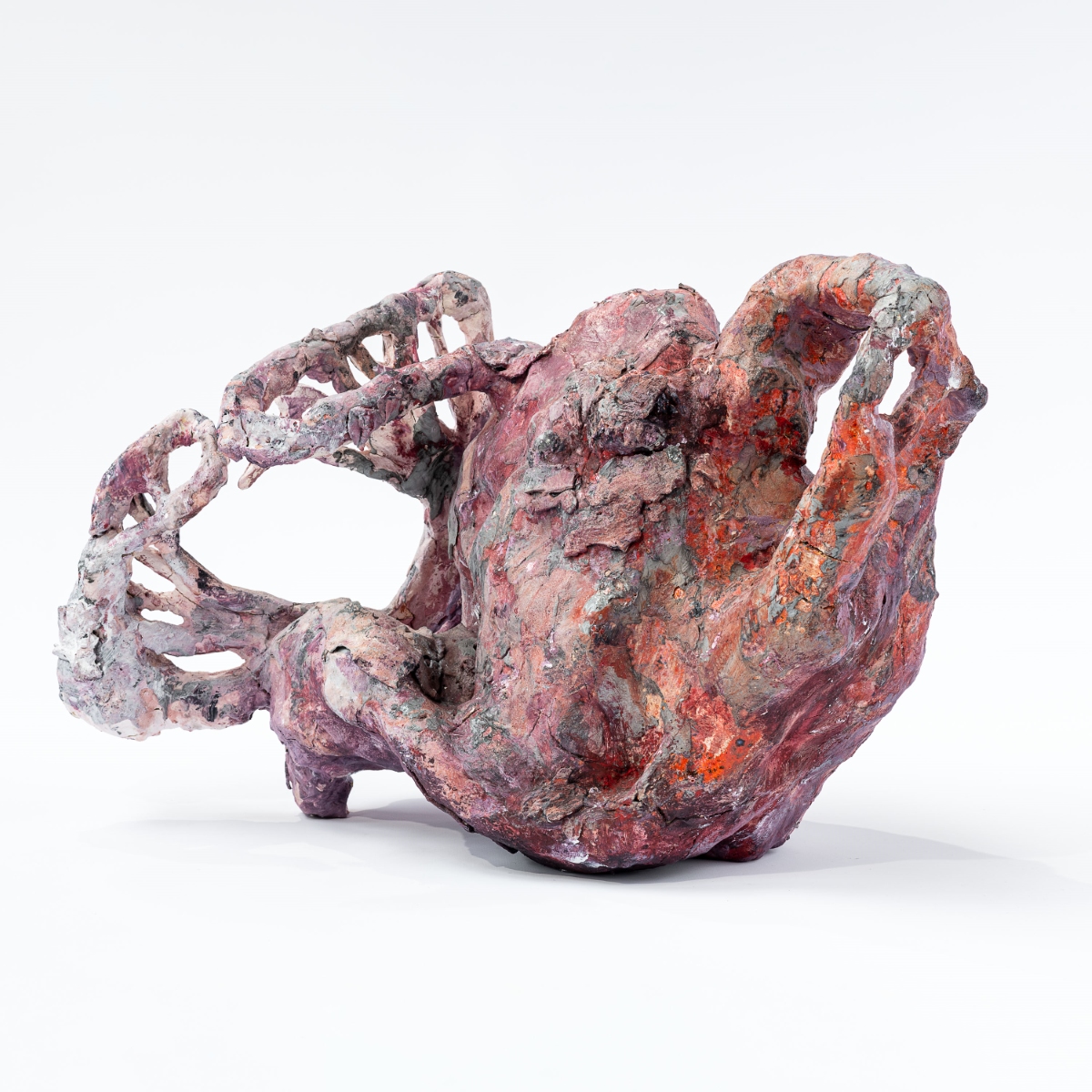 ---
Recently my sculpture has echoed autobiographical events. As a direct result the work has taken a new conceptual, visual and aesthetic direction.

I am interested in the process of destruction of things, then their re-birth – a continuous cycle. In nature, but also destruction because of the presence of man. Destruction of buildings, tragedies of war, ruination and then transformation into something different. Change through unpredictable natural disasters. The aesthetics of destruction and deterioration, but with potential for rebirth.

Latest sculptures are constructed using slabs of clay draped over an internal steel structure, pieced & stitched together. Breaking many of the rules of ceramic construction, the steel substrates are used intentionally to encourage the clay to crack & experience trauma. The sculptures are altered and re-imagined through the process of firing. The change that they undergo echoes a phenomenon known in architecture as 'concrete cancer', when a steel reinforcement starts to rust and expand, displacing the surrounding concrete, whilst the disfiguration, broken edges & patina are suggestive of the human body experiencing injury, ageing and decay.

I am currently working on a body of work that magnifies fundamental structure, creating sculptures that combine colourful, textural & amorphous form. Architectural fragment, archaeological specimen, organic matter, human organ or symbolic, visceral expression, these new works encompass characteristics of physical, psychological and mystical worlds.