Stephenie Bergman was born in London in 1946 and studied painting at St. Martin's School of Art, where she later taught. From 1972-82 she worked on sewn canvases. These were made with large pieces of coloured canvas sewn together into abstract configurations, at first stretched traditionally on a stretcher and later hung loose to free the edges. She exhibited at Garage, London, Tony Stokes, London, Biennalle des Jeunes Paris and many other public galleries in England and abroad. Her work is held in numerous public and private collections, including Tate, British Council, Arts Council and the British Government Art Collection.
As a way of moving on from the canvases she began experimenting with clay. Building with slabs of clay came naturally to her, and she was excited to unload the objects of her imagination. Some of these were unique storage systems such as a tool storage panel in her studio in France. Her vocabulary of objects includes mirrors, lights, vases, wall panels, flower pots, hangers, coat racks, among others.
There is a pleasure both in finding a dynamic between basic shapes and playing with the inside and the outside of a volume. Bergman's ceramic work is very simply glazed, often white, and colour is sometimes used to define different surfaces.
Stephenie Bergman moved to France in 1986 and then to Taroudant, Morocco in 2006 where she has a beautiful mud built building as her studio.
Visit Stephenie Bergman's website and Instagram page.
Featured work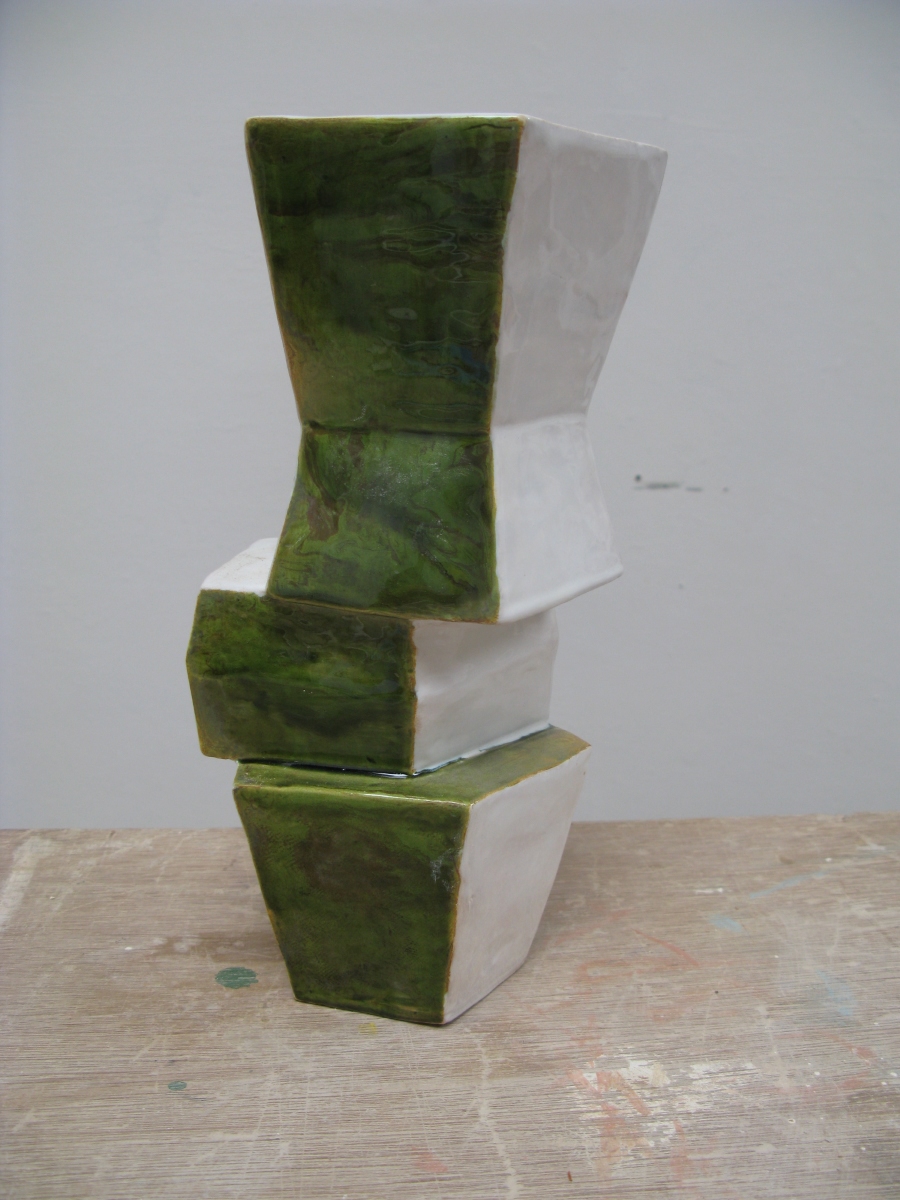 ---
After more than a decade of making sewn canvas compositions, I looked for a more rigid material to work with. I began experimenting with clay. I was never drawn to using the wheel or experimenting with glazes. I immediately rolled out the clay into flat slabs which I cut into shapes with which to build objects. I found an amazing freedom being able to make whatever came into my head. I could play with forms and volumes. I could add shape upon shape or eliminate shapes. Even though the things I made were useful, their practicality was unimportant. They were often whimsical and funny.