Tessa Eastman is an award-winning British ceramic artist with over twenty years' experience of working with clay. Her meticulously hand-built sculptures appear curiously alive with movement. While creating she looks for differences such as soft and hard, order and chaos, geometry and irregularity. Tessa says: "I aim to fix ungraspable states such as fleeting cloud formations, which represent the ideal and the perishable, doom and fantasy". She draws inspiration from natural phenomena as seen through a microscope, exploring the strangeness of growth where systems flow and digress.
Grouping work creates a dialogue of congruence and conflict where voluminous cloud-like shapes exploring the theme of space pushing outwards are juxtaposed with mesh structures revealing the internal. The tension between internal and external relates to receptacles where positive and negative space are equally valued, and also to the body where the void permits life. It is through sensitivity to form and glaze that Tessa's sculptures become animated and much time is invested in research and testing. Tessa says: "Colour is inspiring and creates a distinction between the sum-of-parts. Matt and shiny, coarse and smooth and hot and cool coloured glazes offer depth of character".
Tessa's dynamic sculpture sits at the vanguard of the contemporary ceramic art scene and she has been able to impress many with her originality, skill and a daring approach to the art form. Her complex Cloud Bundles and Crystal Formations have found a serious following among art collectors, gallerists and ceramophiles alike. Tessa's work has been presented by the financial firms Abacus in 2003, Gresham Private Equity in 2006 and Clifford Chance in 2019.
She was shortlisted for The Cynthia Corbett Gallery's Young Masters Maylis Grand Ceramics Prize in 2017 and won the Craft Emergency Award in 2016, with a solo exhibition at Aspex Gallery in 2018. She has been exhibiting in the UK and abroad since 2005 and notable solo shows include 'Cloudspotting' with Jason Jacques Gallery in New York and 'Le désordre en délice de l'imagination' with Galerie de l'Ancienne Poste in France. Tessa's sculpture regularly features at Collect: The International Art Fair for Modern Craft and Design, work has been selected for the British Ceramics Biennial at the Old Spode Factory Stoke-on-Trent in 2015 and she received an honourable mention at the Gyeonggi International Ceramic Biennale Korea in 2017.
Tessa has been teaching since 2005 and runs ceramic courses at the Kiln Rooms, open access ceramics studios providing professional development and the Heatherley School of Art, one of London's oldest Independent art colleges where all tutors are practising artists. She worked in London and France from 2002 to 2007 as an assistant to renowned ceramist Kate Malone who featured on the Great British Pottery Throw Down BBC TV series. Tessa obtained a Bachelor of Arts Honours degree in ceramics from the University of Westminster in 2006, and in 2015 gained a Masters from one of the world's most reputable design schools, The Royal College of Art.
She set up her first studio in 2005 in West London in the Old Gas Works. In 2015 she joined Manifold, an East London collective founded in 2010 by a group of emerging artists and designers from The Royal College of Art. In 2017 she was granted a space at Cockpit Arts, the UK's only business incubator for craftspeople.
Visit Tessa Eastman's website and Instagram profile.
Featured work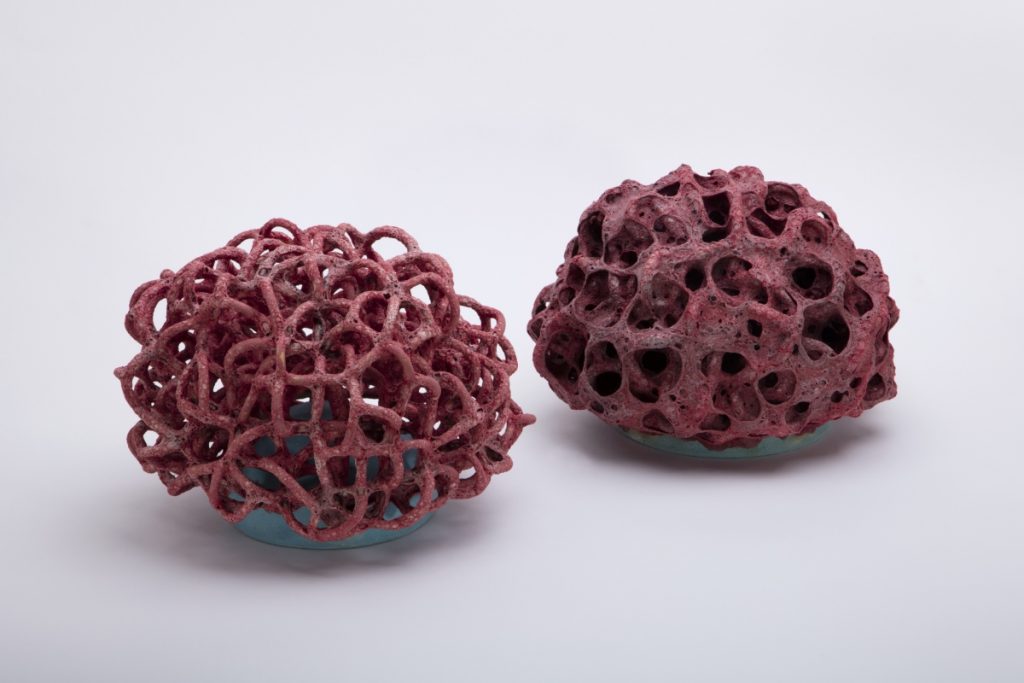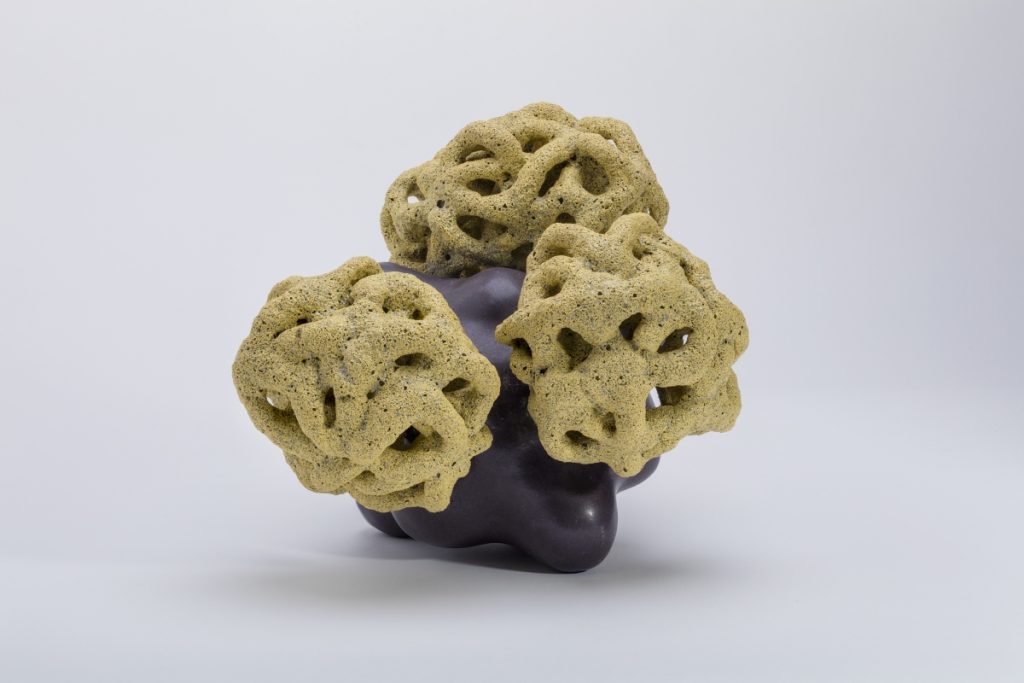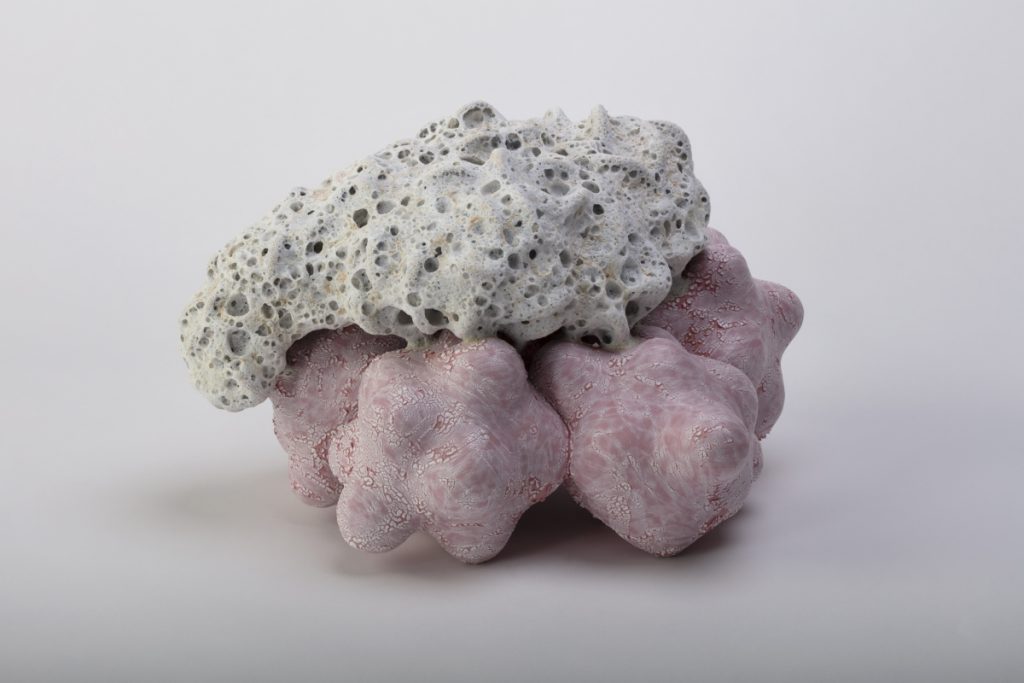 ---
I am committed to the challenge of hand-building in clay, using various techniques to create complex ceramic sculptures. The often overlooked detail of bone, cloud, crystal and microscopic structures are observed as a starting point to developing pieces which possess a curious ambiguity. I aim to fix un-graspable states such as fleeing cloud formations which represent both the ideal and the perishable, signifying doom and fantasy. The strange otherworldliness of natural phenomena transports me away from the mundane and I become excited when fixed ceramic form seems alive, evoking awareness of life's impermanence where not all makes sense. I am fascinated by the disruptive dynamism formed when repetitive growth patterns in living systems mutate as this produces tension.

Grouping sculptures enhances their unique persona as they form a dialogue, which generates an atmosphere of congruence and conflict. Contrast assists in generating an awkward air where geometry and irregularity, order and chaos, soft and hard evoke awareness of the impermanence of human emotions. Voluminous cloud shapes exploring the theme of space pushing out are juxtaposed with opposing harsh mesh structures that reveal the internal. This relationship between internal and external relates to receptacles and the body where the void is a life force. Time is devoted to glaze testing and multiple firing. Equally through use of rich glaze surface and three dimensional forms, pieces develop depth of character.