Thomas Bohle was born in 1958 in Dornbirn, Austria. After completing nursing school he goes on to practice this profession for many years. In 1987 he finishes a pottery apprenticeship and gains experience working in various studios. In 1991 he opens his first studio. A study trip to Japan is followed by exhibitions in Tokyo and Shanghai. In 2006 Thomas Bohle receives the Bavarian State Prize. Soon afterwards, a renowned gallery in London agrees to represent him. He has worked in his new studio in Dornbirn since its opening in 2008. In 2014 he is awarded the Vorarlberg State Prize.
In England in 1984, at the age of 26, Thomas Bohle sits down at a potter's wheel for the first time. This contact with clay and the experience of creating with his own hands move him and mark the beginning of his artistic journey. He follows this course with dedication, learns the trade of the potter. He experiments, searches and researches, intensive studies traditional forms and surfaces ans in this way builds a rich foundation. With the appearance of his first double-walled vessels he arouses the attention of his colleagues and the art world at large. Gradually a distinct language emerges – the special expressive language of the artist. His study trip to Japan accompanied by his friend and most important colleague and confidant Uwe Löllmann both inspires him and helps him gain recognition for his own work. The artistic value of his work takes precedence and becomes especially evident in the exhibitions in Tokyo and Shanghai in 2004. The birth of his son Clemens in 1989 is a profound event in his life ans sets a vital course for the future.
Gradually an international space begins to unfold, especially through the representation ans presentation of his work in London. His studio in Dornbirn is a bright place. Here his ceramic vessels are made, here new forms and surfaces emerge. A calm and powerful path continues.
Visit Thomas Bohle's website and Instagram page.
Featured work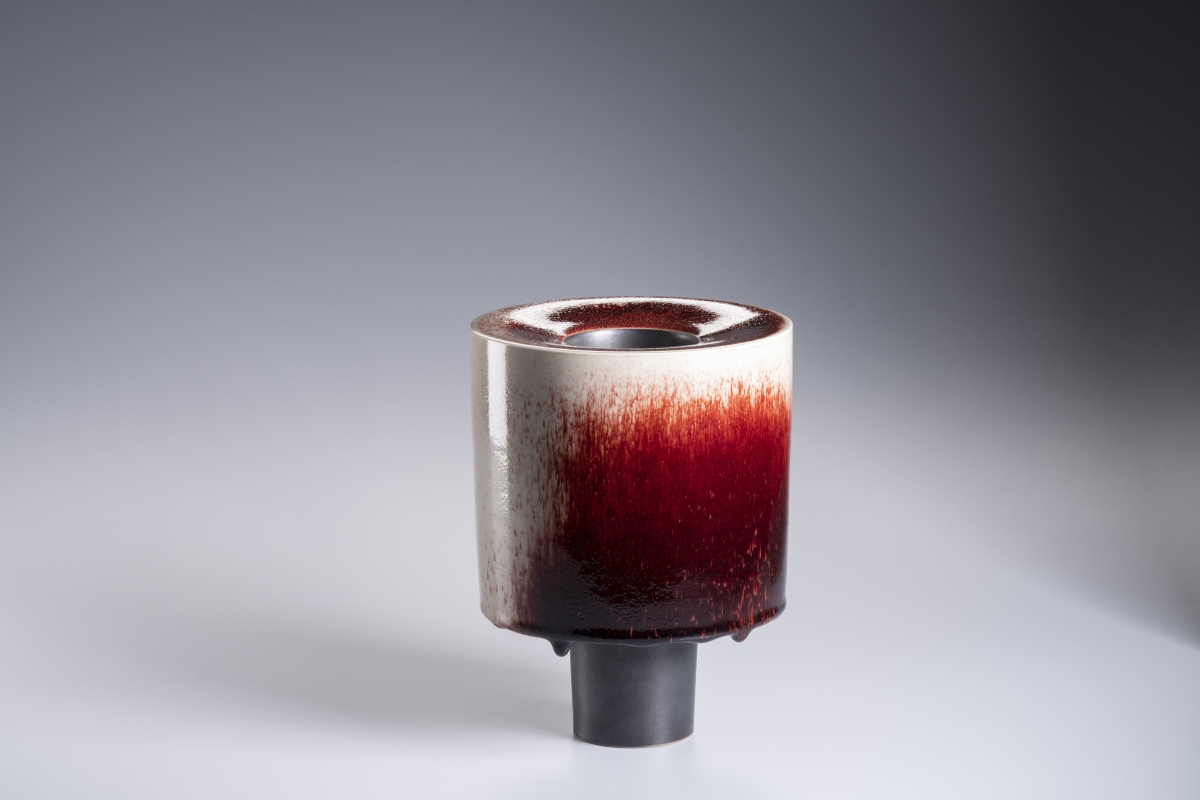 ---
I have been working with clay for over thirty years. The happy crafting, the shaping of the vessels with my hands, fascinates me as much as the change that takes place during the firing process. I mold my works as double-walled vessels from a single piece of clay. This calls for a special power of imagination because I throw my works upside down. With double-walled vessels the drying phase and firing process are very critical because the outer and inner walls dry differently. I try to accentuate the shape of my pieces by creating a contrast between the outer and inner forms. My choice of colors underscores my choice of shape. The vessels possess optical weight, but by virtue of their slender bases, clear proportions, and the hollow spaces within, they also convey lightness. Asian glazes, such as ox blood, tenmoku, celadon, and ash glazes, have fascinated me from early on, and this passion is also reflected in my own glazes. To achieve a particular color scheme, I fire my work in a gas reduction kiln at 1280 to 1300 degrees. I draw my inspiration from ancient artisanal pots, from forms in nature. Architecture inspires me likewise, as do sculpture, music, and other arts.