Virginia Leonard is an artist born in 1965 in Auckland, Aotearoa – New Zealand. She graduated with a Masters in Fine Arts from the Whitecliffe College of Arts and Design in 2001 and is represented in Europe by Taste Contemporary – Geneva, in United States by Mindy Solomon Gallery – Miami, in Australia by Martin Browne Gallery – Sydney, and in Aotearoa New Zealand by Gow Langsford Gallery – Auckland and Paul Nache Gallery – Gisborne.
In 2021 she won the Officine Saffi international ceramic award, and in 2020 she was awarded First Runner-Up at The Wallace Art Awards, Aotearoa New Zealand. In 2022 she will exhibit her work at Sculpture in the Gulf, with a large outdoor installation in Waiheke, Aotearoa, New Zealand. Virginia is also published in 100 Sculptures of Tomorrow, Thames and Hudson. She has had residencies at Guldagergaard-Internaional Ceramic Research Centre, Denmark and Glass House/Stone House Chenaud France. Her work is held in both private and public collections internationally.
Visit Virginia Leonard's website and Instagram page.
Featured work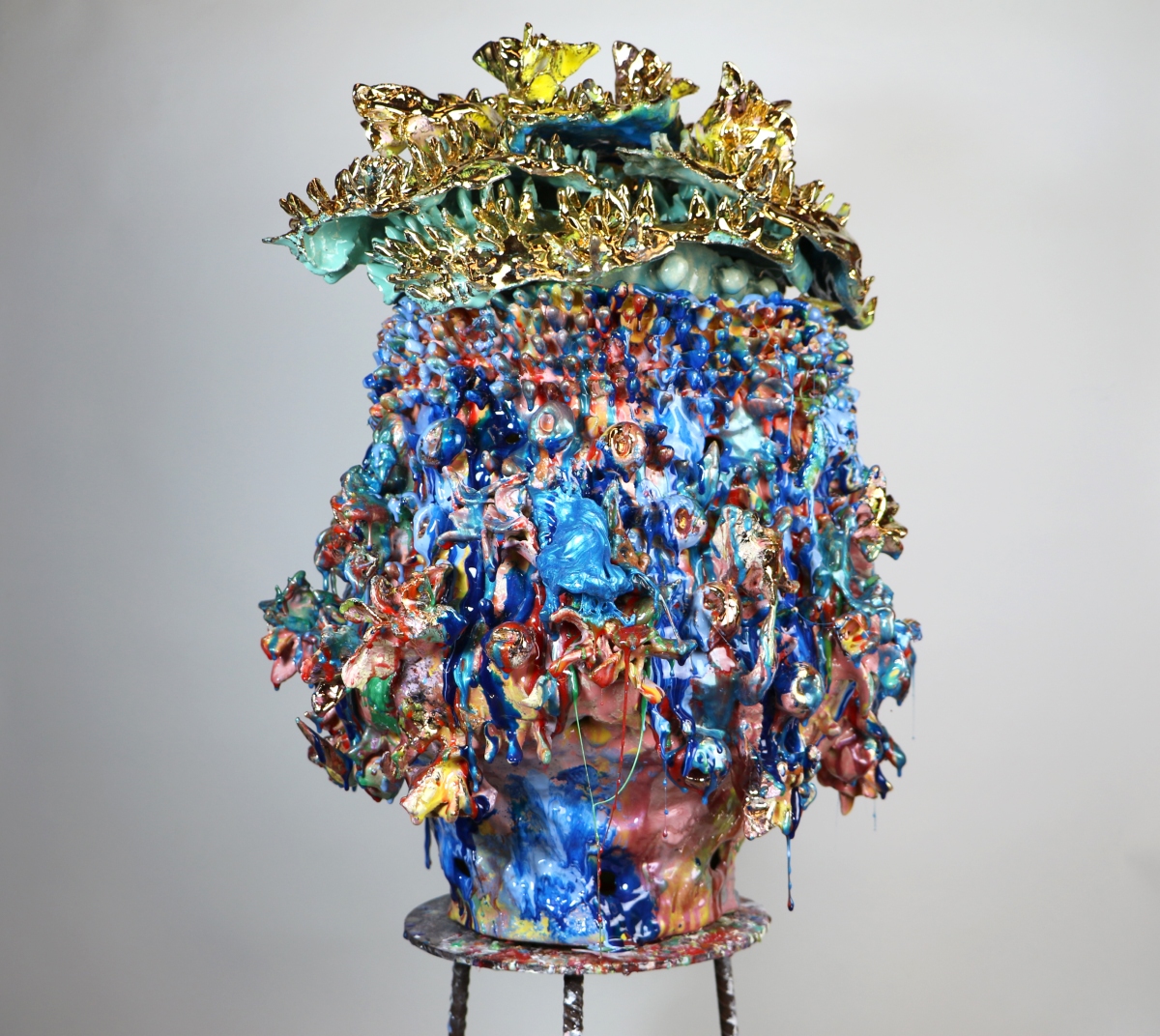 ---
This work is a self-portrait, a large-scale ceramic sculpture that is representation of my body. The form is coiled, precarious, threatening to fall over at any given moment, an intentional gesture that evokes the fragility of the body becoming undone. The glazes and resins resemble bodily excretions and the bulbous and shard like forms refer to the brokenness of my own body. This work is an ongoing dialogue I have with the realities of the voicelessness of chronic pain and bodily scarring and the daily need to define a visual language to process and translate life with chronic pain.

Virginia Leonard
"Leonard deploys her unique language of colour and form to translate specific autobiographical memories. The clay ground is treated as a canvas and glazes are applied in a painterly way. Resembling bodily excretions, Leonard's surfaces bleed and leak as if from an open wound. Some appear parched and cracked like baked subcutaneous flesh, while others drip globules of yellow-green glaze resembling bile. Areas are embellished with seductive gold lustre glaze, while others glisten with resinous tendrils that cascade downwards, the colour of fresh meat. A series of bulbous protruding forms refer to osteomyelitis, an infection of the bone that manifests as fungi that grows out of the flesh. Kiln bricks, paper clay shards, nails and structured elements act as interventions that allude to braces or supports, post operative solutions that might be used to heal tendons or reset broken bones.
Leonard's works register the limitations of language when it comes to expressing bodily experience, becoming a visual lexicon for the everyday realties of living with chronic pain. Tapping into an aspect of lived experience that is highly personal and nearly impossible to articulate, Leonard's work has an extraordinary ability to speak to other people living with chronic pain, and she counts many surgeons and medical professionals as patrons of her work." Anna Briers, Virginia Leonard – The Pain Body: Embodiment and Renewal