Weronika Lucińska is a ceramic artist who lives and works in Wroclaw, Poland. Graduated from the Faculty of Ceramics and Glass – ceramic design at the Academy of Art and Design in Wrocław. In 2018 she defended her doctoral thesis in the field of visual arts in the discipline of design arts in the Academy in Wroclaw, where she has been working from 2018, currently as an assistant professor. She participated in over 100 exhibitions and international competitions in Poland, Spain, Latvia, Lithuania, Austria, Germany, Italy, France, Portugal, Czech Republic, Hungary, Romania, Slovenia, Denmark, Taiwan. She is a laureate of the Minister of Culture and National Heritage Sholarship.
In 2017, she was awarded the title of European Ceramic Ambassador in the Future Light Competition. Weronika is the winner of many awards and honorable mentions in the in international ceramic competitions, the most important are: Grand Prix in V International Ceramics Triennial UNICUM 2018, Ljubliana, Slovenia, III award, 36 Concurs Internacional de Ceràmica CICA2016, l'Alcora, Spain, II award, CERCO 2015 International Prize of Contemporary Ceramics, Saragossa, Spain.
Her artistic output consist art installations, object form the borderline between art-design and ceramic sculptures, often with glass elements. In Lucinska's activities, water is a source of inspiration, and frequently also a sculpting material.
Visit Weronika Lucińska's website and Instagram profile.
Featured work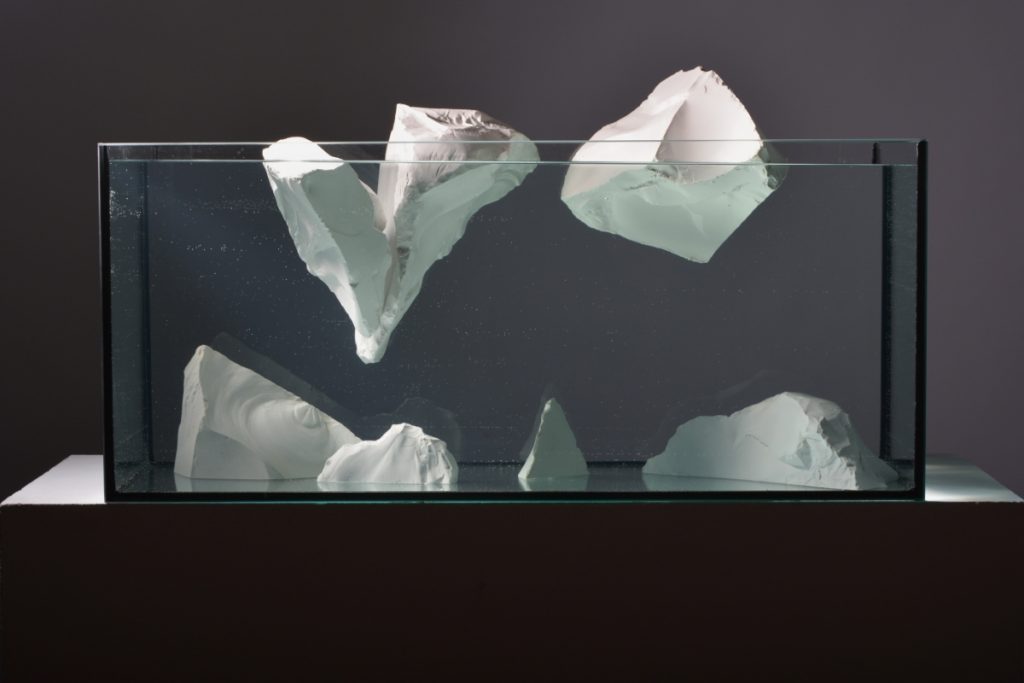 ---
In my artistic work there is a special place for water- as a symbol, element and material. Water is the most ordinary and unusual substance at the same time. The most ordinary, because it is indispensable in everyday life, widely used, conditioning all existence on Earth and the development of civilization. Remarkable, because it has unique physical and chemical properties. For me, common and unique water is a great source of inspiration, material and subject at the same time.

By implementing individual series of works, I intend to present and at the same time explain my fascination with this matter, perceived by me intuitively and affecting on many levels, in the broadest possible spectrum. I refer to the symbolic meaning of water, I also use its characteristic properties.

My artistic works consists of monumental vascular forms, artistic installations, series of objects using ceramics, glass and liquids. Each of the works is a different story about water, telling about its uniqueness, the dangers associated with it, bringing out its hypnotizing beauty or referring to the post-humanistic visions. The choice of the tool that I use to create objects is extremely important for me. I use potter's wheel to make organic, structured, sculptural objects with an irregular, "liquid" shape. By combining ceramic forms with glass objects I want to refer to one of the basic features of water, which is transparency. The sculptures seen through the glass material and additionally through the water change the object's optics. The distorted, enlarged, multiplied image presents a completely new value.

Striving for perfection in the formal layer stimulates me to constantly search, find my own techniques and ways of constructing objects and installations. My goal is to try to exceed the limits of the material, while at the same time justifying the use of a ceramic medium.