Anat Shiftan is an Israeli artist who works in clay and print. In her work, she explores the subject of ambivalence in floral and zoological imagery, the representation of nature in art: the texture of sexuality, life and death, and power and subversion, all which ultimately reflect complex political and social attitudes. Currently, she also adds a layer of content that relates to issues of the environment and its preservation. Her printed images reflect on the dialectic relations between man and nature, focusing on the ambivalence reflected in the heroic yet destructive aspect of human intervention in nature, nature's response, and the resulting glorification of both.
Shiftan received her BA in English Literature and Philosophy from the Hebrew University, Jerusalem, Israel and received her MFA in Ceramics from the Cranbrook Academy of Art and Design in West Bloomfield, Michigan. She has taught at Bezalel Academy for Art and Design in Israel and the University of Michigan before joining the faculty at SUNY New Paltz in the fall of 2003. Shiftan has twice received the Michigan Grant for Individual Artists and has exhibited her work extensively in both the United States and Israel. She is represented by Hostler Burrows Gallery in NY/LA.
Visit Anat Shiftan's website and Instagram page.
Featured work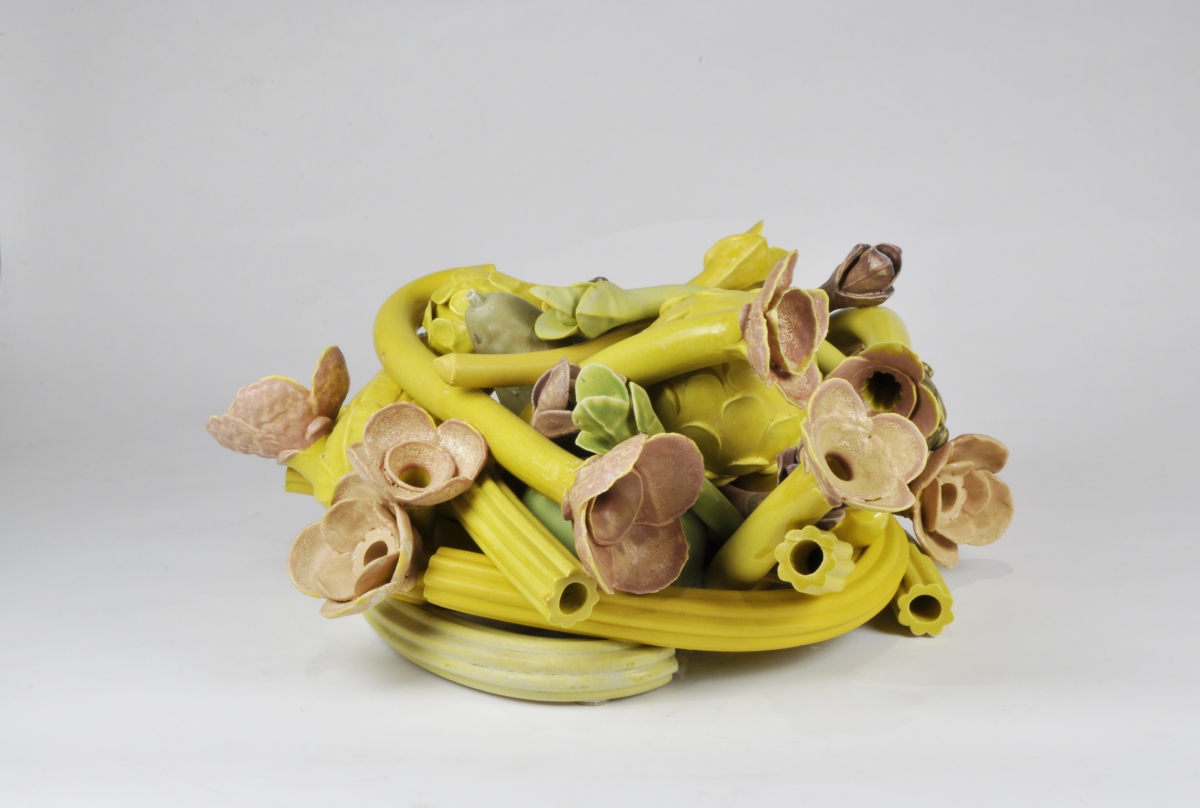 ---
The Still Life series examines the history of ceramics and world trade. The vignettes tell stories of various production methods, (slip casting, wheel throwing, hand building and industrial artifacts) and materials (porcelain stone ware etc.). The juxtaposition of objects made in various ways and depicting distant moments in history and geography tell the story of a world of trade and travel since early days. The vignettes of Lekythos, Lotus Bowl, Wreath and Apple, bring into display Greek, Chinese and European heritage. This exchange that is prevalent since ancient time is a beautiful condition of humanity which I bring to light as a positive aspect of cultural connections and exchange.

The Flora and Flora and Orchard series examine the ways we understand our world. Humanity and nature are often understood romantically in terms of growth and improvement. Yet, it is not always so. I shift my gaze from the unbearable history of man to nature, from wars and destruction, and find that in nature too, ambivalence prevails. The piles depict growth and decay, the organic and the mechanical aspects of nature, analogous to the human condition. Additionally, the natural world I create is imaginary versus realistic. This reflects my condition where nature is an invented image, unreachable, corrupted in time and by time, and exists only as an idea.