Anat Shiftan: Selected works, 2015-2021
Flora Series, 2015-2021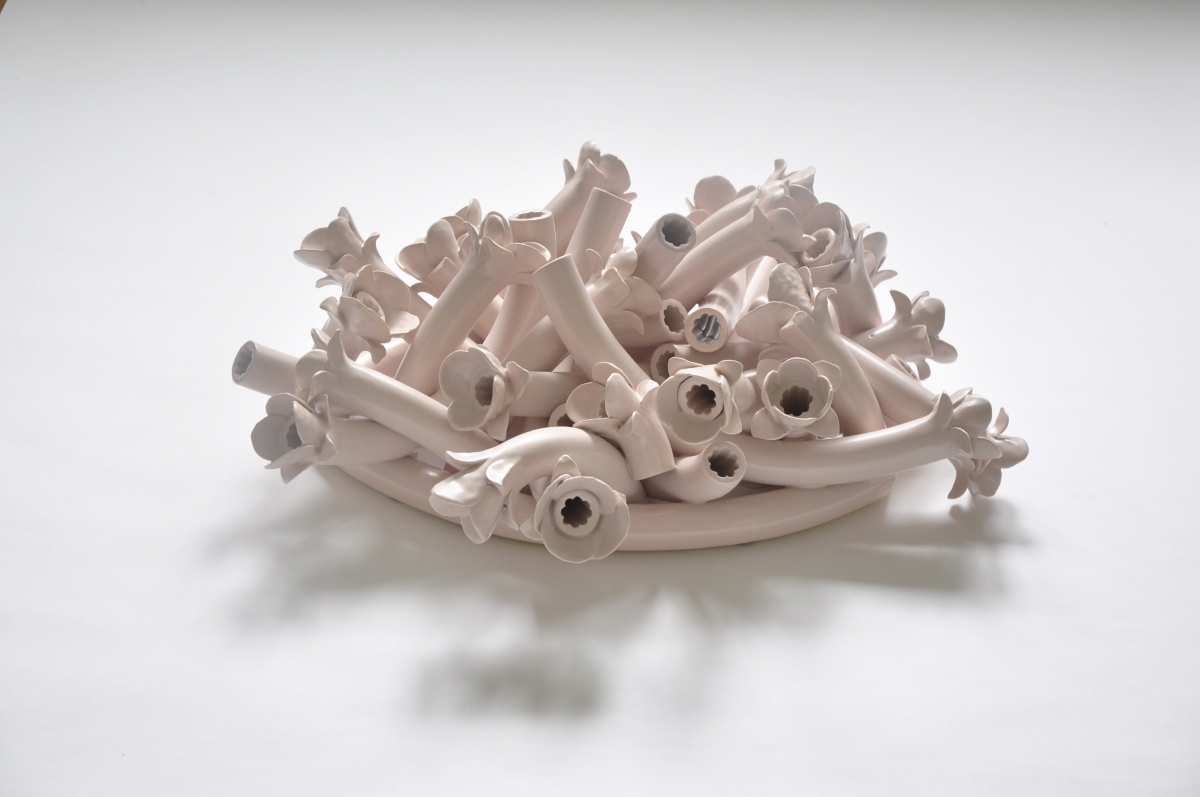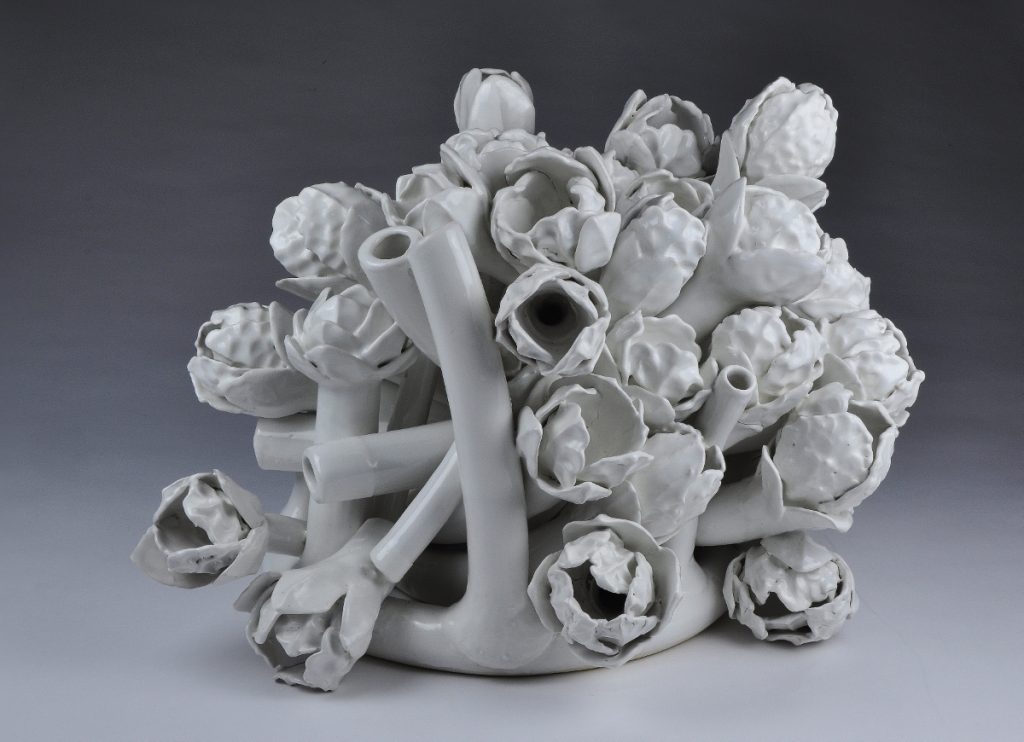 Flora and Orchard Series, 2019-2021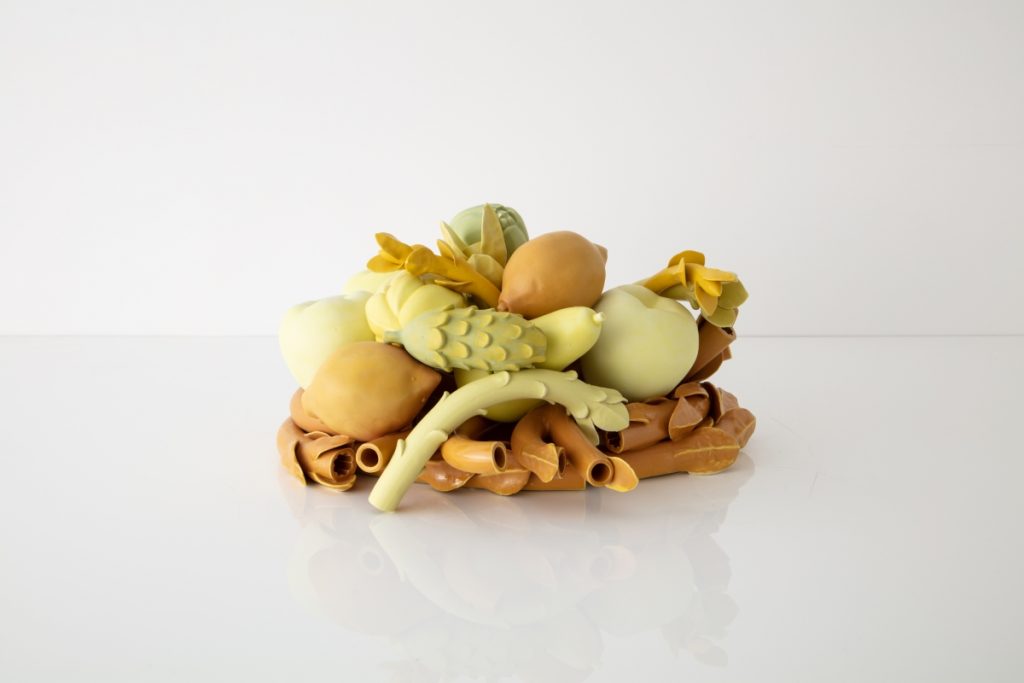 The Flora and Flora and Orchard series examine the ways we understand our world. Humanity and nature are often understood romantically in terms of growth and improvement. Yet, it is not always so. I shift my gaze from the unbearable history of man to nature, from wars and destruction, and find that in nature too, ambivalence prevails. The piles depict growth and decay, the organic and the mechanical aspects of nature, analogous to the human condition. Additionally, the natural world I create is imaginary versus realistic. This reflects my condition where nature is an invented image, unreachable, corrupted in time and by time, and exists only as an idea.
Still Life Series, 2016-2021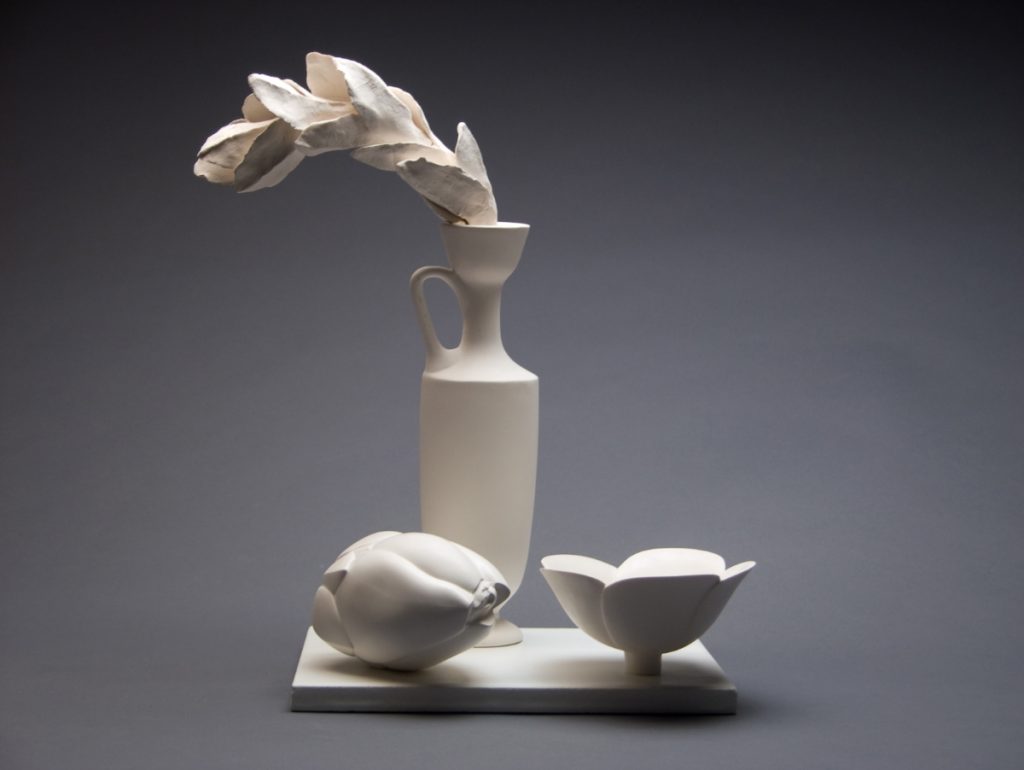 The Still Life series examines the history of ceramics and world trade. The vignettes tell stories of various production methods, (slip casting, wheel throwing, hand building and industrial artifacts) and materials (porcelain stone ware etc.). The juxtaposition of objects made in various ways and depicting distant moments in history and geography tell the story of a world of trade and travel since early days. The vignettes of Lekythos, Lotus Bowl, Wreath and Apple, bring into display Greek, Chinese and European heritage. This exchange that is prevalent since ancient time is a beautiful condition of humanity which I bring to light as a positive aspect of cultural connections and exchange.
Photo captions
Flora in Pink, 2018, Ceramics, 25" x 23" x 17"
Flora in White, 2015, Ceramics, 23" x 23" x 23"
Flora White with Arches, 2019, Ceramics, 25" x16" x 16"
Flora in White, 2013, Ceramics, 26" x 26" x 18"
Flora in White, 2017, Ceramics, 24" x 24" x 18"
Flora in White, 2018, Ceramics, 27" x 27" x 20"
Flora in White, 2021, Ceramics, 36" x 30" x 18"
Flora and Orchard #2, 2021, Porcelain, 22" x 21" x 14"
Flora and Orchard #3, 2021, Porcelain, 24" x 20" x 14"
Flora and Orchard #4, 2021, Porcelain, 23" x 20" x 13"
Flora and Orchard #5, 2020, Porcelain, 23" x 17" x 12"
Flora and Orchard #7, 2019, Porcelain, 26" x 17" x 15"
Flora and Orchard #1, 2019, Porcelain, 23" x 16" x 16"
Still Life in White with Lotus Bowl, Bud, Lekythos and Wreath, 2016, porcelain and stoneware, 11"x9"x6"
Still Life with Chalice, Buds and Apple, 2016, porcelain and stoneware, 11" x 7" x 16"
Still Life with Bud three flowers, 2016, porcelain and stoneware, 11" x 7" x 6"
Still Life in White with Bowl, Bud, and Apple, 2016, porcelain and stoneware, 11"x9"x6"
Still Life in Blue and White, 2020, porcelain and stoneware, 45"x9"x16. Photo by Joe Kramm
Still Life in Blue and White, 2020, porcelain and stoneware, 8"x9"x16". Photo by Joe Kramm