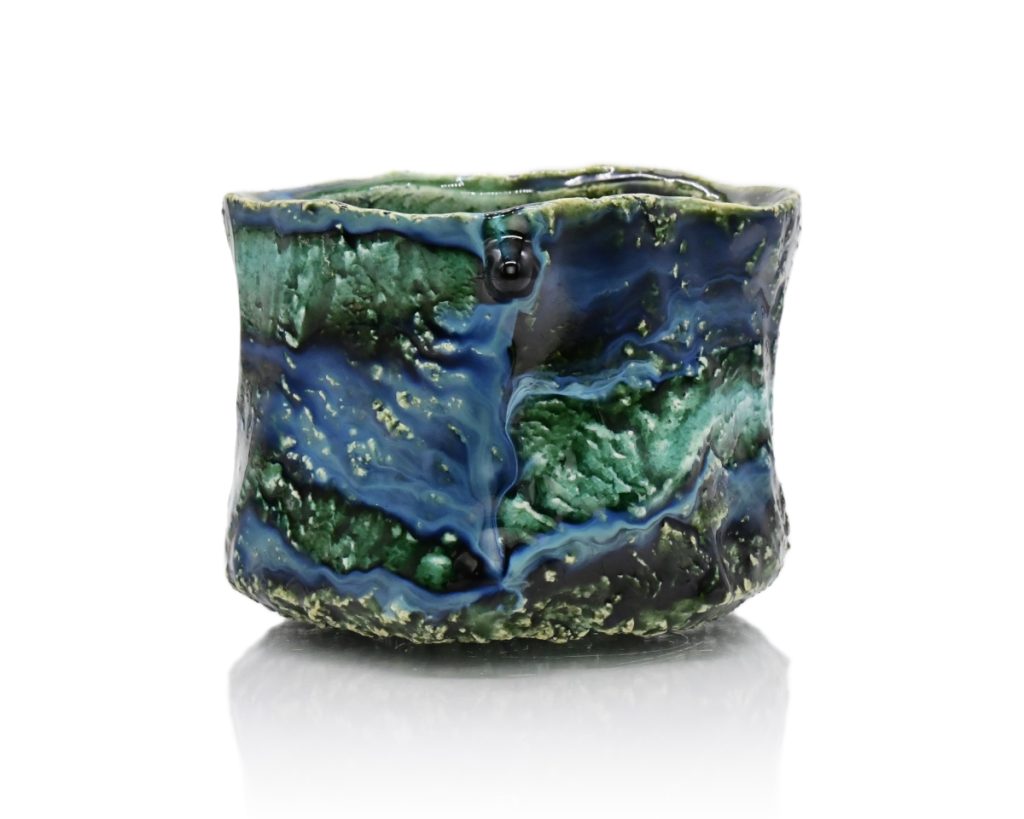 Makoto Yamaguchi: The Philosophy of Oribe opens this week at The Stratford Gallery in Broadway, Worcestershire
February 18 – March 4, 2023
The exhibition launches online to view and purchase at 7 PM GMT on Friday, February 17, on the gallery's website and opens in the gallery at 3 PM on Saturday, February 18, 2023. Makoto Yamaguchi will be in attendance at the opening.
Makoto Yamaguchi is a 6th-generation artist born in Seto, Japan, in 1978. He is the son of the late 5th-generation ceramic artist Masafumi Yamaguchi, inheriting a legacy that stretches back into the mid-19th Century. As with all artists who gain the responsibility to carry forward an established and favored family tradition, it was a considerable challenge but one he has undoubtedly risen to and is excelling at.
In this exhibition, 'The Philosophy of Oribe,' his first solo exhibition outside of Japan, we see him at what would feel like the zenith of a potter's career twice his age. So at the relatively tender age of 44, one can only see him going on to be one of his generation's most famous Oribe artists, setting a standard that the next generation will certainly aspire to. In recent travels around Japan, the mention of his name to both emerging and senior artists produced knowing nods and words of enormous affection and approval. The subject of endless solo shows in some of the best galleries in cities across Japan, Yamaguchi san has earned an incredibly high status for a maker independently established for less than 20 years. His attention to detail, inherited instincts, and progressive attitude, combined with a strenuous work ethic and respect for tradition, earned him this spot. His fabulous greens and blues, thickly applied and traversed across the surface of his pieces, make even those unfamiliar with Japanese ceramics weak at the knees, and rightly so.
This exhibition shows the most comprehensive repertoire of his Oribe styles ever assembled. Emerald greens with rivers of blue cascading over extravagant, sculptural landscapes of wondrous texture. Ryu-Zu Dragon Motif Oribe tea wares give an accomplished and contemporary nod to their 16th Century cousins. Oribeguro, Oribe-Shino, Kuro-Oribe, Ao-Oribe, and Green Oribe styles across sakeware, ikebanaware, teaware and food culture forms all have superbly executed examples within the assembled collection. The spirit of Oribe is well understood and innate within this talented artist. But what is 'Oribe'?
It is common for Westerners to think that 'Oribe' is the name given to the wondrous deep green copper glaze that can be found on the surface of many Japanese vessels and forms. Indeed, it is correct to call that glaze 'Oribe,' but leaving your knowledge there misses your opportunity to understand the renaissance-like impact of what Oribe truly means.
'Oribe' is, in fact, the bestowed name of Furuta Oribe, an artistically important historical figure in Japan who was born in 1543. Oribe was brought into this world as the child of a high-ranking Samurai family during a time of great turbulence in Japan. Not really a singular country at that point in history, Japan was an interconnected landmass of warring states. Few people alive in Japan at the time of his birth had known peace; wars between rival clans had dominated the islands and would continue to do so for another 70 years. It was during this era that Oribe established himself as one of the most important cultural influences in Japan's history, an honor he still holds today, with artists across the country revisiting his aesthetic philosophy as a source of inspiration for contemporary works. It is from this deep well of astonishing artistic accomplishments that Makoto Yamaguchi san's work must be considered.
We should think of Oribe's influence from the position of an Art Director. He was not a potter, textile maker, painter or practical artisan but rather an arbiter of taste, design and progress. His direction was to encourage a flamboyant style, which is none more seen than in his influence on late 16th and early 17th Century ceramics. While much of the initial take-up on his art direction was with Mino ceramic makers, this soon spread, even to unglazed traditional areas such as Iga and Shigaraki. But it was his fondness for and encouragement of the glorious greens of copper glazing that his name will forever be associated. However, beyond that, he introduced ideas that at the time would have seemed radical, almost dangerously different, a key example being deforming the symmetry of tea bowls to make them look like the wooden clogs worn at the time. Decorative painting in geometric and naturalistic designs combined with loose proximity to glaze in shapes free of restriction would all have been unique ideas to those who saw them for the first time. There was an explosion of expression within ceramics, with an immediate impact on the most important of cultural rituals—the tea ceremony. The diary of a 16th-century merchant, Kamiya Sōtan, visiting Kyoto on the eve of the 17th Century in 1599, gives us a glimpse. He noted that the tea bowls used at Oribe's tea salon were "delightfully waggish, Setoware with warps!". It must have felt so modern and exciting after the transition from his predecessor Sen no Rikyū's austere.
Many 16th and 17th Century ceramic works held in museums worldwide pay homage to the renaissance-like impact of Oribe's vision. What is striking about them is how fresh and modern they look, even today. You will also note how, 450 years later, contemporary artists like Makoto Yamaguchi are still drawing upon the ideas and energy of a former Samurai warrior for modern inspiration. 'Oribe' today is an adventurous playground for artists—possessing boundaries but also encouraging expression, freedom, change, and delight. All of this is seen in Makoto Yamaguchi's creative output.
In this exhibition, I encourage viewers to see Yamaguchi's work as the manifestation of an inherited respect for Oribe as an influencer of design and creativity. Oribe as a signpost to form. Oribe as a chance to delight with color. Oribe as a vehicle for contemplation. Oribe as a philosophy.
Essay by Howard Clegg, Director of The Stratford Gallery, February 2023
Contact
art@thestratfordgallery.co.uk
The Stratford Gallery
62 High Street,
Broadway,
Worcestershire, WR12 7DT
United Kingdom
Photos courtesy of the gallery