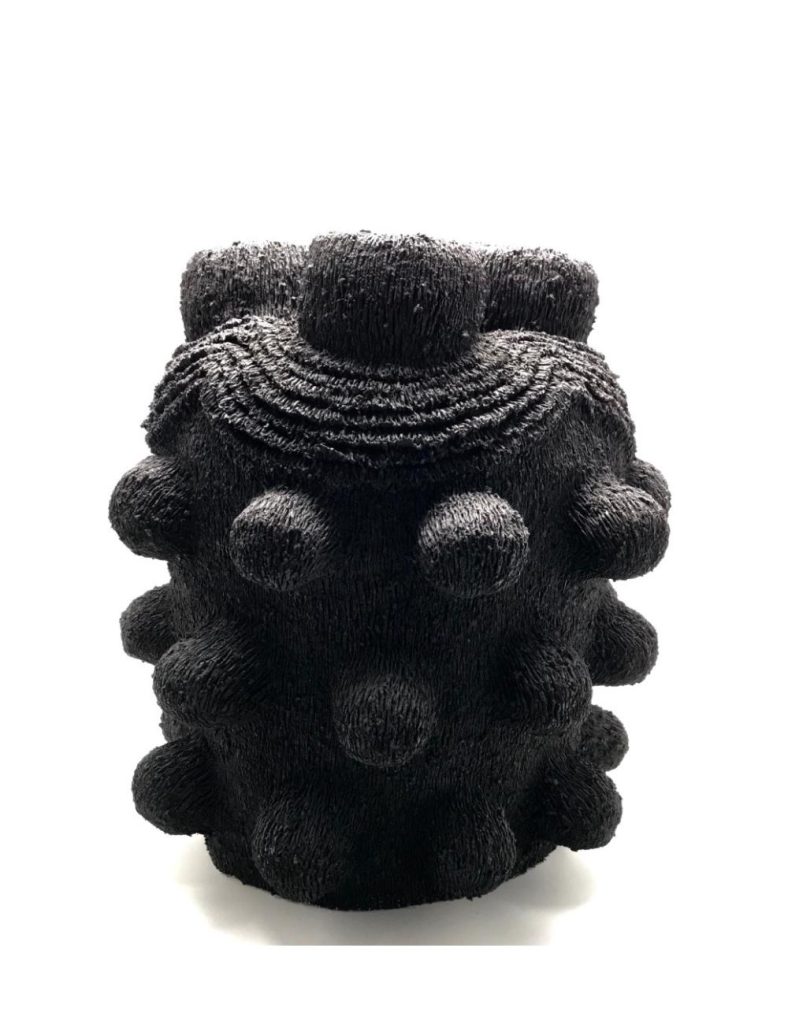 My research has been focused on the pineapple as a symbol that represents welcoming and hospitality. Through this inquiry, the tradition of the pineapple as a symbol of hospitality is rooted in slavery and agricultural colonization of South America, the Caribbean, and the Southern United States in particular, South Carolina and my home state of Georgia. When slave ships bringing enslaved Africans docked at wharf, the foremen placed a pineapple on a spike. The pineapple now, becoming the beacon to identify a new shipment of enslaved Africans has arrived. Thus, originating the pineapple as a symbol for welcoming.
From this investigation, my art practice pulls from my interest in hip-hop culture, history, and science fiction. The artwork references the visual traditions from the Southern United States, the Caribbean, South America, and the African continent. I utilize printmaking, installation, and performance to elevate the importance of my ceramic sculptures as a historical and creative base material to inform memories of the past. The handling of clay reveals the process and shares the markings of its maker. Ceramics becomes a bridge to conceptually integrate disparate objects and or images for the purpose of creating new understandings and connections with the material, history, and social-political issues. Through linking traditional African initiation rites of birth, adulthood, marriage, eldership, and ancestry which are essential to human growth and development to the greater African diaspora. I compare the construction and deconstruction of materials to the remix in rap music and how human beings adapt to different environments and reinvent new identities. These ceramic objects are vessels, each making symbolic allusions to the black body.
The artwork suggests the past, discusses the present and explores possible futures interconnected to the African Diaspora. While also examining deeper social issues which broaden the conversation between all of humanity.
Photo captions
Guardian, 2021, Ceramic, 17.75" x 14" x 14", Photo credit: Donté K. Hayes
Welcome, 2018, Ceramic, 18" x 16" x 13", Photo credit: Donté K. Hayes
Dalek, 2018, Ceramic, 16" x 13" x 13", Photo credit: Donté K. Hayes
Double Consciousness, 2019, Ceramic, 16.5" x 13" x 9", Photo credit: Donté K. Hayes
Womb, 2020, Ceramic, 18" x 13.25" x 7", Photo credit: Donté K. Hayes
Tassel, 2021, Ceramic, 10.75" x 8" x 9.5", Photo credit: Donté K. Hayes
Pillow, 2021, Ceramic, 11.25" x 13" x 8", Photo credit: Donté K. Hayes
Swag, 2021, Ceramic, 10" x 11.5" x 11.5", Photo credit: Donté K. Hayes
Wavelength, 2021, Ceramic, 17" x 15" x 12", Photo credit: Donté K. Hayes
Essence, 2021, Ceramic, 11" x 12" x 12", Photo credit: Donté K. Hayes
Matrix, 2021, Ceramic, 11" x 12.5" x 12.5", Photo credit: Donté K. Hayes
Monument, 2022, Ceramic, 15" x 15" x 15", Photo credit: Donté K. Hayes
Meander, 2022, Ceramic, White slip, 8.5" x 9.5" x 9.5", Photo credit: Donté K. Hayes
Source, 2022, Ceramic, 11.25" x 14" x 15", Photo credit: Donté K. Hayes
Reboot, 2022, Ceramic, 11" x 13" x 13", Photo credit: Donté K. Hayes