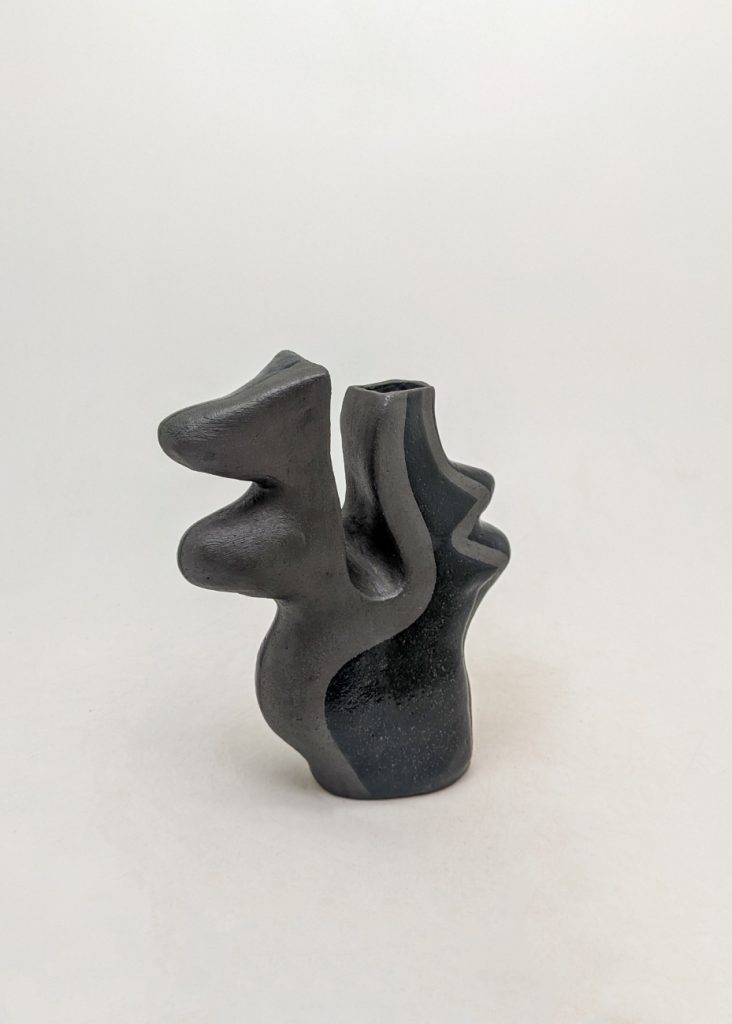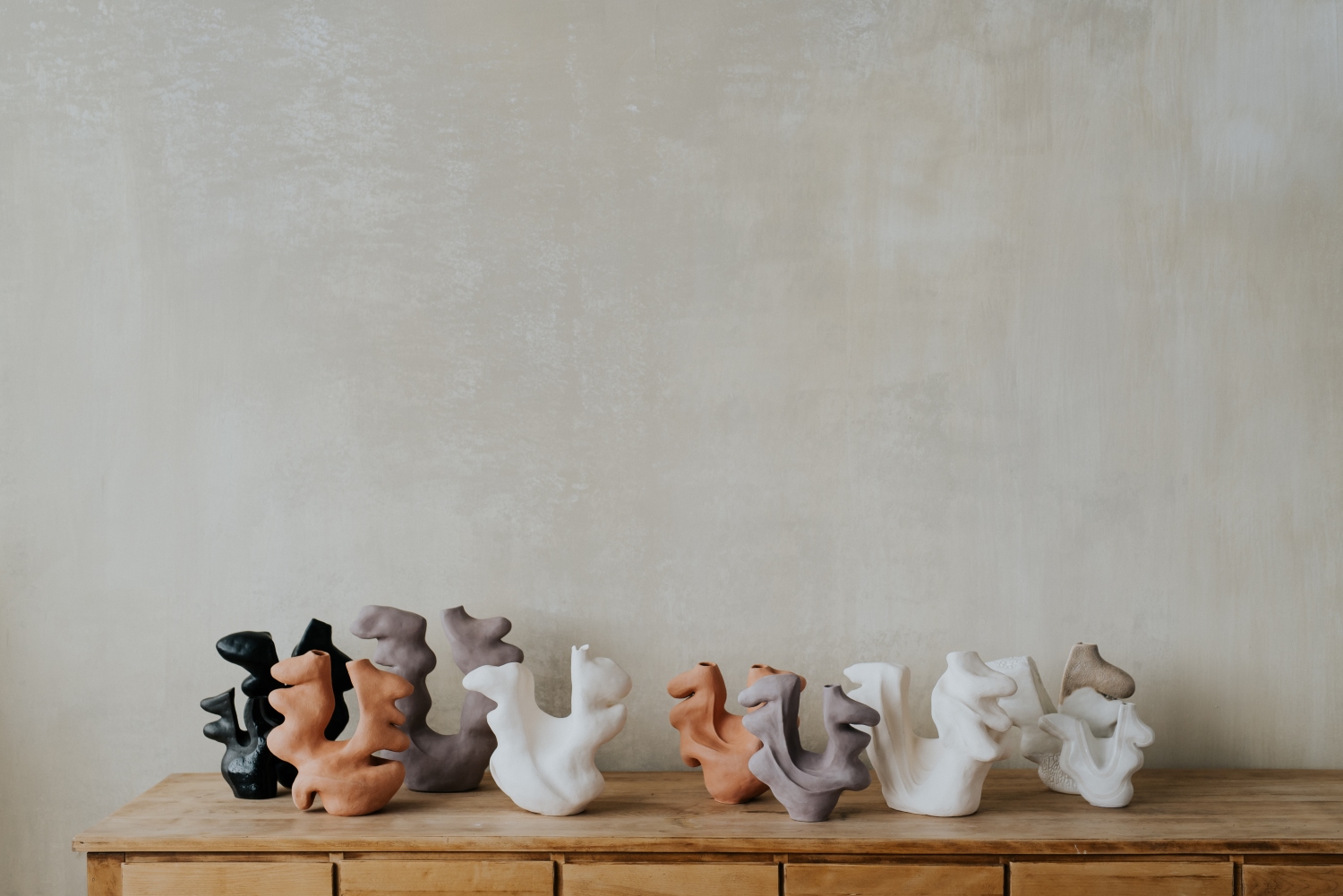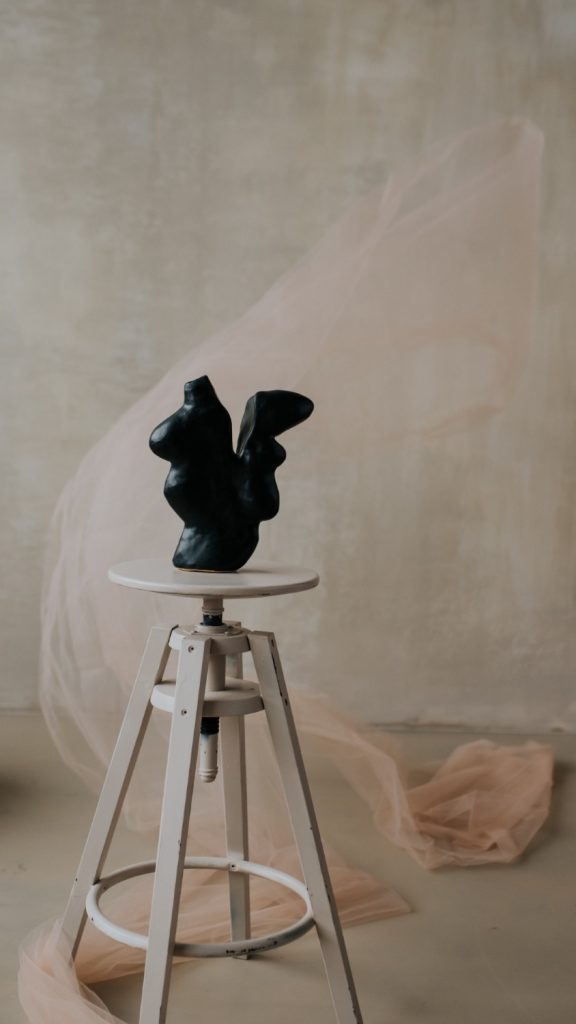 Elena Mahno: Selected works, 2022-2023
Although trained in visual arts at an early age, I arrived at clay as a therapeutic experience to reground from the increasingly digital nature of our daily lives. Clay materiality and the embodied experience of ceramic-making pulled me in to establish a practice. In it, I seek an intentional and generative relationship with materials: as I guide clay into loosely imagined forms, it offers its own ideas, introducing a welcomed element of randomness that honors the material and its natural properties. For this reason, my primary focus is often on the clay body, emphasizing the form while keeping the surfaces minimal. Typically, my previous works establish a lineage for the coming explorations, whereby all my pieces feel interconnected.
Conceptually I often explore themes around identity and womanhood. During the past few years of uncertainty, I've been experiencing a sense of déjà vu — the loss of control, the limbo and the resurgence all somehow felt familiar. I realized that similar feelings accompanied my immigration from Moldova decades earlier. With monumental events still rippling around the world, I reflect on how they leave a wake of life paths unlived. Using coils and slabs of clay, I explore identities left behind or hidden under the surface through abstraction of silhouettes rooted personal memories in times of change. Feminine but at times child-like organic forms enclose voluminous spaces in a manner more akin to sculpture than craft. Through these, I strive to memorialize these parts of ourselves, while bridging the past and the present.
Captions
Series I, No 2 (2022); Sculpture clay, black basalt slip, glossy black glaze; 6″x5″
Series I duo in black (2022): No 2 (Sculpture clay, black basalt slip, glossy black glaze; 6″x5″) and No 3 (Sculpture clay, satin black glaze; 11″x9″)
Series I and II group (2022), Vessels in red, white, black sculpture clay or stoneware, raw or glazed; various sizes. Photo by Amrita Singh
Series I, No 3 (2022); Sculpture clay, satin black glaze; 11″x9″. Photo by Amrita Singh
Series I, No 6 (2022); Sculpture clay, white stoneware slip, satin, pebbled and porous glazes; 9″x10″
Series II trio (2022): No 8 (White groggy stoneware, unglazed; 10″x9″), No 11 (Red sculpture clay, unglazed; 10″x9″), No 13 (Black groggy stoneware, unglazed; 12″10″). Photo by Amrita Singh
Series II, No 9 (2022); White groggy stoneware, unglazed; 10″x11″
Series II duo in white (2022): No 8 (White groggy stoneware, unglazed; 10″x9″) and No 9 (White groggy stoneware, unglazed; 10″x11″)
Series II, No 10 (2022); Red sculpture clay, unglazed; 9″x9″. Photo by Amrita Singh
Series II, No 11 (2022); Red sculpture clay, unglazed; 10″x9″
Series II duo in red (2022): No 10 (Red sculpture clay, unglazed; 9″x9″) and No 11 (Red sculpture clay, unglazed; 10″x9″)
Series II, No 12 (2022); Black groggy stoneware, unglazed; 9″x8″
Series II duo in black (2022): No 12 (Black groggy stoneware, unglazed; 9″x8″) and No 13 (Black groggy stoneware, unglazed; 12″x10″). Photo by Amrita Singh
Series II duo (2022): No 13 (Black groggy stoneware, unglazed; 12″x10″) and No 11 (Red sculpture clay, unglazed; 10″x9″). Photo by Amrita Singh
Series I and II group (2022), Vessels in red, white, black sculpture clay or stoneware, raw or glazed; various sizes. Photo by Amrita Singh
Series I and II group (2022), Vessels in red, white, black sculpture clay or stoneware, raw or glazed; various sizes. Photo by Amrita Singh
Rich Inner World 1 (2022); Sculpture clay, porcelain, slip; 7″x7″
Becoming 1 – front (2023); Sculpture clay, unglazed, 13″x 9″
Becoming 1 – back (2023); Sculpture clay, unglazed, 13″x 9″
Becoming 1 – side (2023); Sculpture clay, unglazed, 13″x 9″
Rich Inner World 1 (2023); Sculpture clay, porcelain, slip; 7″x7″