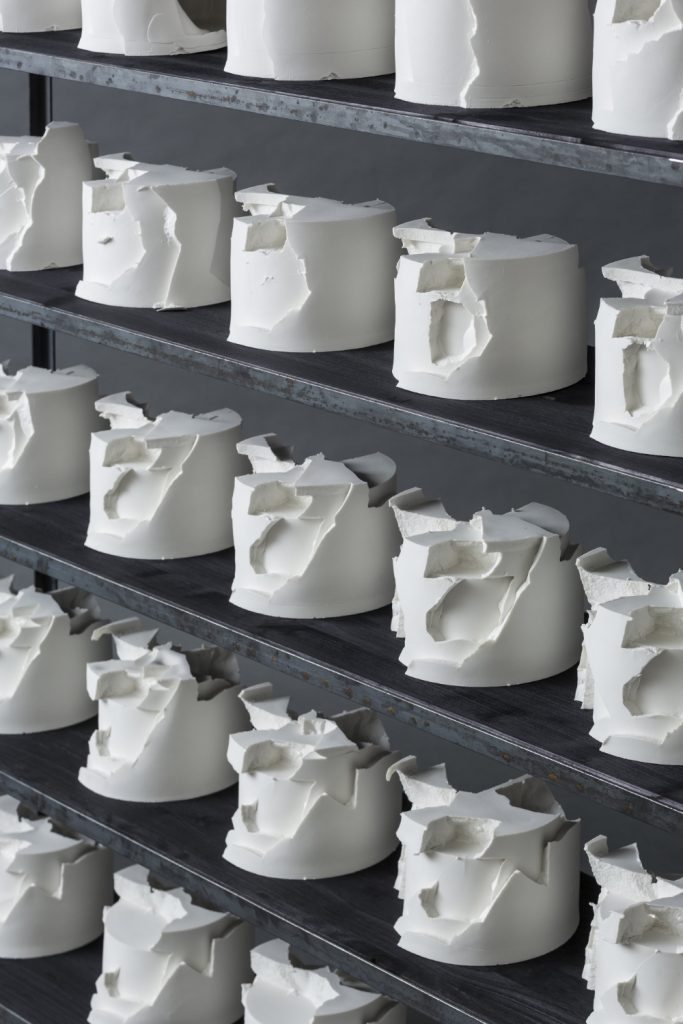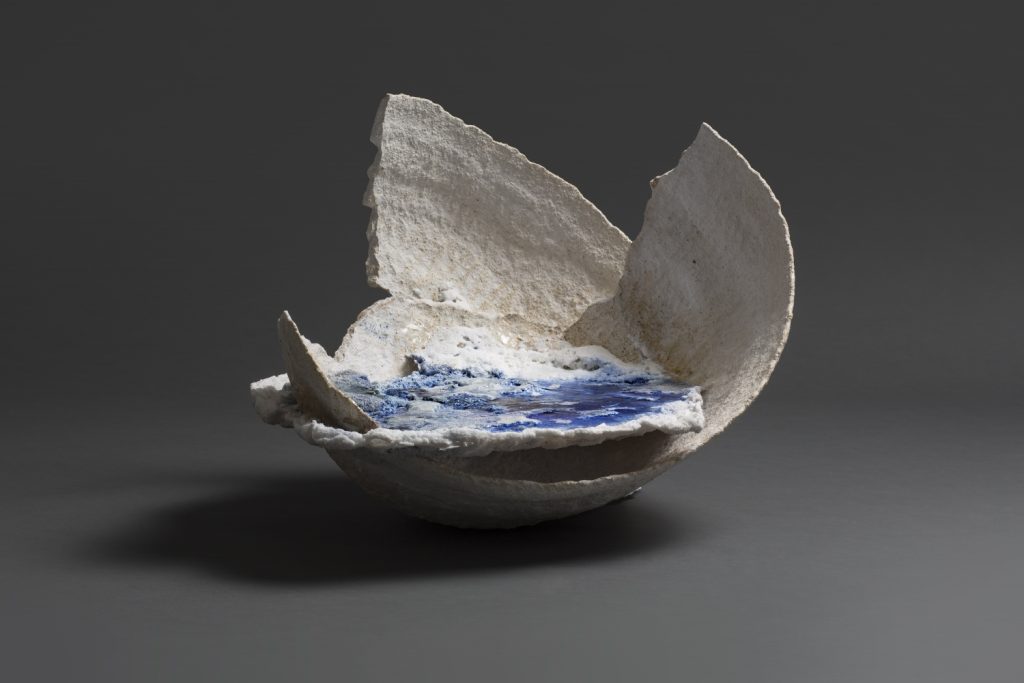 Eva Pelechová: Selected works, 2015-2021
Slow Down Meaning – An oblique discussion of the art of Eva Pelechová
By Kryštof Hejný
Over the past 10+ years, Czech ceramicist and designer Eva Pelechová has honed two visually distinct modes of expression. Despite their difference, they both develop a cloud of meaning that finds its edge in the eye of the beholder. The dynamic between the beholder and the work is key, then, for the "message" to take the shape of a singular thought and thus presumes of them a behavioral adjustment. For the loop to close and the message to unfold itself, it needs the sense of time flowing (reading unnecessarily into the employed communication strategy, one ponders if Pelechová's experience with performance art has anything to do here).
Pelechová often chooses to work at the outer limits of scale. Thus, the pieces, be it solitary meditations on materiality or groupings denoting sequences of change, attain a quality of spatial presence akin to that of a person. Tacit monumentality here is a device too – through it, every interaction begins with a question. According to the author, the work "attacks the irrational part of one's brain" with the aim to situate one's consciousness where rational comprehension and natural development meet.
Nevertheless, it is not a dialogue that ensues. Instead of an interrogation, the work turns the questions back at the beholder. Facilitating function of language breaks down. Exchange through duplication, association, synthesis, and reflection of untethered meanings shows cognitive structures and their semantic codes as permeable, conductive, open, yet opaque.
The more material-centric vein of Pelechová's work produces objects that consist of coiled shells that rupture and slide across each other, revealing pools and streams of igneous, gritty, and glossy substances. At times, the shell can become fully encrusted in partially vitrified homogeneous grain. The composition of these pieces (chamotte clay, diturvit, silica sand, and glass frit) remains fully legible and, more often than not, melded only partially.
When bound to a material, structures and codes allow for qualitative shifts to take place under the right conditions (in the kiln), by which immanent meanings become apparent. As only the boundaries of given material suggest the location of points of no return in processes of actualizing the potentiality of a subject (in this case, an artwork's manufacture), Pelechová remains aware of such boundaries of the material elements of her work and manipulates them skillfully as added metastructural signifiers. In an effort to bear the structure's complexity, the artist as well as the beholder can employ both metaphorical and indeed physical tools with which to poke, chip and cut at the work, analysing its contents or layout, whereby analysis becomes yet another change-inducing part of the metastructure.
It is characteristic of Pelechová's approach to analysis that she applies it methodically, almost with a dance-like rhythm, whether in sectioning pieces cold, figuring out group installations or pouring liquid slip in her auteur casting technique. Ceramics manufacture is built around repetition to achieve perfection. Techniques and their ordering are to a fired good what grammar and syntax are to speech. Both are fired by human action, which brings subject and motive. Every speech has patterns through which it perfects itself while slimming down its usability. Patterns, therefore, serve an autoreferential function. By appropriating broken molds regardless of their origin and casting the negative space on the inside, Pelechová has subverted a pattern. Later, she concentrated on the technique by developing a multilayered mold system of inset tubular or conical shapes, which she repeatedly casts while breaking off a piece of a mold from the inside out in between each casting. Ultimately, casts are organized in sequences. There lies the second mode of expression, further concentrated, analytical, yet possibly more empathetic.
Several processes unfold throughout Pelechová's making, some of which remain hidden at the end. How she arrives at names for particular objects mimics her approach to the visual qualities of each piece. She holds color, body, glaze, and glass (i.e., transparency) separate while bringing forth a semiotic whole of an artwork. The method is associative and works as if thinking through language only by its structure and examining the interim findings simultaneously would lead to a charged, meaningful outcome. And just as visual clues stimulate response in the beholder, several well-chosen disparate words accompany most pieces to excite a feeling.
On encounter, the beholder apprehends a tide-like sense of semiotic capaciousness spirited in the distinct pieces. Therein, Pelechová strikes balance of the naturally occurring and the exact.
Essay by Kryštof Hejný, art historian and curator based in Prague, Czech Republic.
Photos by Tomáš Brabec
Captions
Eva Pelechová, Celebration of Insignificance (detail), 2021, porcelain, metal frame, wood, 180 x 120 x 25 cm
Eva Pelechová, Celebration of Insignificance, 2021, porcelain, metal frame, wood, 180 x 120 x 25 cm
Eva Pelechová, A Fully Filled Crystal Lattice, 2018, chamotte clay, diturvit, silica sand, glass, 50 x 60 x 70 cm
Eva Pelechová, Unstable Associations, 2018, pyrolusite clay, silica sand, glass, 70 x 30 x 50 cm
Eva Pelechová, Quality of Missing, 2019, terracotta (objet trouvé), white clay, silica sand, glaze, soda, pigments, 50 x 50 x 50 cm
Eva Pelechová, Everyday Archaeology, 2018, cast porcelain, metal frame, glass, 125 x 270 x 30 cm
Eva Pelechová, Everyday Archaeology (detail), 2018, cast porcelain, metal frame, glass, 125 x 270 x 30 cm
Eva Pelechová, 6% Humidity, 32 Tons, 2017, chamotte clay, silicon carbide, glaze, pigment, 70 x 30 x 50 cm
Eva Pelechová, Soul Lake City, 2018, chamotte clay, silica sand, glass, pigment, 70 x 50 x 50 cm
Eva Pelechová, Objective Point of View, 2018, chamotte clay, diturvit, silica sand, glass, 50 x 70 x 70 cm
Eva Pelechová, Sugar Honey Darling, 2017, earthenware, silica sand, glass, 70 x 30 x 50 cm
Eva Pelechová, Die Geschwollene Schönheit, 2017, porcelain, glaze, silica sand, 50 x 50 x 60 cm
Eva Pelechová, Next Ex, 2017, earthenware, silicon carbide, glaze, 30 x 80 x 50 cm
Eva Pelechová, The Whole Heaven, 2017, porcelain, silicon carbide, glaze, pigment, 60 x 20 x 40 cm
Eva Pelechová, NC 000003, 2016, diturvit, 75 x 40 x 40 cm