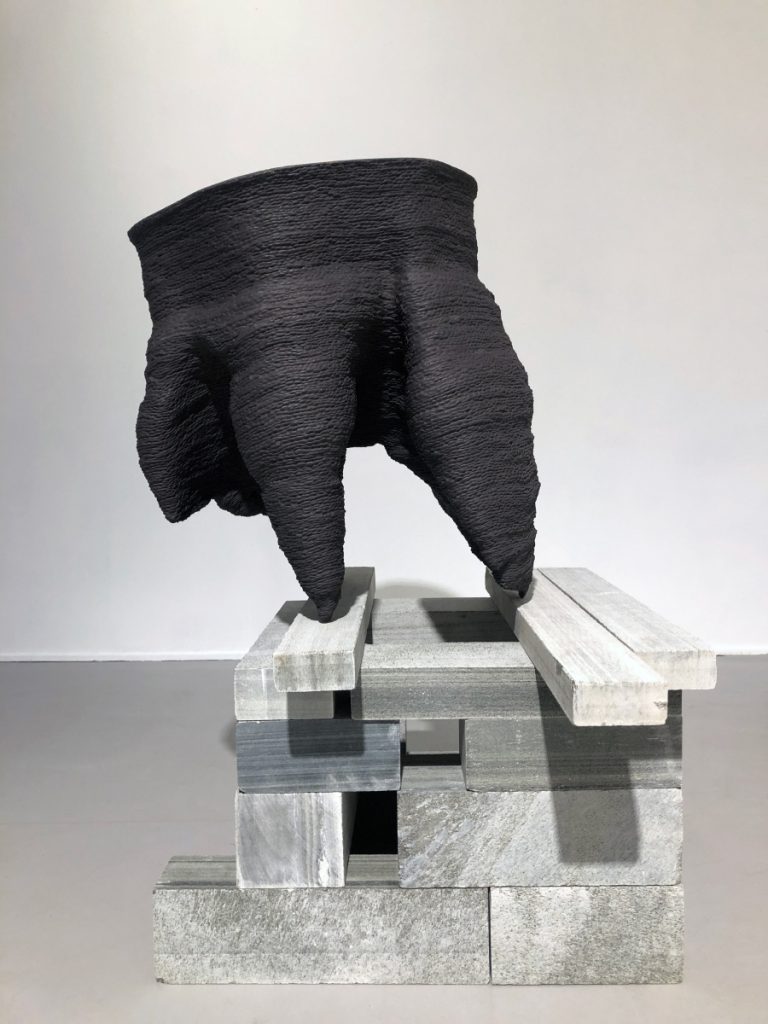 Eyvind Solli Andreassen creates ceramic objects that are shaped by different sculptural forms, volumes, and sizes. He uses traditional techniques, often based on ceramic containers, but creates abstract versions that extend the ceramic history. Andreassen's works question how different processing of a material, like clay, can change the visual perception of an object from one form to another.
His focus lies on the coiling technique which highlights an ancient way of crafting vessels while also allowing the coils to shine as an artistic expression and not merely as a construction technique. He feels like we all are always slightly out of balance, whether physically or mentally, and transfer fragments of this from himself into every object he creates. The point of balance highlights our own fragility and draws a line back to the ceramic material aspiring for others to relate to the object and causing viewers to confront their own instabilities no matter how fleeting they may be.
Making these ceramic objects is time-consuming and requires both the hand and the mind to be present in a meditative state. Andreassen rolls thin clay coils and places them on top of each other to create organic forms. Each thought becomes visible through countless coils and fingerprints, and time is shaped into a physical object. The surface of the objects is compressed with a single finger, forming precise and detailed rows that grow up and out of the clay. Techniques, cracks, and coincidences that occur during the process are openly displayed, telling a physical story of Andreassen's interaction with the material.
The often absence of glaze accentuates the tactile and individual qualities that arise from using different types of clay. The texture and surface on the inside and outside of the objects reflect spaces and holes formed over time by unknown forces and various climatic influences. The rhythmic lines of the coil technique flow through the objects and highlight reliefs on the surface, making room for questions about whether they were made by hand or machine.
The ceramic works exude a desire to grow continuously, yet they have come to a halt as if they have reached their own end. The various movements within the objects resist their pose as bodies torn between the previous movement and the next one. They are finally laid to rest, caught, and frozen during the ceramic firing process.
The three-dimensional works communicate uncertainty and control, and they are both static and moving at the same time. They balance a desire to play with gravity and are positioned in a nervous tipping point that challenges and stresses gravity while highlighting the fragility of ceramic work. The tension and unease that lingers create the feeling that the works might fall at any moment.
As viewers move within the space, they will relate to the objects and be aware of their location and placement. Attention is focused on the space that occurs around and inside them, creating an immersive experience.
Captions (in alphabetical order)
1240, 2019, black Stoneware, H82xW64xL59
Break free, 2018, black stoneware, H25xW29xL42, Photo Credit: Orhan Kuresevic
Fire bein, 2021, black stoneware, H41xW10xL29
Jalka, 2022, black stoneware and glaze, H54xB29xL48
Kar, 2019, black and grey stoneware, H75xW45xL65
Lene, 2019, black stoneware, H160xW40xL45
Over, 2022, black stoneware, H86xW33xL33
Tippy toes, 2019, black and grey stoneware, H26xW14xL13, Photo Credit: Orhan Kuresevic
Untitled 1, 2022, white stoneware with black speckles, H59xW36xL61
Untitled 2, 2018, black stoneware, H60xW41xL40
Untitled 3, 2020, black and white stoneware, H31xB26xL33
Untitled 4, 2020, porcelain, H21xW15xL16