Translocation, 2013-2020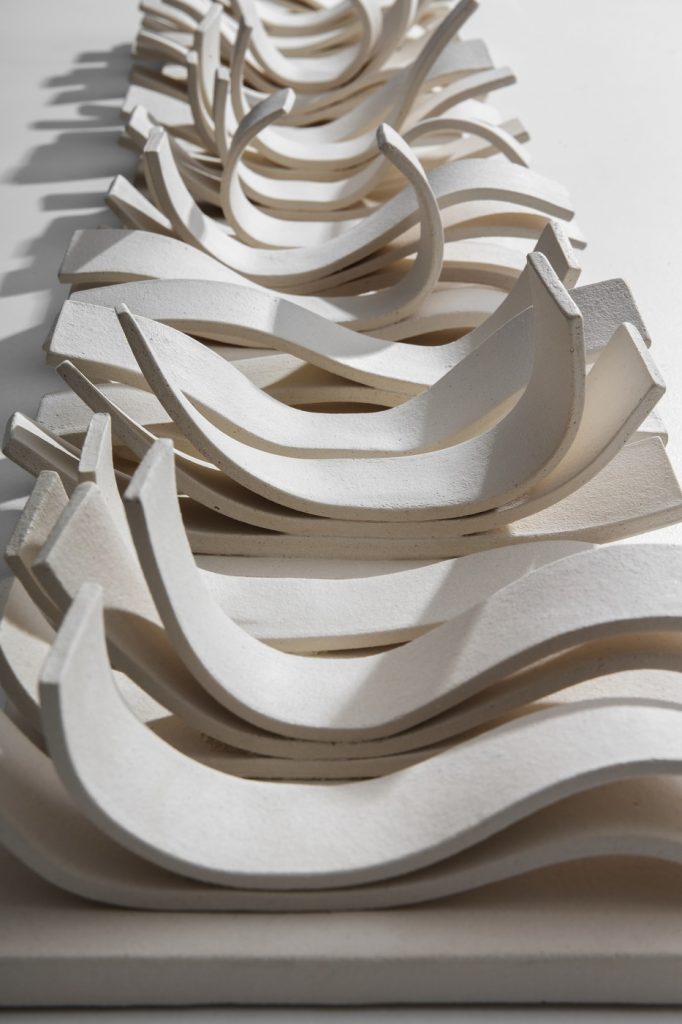 In this world dominated by blue and white, fine stripes are patiently assembled using a special technique (nerikomi) to create a block of clay. When it is sliced open, the content and transcription inside are revealed, as in cell division.
From one module comes infinite variations. Each piece can be reorganized as a wall installation of 10, 20, 30 or more parts. While the movement creates the form, the repetition of this form in turn creates dynamic movement. When lined up and subjected to the play of shadow and light, these unique pieces evoke the characters of an imaginary language, which viewers are free to interpret as they wish.
Waves, 2013-2021
This is a tribute of "Cuu Long" river in Mekong. Water, symbol of live. The materiel is transformed into waves with elegant curves and edgy crests. The grain of the clay or sandstone is revealed, and a matte surface envelops each piece, conferring on it exceptional purity.
Circum Colum, 2015-2020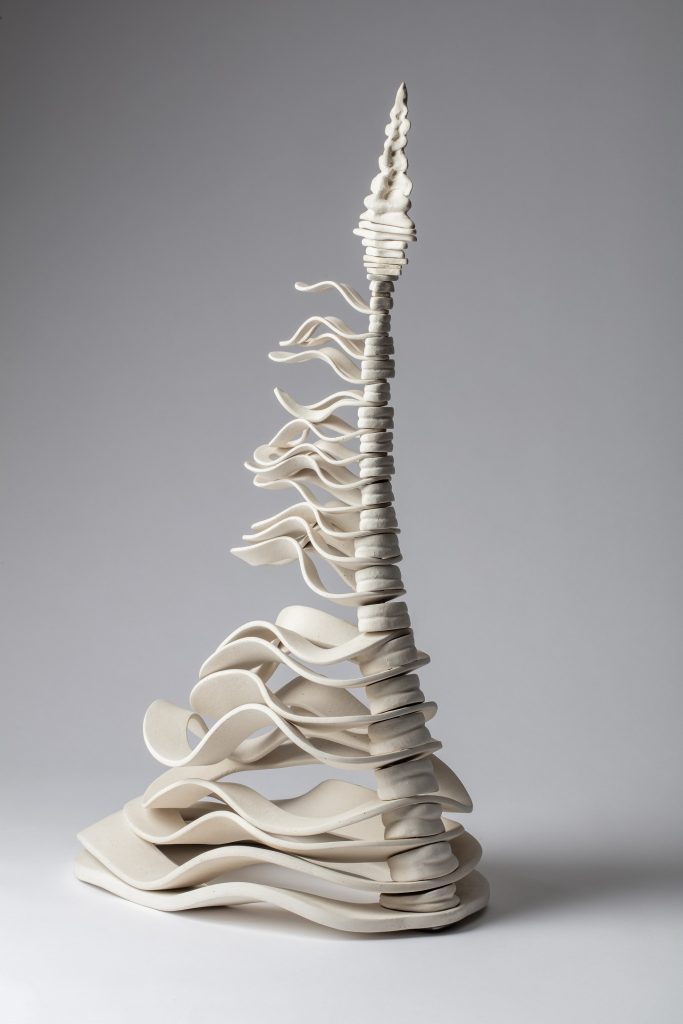 Circum column is a white sculpture, as porous as bone. A tower inspired by the spinal column, it is mounted upside down with the sacrum at the top, sacred body. Its verticality calling to mind the beautiful temples and stupas of Asia and evoking feelings of devotion and hope.
Photo captions
Translocation, white&blue, 2013, earthenware, unit 36x4x15 cm
Translocation, white&blue, 2013, earthenware, unit 36x4x15 cm. Modular Wall installation of 60 unique pieces, nerikomi technique, 200×200 cm
Solo show at Musée de la Faïence, Quimper 2021. Translocation, white&blue, ADN, mutation, 2017. 30 unique pieces for the 30th anniversary of the Museum. Earthenware, nérikomi, Wall Installation Wall 1.60 x 1.60 m.
At Grand Palais, Paris. Translocation, white&blue, 2017. Wall installation of 24 unique pieces. 1.60×1.60 m. Earthenware, nérikomi.
Translocation, crucified, 2015, white stoneware, enamel. 17x17x10 cm; 17x4x10cm
Foehn, 2014, stoneware, 80x10x30 cm
wave "Cuu Long", 2014, stoneware, 92x15x37 cm
Translocation, 2019, stoneware. Installation on the ground. Detached pieces of Waves, 3m x 40 cm x 1.50m
Pink Sand, 2015, stoneware, 80x16x34cm
Circum colonne, 2016, Stoneware, 75x26x27 cm
Circum colonne, Inventaire, 2016, stoneware, enamel – Sculpture, detachable pieces, sandstone, enamel, metal, 108 x 40 x 50 cm
Circum colum, 2016, black stoneware, 46x17x13 cm and Circumvolution, 2016, stoneware & porcelain – installation, 78x54x12 cm
Circum Stellar X-Ray, 2016, stoneware – Sculpture, detachable pieces, stoneware, 36x 30 x 45cm