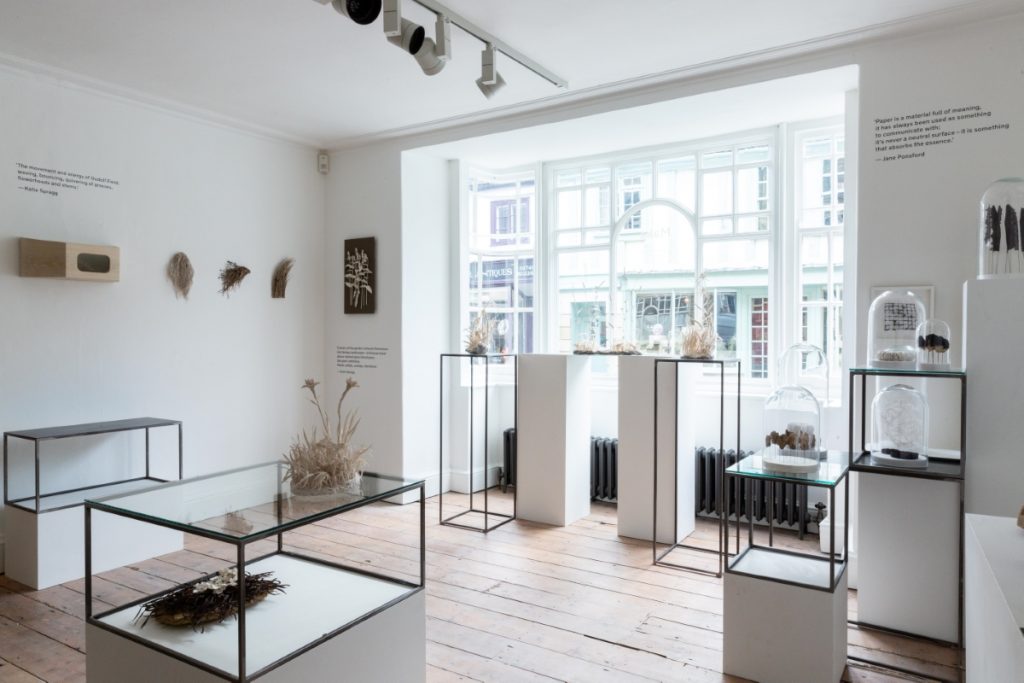 Make Hauser & Wirth Somerset, 2020
A collection of work in response to the Piet Oudolf garden at Hauser & Wirth, Somerset, UK and the surrounding landscape, exhibited as part of a group show in the Make Gallery. I was due to do a residency at the gallery but, due to the pandemic, instead made a number of site visits in February, August and September 2020, the first two separated by a national lockdown. I created ten new works as a response to nature, time and place.
A theme that threads through this work is interactions – interactions between plants; of same and different species, interactions across time, between cultivated/curated spaces of nature and naturally occurring wild plants and interactions between humans and plants.
I have created imaginary worlds, enlarging or miniaturising naturally occurring compositions of plants that I found in the garden and surrounding landscape.
Photo captions
Gathering, Make Hauser & Wirth Somerset, Installation Shot, 2020, Photographer Emma Lewis
Summer Iris, 2020, porcelain, 28x30x32cm, Photographer Emma Lewis
Echinacea, Blood grass, Sporobolus, 2020, porcelain, wire, 20x18x52cm, Photographer Emma Lewis
Horsetail, Bindweed, Plantain, 2020, porcelain, 20x22x38cm, Photographer Emma Lewis
Stachys and Bindweed, 2020, Porcelain, wood, 30 x 54 x 10 D cm, Photographer Emma Lewis
Tangle Bloodgrass, 2020, Stoneware, 15 x 18 x 10D cm, Photographer Emma Lewis
The Field, 2020, Porcelain, wire, 45 x 12 x 50H cm, Photographer Emma Lewis
Wild Swim, 2020, (detail), porcelain, glaze, wood, glass, 46x26x28cm, Photographer Emma Lewis