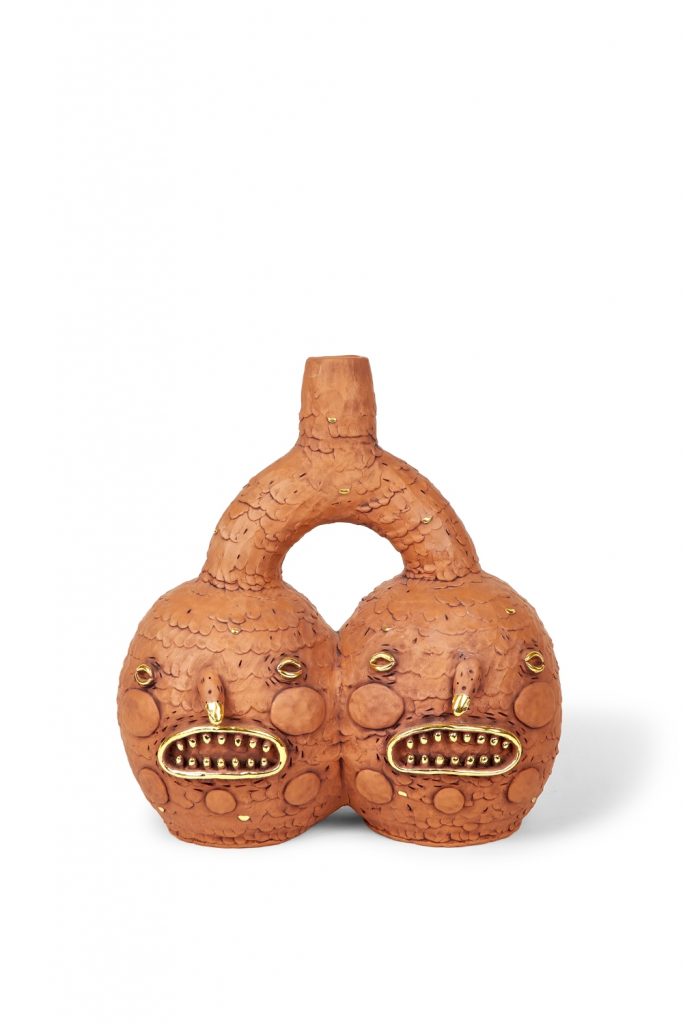 In 2018 I was a Resident Artist at Ceramics Program at Harvard University. With this residency I was allowed access to libraries, collections, and museums, such as their Peabody Museum. This granted me physical access to ceramic objects that people from my country don't have access to.
I used this time to research ceramics from South American Andean region. When researching art of my ancestral home I look to learn from all aspects of the people. I look at these objects not as artifacts but as art. I want to learn about the concepts, language, history, and people behind the objects. I then use this research in making work that I hope helps preserve and give access to some of this information.
The Mayu Chimpay series is influenced by Peruvian Moche vessels of the 1st-9th century. The piece is named Mayu Chimpay, referencing the stirrup (spout) meant to mimic two rivers coming together to create one stream. The translation is Cross River from the Quechua indigenous language spoken throughout the Andes.
Photo captions – All photos by Chris Stone
La Primera, Mayu Chimpay, 2019, Terracotta and Gold Luster, 11″x15″x8″,
Iskay, Mayu Chimpay, 2022, Terracotta with Majolica, 16"x 16"x 9"
Kusi, Mayu Chimpay, 2019, Terracotta and Gold Luster, 11"x 17"x 8"
Sami, Mayu Chimpay, 2021, Terracotta with Majolica, 12"x 6"x 5"
Puriy, Mayu Chimpay, 2022, Red Clay with Gold Luster, 17"x 15"x 15"
Kapuy, Mayu Chimpay, 2021, Terracotta with Majolica, 14"x 7"x 7"