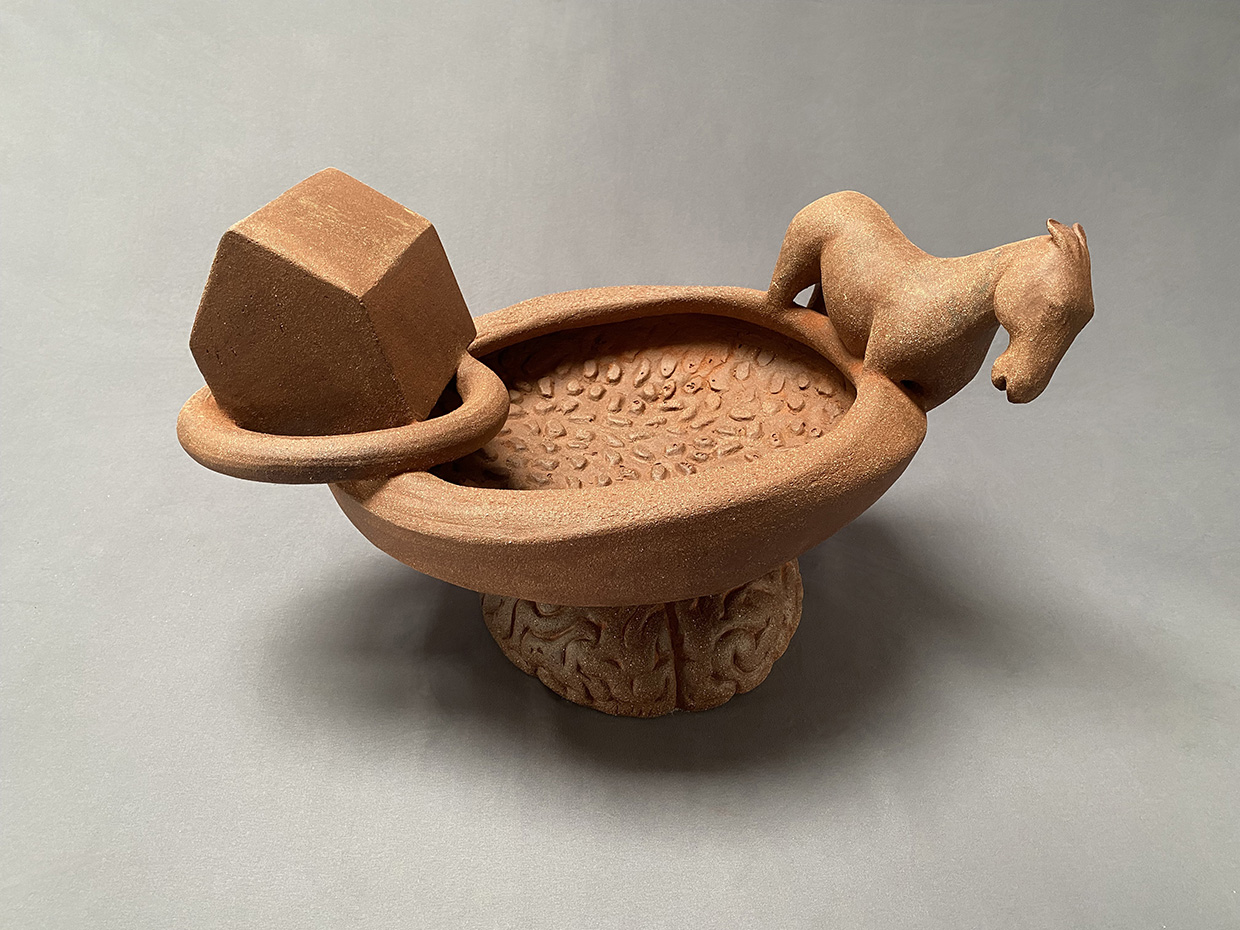 Syd Carpenter: Farm Bowls & Mother Pins, 2020-2022
My ceramic sculptures illustrate my observations of plant life and its infinite shapes, textures and movement. Currently, I have been making work that explores the presence of African Americans as stewards of the land. That presence is an obscured narrative that the sculptures are intended to reveal.
It was the purchase of my own land that set me on the path of unearthing more complex and nuanced understandings of African Americans on the land, not as enslaved victims but as creators of beauty, community and providers of home places remaining in families for multiple generations. My series Places of Our Own and More Places of Our Own represent farms and gardens visited in Georgia, South Carolina and the Gullah Islands in 2012. I collected soil from each place as well as images and videos. The resulting sculptures are not replicas or even portraits in the representational sense of the word. Rather they are reactions to the spaces featuring idiosyncratic details observed at each farm or garden, often appearing as abstractions whose dark velvet surfaces represent the sun warmed skin of the farmers and gardeners
My grandmother Indiana Hutson and my mother Ernestine Carpenter were master gardeners. In the Mother Pins series, I use the form of an antique clothes pin to represent Ernestine. I still have the clothes pins she used to hang our clothing, a strong feminine shape. Each Mother Pin represents her in a different mythical state. Although predominantly made of clay, I combine materials including lentil beans, metal, and found objects. My most recent work is a series of sculptural bowls. The bowl as a vessel to receive and offer is a metaphor for the land cultivated by African Americans. The bowls are titled with their names.
Photo captions
O'Neal Smalls, 2021, stoneware, 13.5x23x17in.
Mary Howard, 2021, stoneware, 15x20x22in
O'Neal Smalls, 2021, stoneware, 13.5x23x17in
Farm bowl with chicken, 2021, stoneware, 11x18x21in
Indiana Hutson, 2021, stoneware, 11x24x23in
Indiana Hutson, alt. view
Albert and Elbert Howard, 2021, stoneware, 15x24x21.5in
Laurie Mason, 2021, stoneware, 14x22x20in
Farm bowls at Rowan Univ. 2022
Farm Bowl with Orchard, 2021, stoneware, 9.5x18x21.5in
Solo exhibit at Rowan University Art Gallery 2022
Mother Pin Arise, 2020, stoneware, graphite, glaze, underglaze, water color, 28x19x19in
Mother Pin Arise, alt. view
Mother Pin Transitions, 2021, clay, graphite, water color rototiller blades, 14x48x22in
Mother Pins Transitions alt view
Three Mother Pins on a Vine, 2021, Clay, mixed media, 18x37x26in