1400°C. Porcelain and me, emotions is on view at Fondation Bernardaud, Limoges
June 16, 2023 – March 30, 2024
20 years. For 20 years, contemporary ceramics have been exhibited at the Fondation Bernardaud. For 1400°C, its 20th exhibition, the rules of the game have changed. While the Fondation has consistently shown all types of ceramics since its creation, it presents only one this year: porcelain – 1400°C is an ode to this "white gold" that 11 international artists have chosen to master, to question the relationship between humans and their bodies, the fruit of so many fantasies and anxieties, what it says about us, what it is and what it tends to become. This year's guest curator is Frédéric Bodet.
For its 20th exhibition, which coincides with the 160th anniversary of Bernardaud, the Fondation has specially chosen to honor just one type of ceramics instead of the whole range usually shown: so no terracotta, earthenware, or stoneware. Make way for porcelain! This is a tribute to the "white gold" that Bernardaud has made its own since 1863 and which is so emblematic of Limoges, where kaolin was finally discovered in 1768 – the mystery ingredient in the manufacture of porcelain.
1400°C is when the material shows itself. At this pivotal temperature, porcelain, the only ceramic that withstands such heat, is fired for 24 hours, revealing all its qualities. Resistant, unalterable, durable, waterproof, translucent, fine, and white. Unique. With 1400°C, the Fondation Bernardaud highlights contemporary sculpture, providing a strong and unique view of porcelain and its amazing expressive possibilities, and addressing the historical, technical and aesthetic aspects of this demanding material. Demanding, even capricious, porcelain refuses to be constrained and fire is its only master. At 1400°C, it shrinks approximately by 14 % and changes shape. Porcelain challenges the most daring, like all the artists presented this year, who have succeeded in taming it with passion, patience, and brio.
Marked in the past by a certain preciosity, here porcelain is freed up by these 11 creators and their exceptional savoir-faire. They chose this difficult but fascinating material to question Man's relationship to his body: identity hidden or revealed; games of masking worthy of commedia dell'arte; fetishism or anxiety; the seductive power of costume; the desire to exchange the real body for a dream body. All these facets are in dialogue and come together through this shared inspiration, offering an incredible diversity of contemporary porcelain faces and bodies – from figuration to abstraction, from white to color, from historicism to fantasy – and we discover through the eyes of the artists: quest for power, ambition for social status, unspoken fears, proposal for a new aesthetic ideal.
Artists: Caroline Andrin, Carole Chebron, Claire Curneen, Gundi Dietz, Louise Hindsgavl, Irene Nordli, Marieke Pauwels, Enrique Perezalba Red, Alison Shanks, Mariëtte van der Ven, James B. Webster.
Caroline Andrin
"In 2022, a friend of mine had to empty her family home and sent me a series of photographs taken during a wedding in the 1950s, as well as ceremonial gloves that belonged to members of her family. I received this set as a precious gift which prompted me, for the 1400°C exhibition, to revisit the porcelain wedding service and create a collection of objects in the form of a fictional trousseau. Using the gloves as molds, I have created a collection of objects that evoke a new fictional ritual".
A pair of gloves turns into a duo of cups to pass on the finger or even a trophy bag for the little girl of honor. A few objects appear, glove-ceramic, which become a vase to be held, or a lachrymatory to collect tears. The Albescences installation offers a reflection on these rituals passed down from generation to generation that help us move forward in the different stages of life. Caroline Andrin's practice lies between art and design. She leads a work around the molding process by replacing traditional plaster molds with found objects such as a cardboard tube or a pair of leather gloves. Thus an innocuous object gives life to a new ceramic object by the technique of direct molding.
"To get closer to the color of the gloves and keep the imprint of the material, I used porcelain sigillata. These are very fine engobes obtained by clay decantation. The sigillata that I developed form a range of white, close to the albescent color of the accessories associated with the wedding ceremony. The sigillata is added to raw and dry objects, then polished. I add feldspar to my porcelain slip, which lowers its melting point. I fire the objects between 1150oC and 1200oC in a single firing (which represents an energy saving)."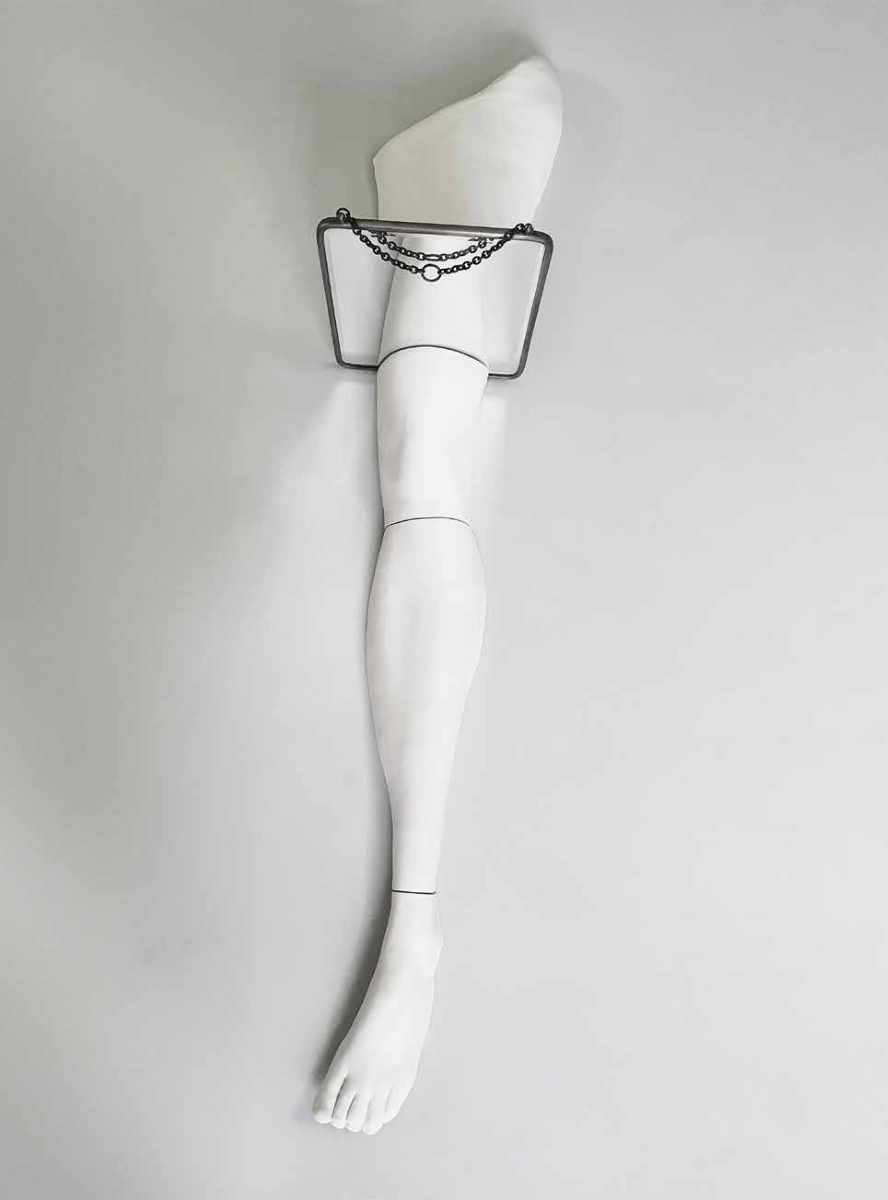 Carole Chebron
Carole Chebron presents an installation entitled Carpet(te), specially designed for the 1400°C exhibition. This new art piece is composed of arms and legs in porcelain and porcelain stoneware. Suspended, they are reflected and lengthened in the space of the Fondation Bernardaud. Beautiful and precious like porcelain, they are also distended and fragmented, like a body envelope, a skin that we would have pulled too much…
With this new work, the artist reconnects with the language of the body and what it tells us about the world we live in. It also evokes mixed feelings induced by our contemporary lives in perpetual motion. "The Carpet(te) installation speaks to us of these multiple roles that we play on a daily basis and which sometimes assault us, catch up with us, stretch us, sometimes even tearing us to pieces literally and figuratively! … Of all these roles that we want to play to perfection at the risk of getting lost and experiencing a deep feeling of fragmentation to finish Carpet(te)… (on the floor and exhausted)". Carole Chebron here mixes the private with the public, the familiar with the strange! Carpet(te) resonates here with the work of Robert Gober, whose power is to be felt.
"The expression of fragility is at the heart of my practice: fragility of what we are, of what surrounds us and builds us; fragility of our personal and societal values; fragility of our natural and cultural heritage… I imagine installations summoning objects, fragments of objects deployed in space. The object with its symbolic charge holds a special place in my work. The object interests me when it becomes suggestive, reveals one of these particularities, an unexpected profile".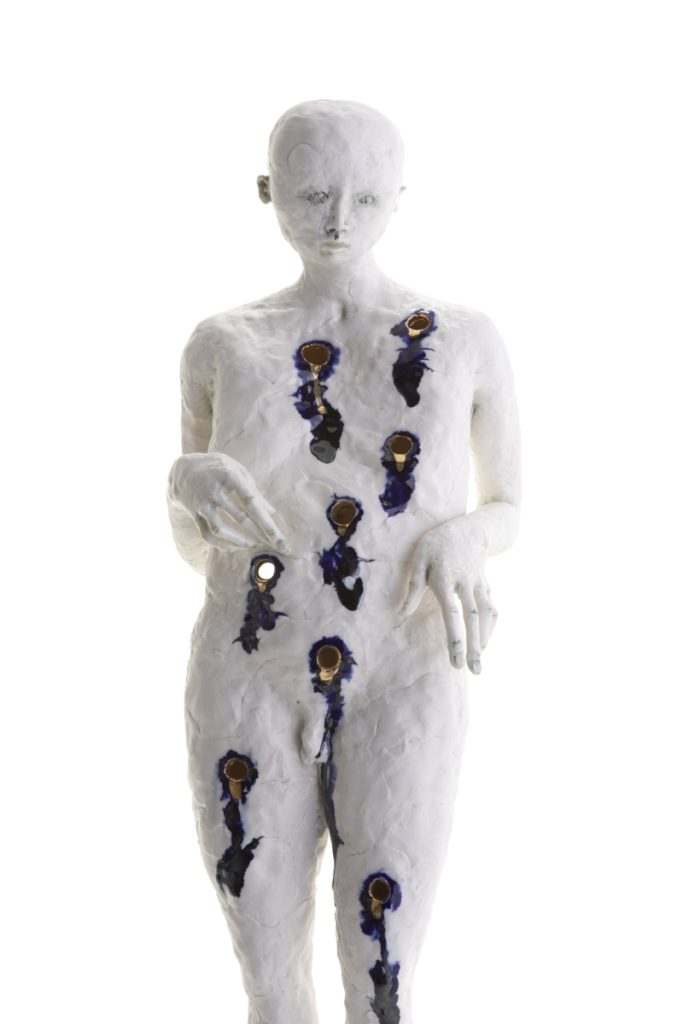 Claire Curneen
Claire Curneen creates sculptures that poignantly reflect on humanity. Universal themes of loss, suffering, sacrifice and rebirth underpin her works.
Curneen has a specific way of working with porcelain and glazes. Her pieces are hand-built in white porcelain and if many artists gradually erase the traces of their own labor, Curneen does the opposite; she exposes her process, revealing every aspect of it. These ongoing surface modulations can be seen almost as a diaristic record of ideas – modifying in response to what the porcelain communicates to her hand, what it resists, and what it accepts.
Though infamously not plastic and easily overworked, in Curneen's hands porcelain is stretched, folded, touched, and reshaped repeatedly. The surfaces remain fresh, literally blooming with leaves, folds, creases, and petals. One contour blurs into the next, its passage from one movement to the next smooth or jagged but balletic. The scale of her work in relation to this kind of detail is significant. Her technical achievement in this difficult medium can't be overstated and make her quite unique.
There is no visual stability in her pieces; the surfaces seem to be in constant motion. This characteristic of shift is inherent to the materials and processes –porcelain shrinks on average 15% during firing and also warps and twists in the heat –actions that she values; as she says "firing is where the magic is." Her figures are hollow and are consequently especially vulnerable to movement in the kiln. Her intentions are mirrored in these transformations.
"My work with the figure is grounded in the exploration of the human condition, focusing on aspects of the religious and the ceremonial. With semi-autobiographical references, the figure serves as a vessel for the physical and spiritual being."
Gundi Dietz
A major figure in Austrian ceramics, Gundi Dietz tirelessly strives to transcribe the complexity and richness of human nature through figurative sculpture. Her characters, often female, but sometimes asexual or from the animal world, are camped in their verticality or languid. Whatever their posture, the gaze escapes, as if engaged in deep introspection. These figurines call for serenity, which is not surprising when you know that the artist cultivates calm and tranquility and works in a meditative way in symbiosis with her pieces. "My work is based on an image that has been in me for a very long time and matures through internal and external processes."
Gundi took a different path with her porcelain figurines. She did not choose porcelain to express whiteness, fragility or preciousness. Nevertheless, porcelain is the preferred medium of the artist. After being cast in plaster molds; the form is then "reanimated" in order to breathe life into it, by adding here and there a few fragments of clothing, inscriptions engraved on the skin, lines of expression, touches of glazes, gilding. Her artistic writing is the story of her life; it resonates and touches us as the figurines are very moving and endearing.
"Porcelain is not an easy material for a craftsman, it refuses to be constrained. It's always a challenge to find the right balance; a small error when cutting a line and the balance may be lost".
Louise Hindsgavl
Louise Hindsgavl aims to reinterpret the classical porcelain figurine and examine the possibilities that the genre is offering. The harmless figurines are expressions of an embellished and idealized world. This world she wishes to see in a new light. A world full of anger, doubt, confusion, selfishness, lack of morality – and all the side effects to this. The content of her work covers most of the scale from simple meanness amongst children to political decisions that affect countries durably. The focal point is to uncover the dark side of man unlike the idyllic and utopian image that the figurine represents. The artist only work with porcelain. Carrying out the pieces in this material emphasizes the contrast between the pure and refined material and the untamed and civilization-breaking scenario.
"In the group of works that I have created for the exhibition 1400°C, I have been investigating a more expressive approach of the glazes. Even though I usually create mostly pieces with white glaze, I thought it would be interesting to emphasize these works with various colors and surfaces. It has taken me a long time to build up the courage to dare work with colorful glazes, but now the lid has come off and I am fully enjoying it!"
The topics I am touching with these selected pieces are Man's conflicts/connection with/ to nature and the issues we are facing because of that. These subjects have interested me for a long time, but now it seems more relevant than ever to bring these considerations into the conversation."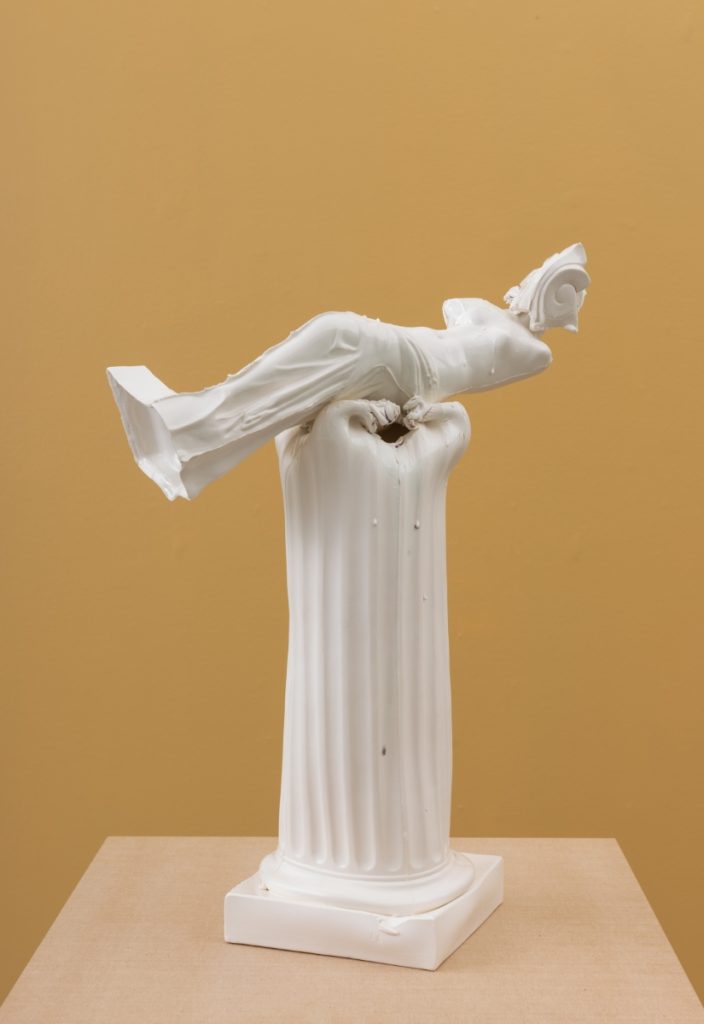 Irene Nordli
For three decades, porcelain has been the defining material for Irene Nordli. She follows and renews the material's history. Two very different types of work are presented in this exhibition.
In her new work Ceramic Dissolvment, the porcelain has gradually become more absorbed by its own materiality. The fragmented and recognizable body parts transform towards a greater degree of abstraction as she lets the modelled organic materiality flow forward and take over. Irene Nordlis' figurines disappear into the clay and they move towards a more abstract form. In the work Venus and the Pillars, fragments of a common cultural heritage are her raw material. In these new sculptures, play and experimentation are paramount. Elements appear familiar before she processes them and uses her own experiences and considerations to see this familiar material anew and makes it her own. The recognizable becomes more or less unrecognizable. She says she is looking for something essential to our lives, what it's like to have a body, to lose people you love, to be part of this world and the chaos and contradictions in it. What characterizes her life also characterizes what she makes.
In her practice, she is interested in the Venus figurine and has made many of her own versions based on this goddess of beauty and love. Manipulation and deformation of form becomes a commentary on the notion of the ideal of beauty. The columns are deformed and crooked. They are no longer in balance as the figurines are wobbly at the top and become more or less unrecognizable. There has been a tradition of transferring small models of classical marble sculptures to porcelain as decoration for the home. The porcelain resembles marble and both materials have the whiteness and light in them. Now we know that the Greek sculptures were once richly decorated. Irene Nordli allows her glazes to do the same.
The porcelain carries history and value, and her figurines and vessels are like a disturbing echo from the golden ages of porcelain.
Marieke Pauwels
"In 'Two Ways of Looking at Ceramics', James Elkins tells us that to be involved with ceramics means: to be on the one hand passionate about fundamental philosophical concepts such as matter, thing, utility, and on the other hand to be attentive to sensual, non-conceptual action, implying touch, colour, feeling, and temperature.
I for one, have the profound conviction that this double outlook makes for works of great strength and enticing charm. Indeed, I am very much aware that my own strongest works appear when I succeed in combining a philosophical and a physically sensitive approach to the matter".
As she digs, revealing that which remains invisible to the average eye, Marieke Pauwels recycles and defunctionalizes her shapes, then goes on to cosset, preserve and protect them. In her work she reinterprets folk cultures and traditions in a contemporary light, questioning the integrity of creation.
"The creative process leads artists – me, anyway –to existential questions. At first, I found the folkloric devotional practices of the Low Countries inspiring. Gradually I started to take an interest in Eastern cultures. Once I started visiting Asia, I became more intrigued than ever by Eastern philosophies. For some time now, I have been exploring such themes as chaos and order, form and emptiness, matter and energy".
Enrique Perezalba Red
"I have used deliberately porcelain in this series to emulate the Blanc de Chine porcelain, produced in Dehua, province of Fujian since the 17th C."
The work of Enrique Perezalba Red comes from a deep study of Western and Eastern Iconography, art history, and religion, and deals with the encounter of two cultures, China and America, represented by either Guanyin or the Chinese Guardian Lion and Mickey Mouse. The work Phyllis & Aristotle borrows its name and subject from a medieval legend of a tale of seduction and humiliation. Mickey is seduced by Guanyin's under one condition, to put on a bridle and give her a ride. In this work, iconographies are juxtaposed and completely decontextualized, giving the old legend a new and contemporary narrative. Phyllis & Aristotle is a metaphor about China and America's present/history relationship. Their differences, mutual needs, admiration and denigration. With Musophobia, the artist shows the figure of the Buddhist deity bodhisattva Guanyin, who is always linked to water either floating over it or next to a lotus flower and represented in a hieratic and solemn manner. Here, she sits on a rock by the water. "Inspired by a group of terracotta sculptures by Niccolo Dell'Arca (The Death of Jesus) that I saw in Bologna, I wanted to incorporate an element of movement and dramatism in this new piece. I wondered what would happen if Guanyin suffered from musophobia (strong dislike of mice) and was approached by Mickey mouse…".
"This subject has been represented in numerous manners and Lucas Cranach is one of the finest examples but the one that struck me is a wood carving on a gothic misericord at the National Museum in Valladolid, and this image stayed in my head for a long time until I found the way to translate this story my own way".
Alison Shanks
Her black-and-white work reinforces the dehumanization she perceives:"We, as humanity, currently live in a multi-directional, unbalanced world. We are destroying ourselves and our planet for profit. We are manipulated and divided by the mass media into hating other opinions and different cultures. We are probed and watched. Facial recognition technology, social media, Artificial Intelligence with its biased algorithms are constantly used. There is a loss of self, a confusion, an anguish".
"My sculptures are mostly porcelain and often depict Janus heads that have an ancient, divine, larger-than-life quality to them. I first became interested in the pixelation of the image through the work of Sigmar Polke. I started integrating faces into QR codes and then barcodes. Then later, I smothered them with pixels. My work continued with images of fragmented, distorted faces taken from various media. I cut them, stretched them, manipulated them through screen printed collages to get them to be lost in the transmission of the screen, lines of interference and white noise".
Various underlying themes in my works show how we are controlled and manipulated by an oversaturation of mass media, technology, social media, fake news, surveillance, religion and consumerism in all its forms.
Mariëtte van der Ven
Who visits the studio of Mariëtte van der Ven is overwhelmed by an oasis of greenery, an environment she created with her own hands when she moved into her current home and studio with her husband and children 15 years ago. Her love for nature, like her love for people, is deeply rooted. The choice she made to return to the countryside after her studies in Rotterdam is to seek the peace and quiet she needs to create in silence. Working in the garden and taking long walks with the dogs put her in the right state for making her ceramic sculptures.
Trained as a sculptor rather than a ceramicist, she began working at some point with clay to shape her sculptures. She was looking for a material that she could keep scraping and fiddling with and ended up with clay. Initially, it was a clay with chamotte and glaze was added for the skin. As her sculptures became more and more human images, she began to see glaze as a limitation, it was a shiny layer that created distance instead of showing the engraved details of the faces.
By chance, she came across porcelain which turned out to be a very different clay that required a lot of skills, practice and patience. Porcelain challenged her to work in great details, which she finds appropriate in certain works to get the right expression and to be closer to human skin.
In Mariëtte's sculptures, human appearance plays the main role. However, she is never concerned with the likeness or perfection of the portrait but she uses the figures to tell a story that is either poetic, sometimes uncomfortable and other times activist. In her recent work, natural elements and animals take on an increasing role.
"The concern I have about man's destructive influence on nature has become the main subject in my work… It has not been a conscious choice but a commitment, a logical consequence of the developments around us. The work is about how humans interact with nature".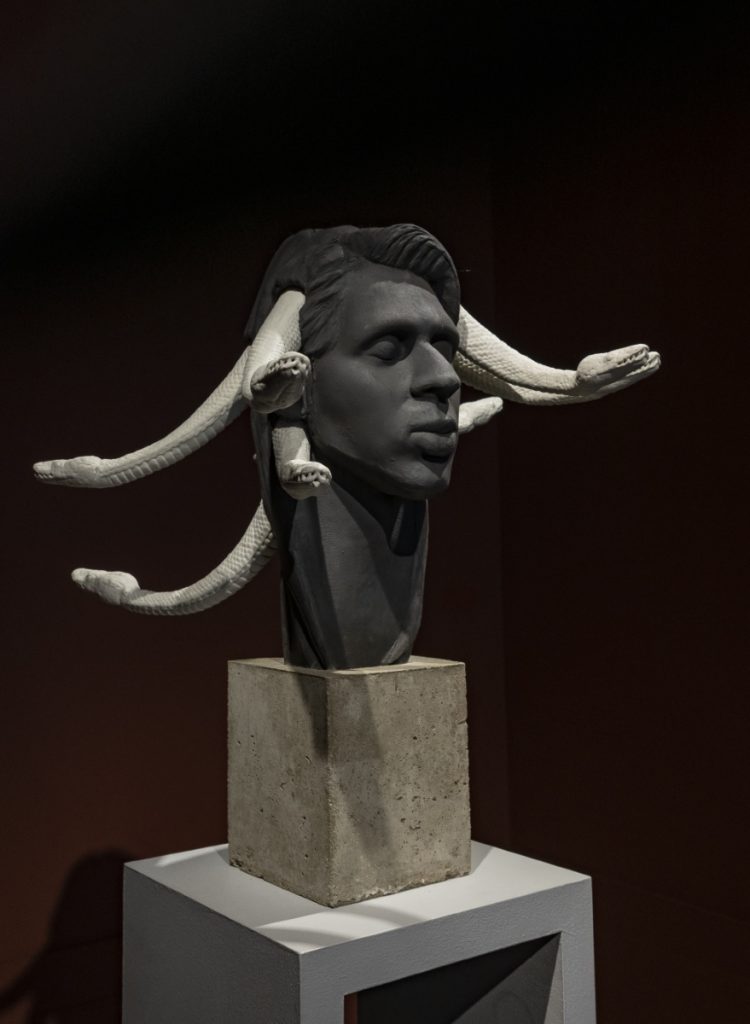 James B. Webster
Inspired by the tales and travel stories of his grandfather (especially in Egypt), James Webster develops a passion for mythology, Egyptology and antiquity, which he still pursues today. These timeless allegories imbue his works, which are nonetheless firmly rooted in his time. The destructions of ancient temples, our latent neglect of the environment and the societal crises we experience have become favorite themes in his work. He borrows symbols and allegories from the past and revisits them to make icons for our time, protectors adapted to our world.
The artist sculpts from nature, and unlike what is usually practiced, refuses to use molds to produce his works. For him, this is a real bias; in this way, the vagueness and the imagination are part of the narration and therefore of its pieces.
Webster primarily works in figurative sculpture, steeped in myth and storytelling. In practice, porcelain – during firing – can reduce up to 25 %. This massive movement of the original sculpture must be taken into account, which forces Webster to design his pieces larger than life and anticipate deformations that occur in the process.
"Porcelain is fine, intimate, there is a softness to it… it allows many details… I like the movement of the material. There is permanence. At the same time, porcelain is a difficult material to work with: for every finished piece, there are probably four that are discarded."
Fondation Bernardaud
For the past 20 years, the Fondation Bernardaud has been showcasing works from around the world created by artists who use ceramics as a medium and are little represented on the French scene. The exhibitions bear witness to the abundant international activity in ceramics, and to the special place porcelain occupies today as an fascinating artistic medium. Established by Michel Bernardaud, Chairman and CEO of the eponymous company, and directed by Hélène Huret, the Fondation Bernardaud is a cultural venue located in part of the Bernardaud manufactory workshops in Limoges. In addition to the annual thematic exhibition of contemporary ceramics, there is a discovery tour explaining the history and manufacture of porcelain.
Contact
contact@bernardaud.com
Fondation Bernardaud
27 rue Pierre Bernardaud
87000 Limoges
France
Photos courtesy of the artists and Fondation Bernardaud