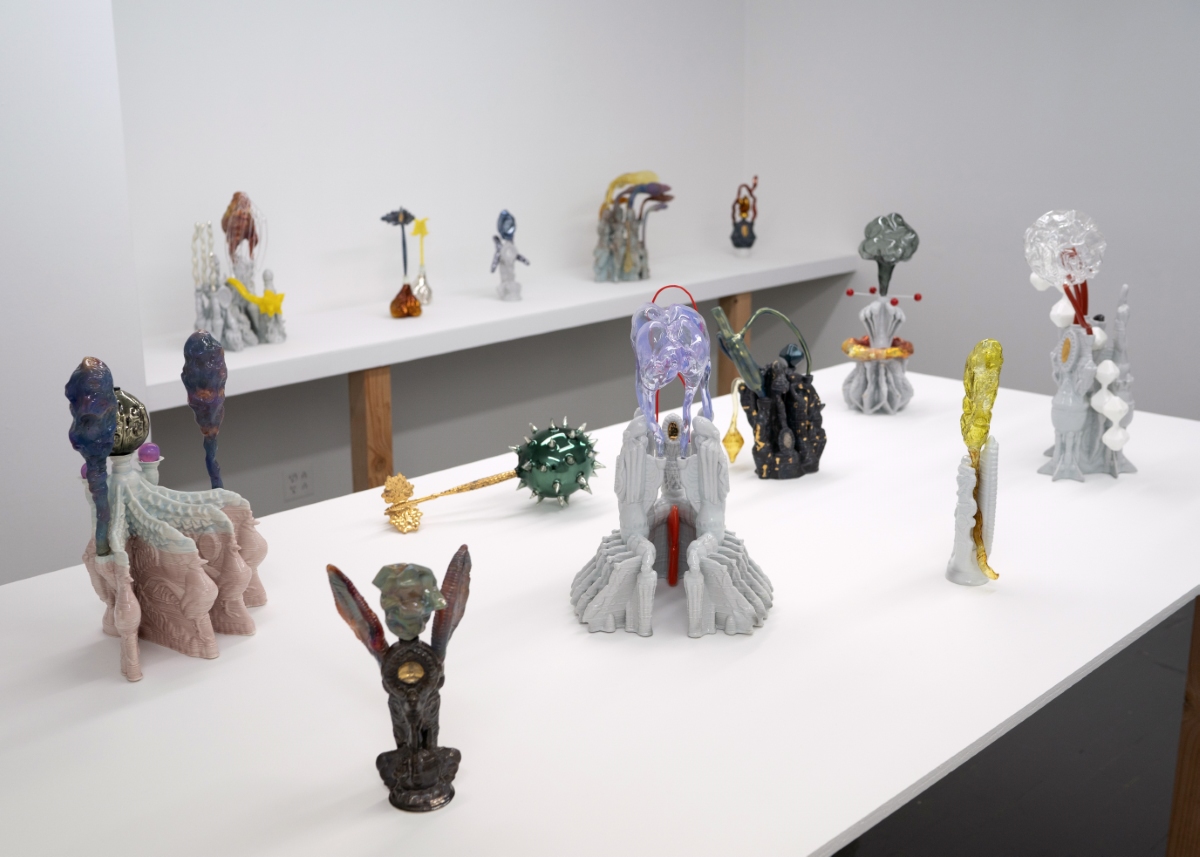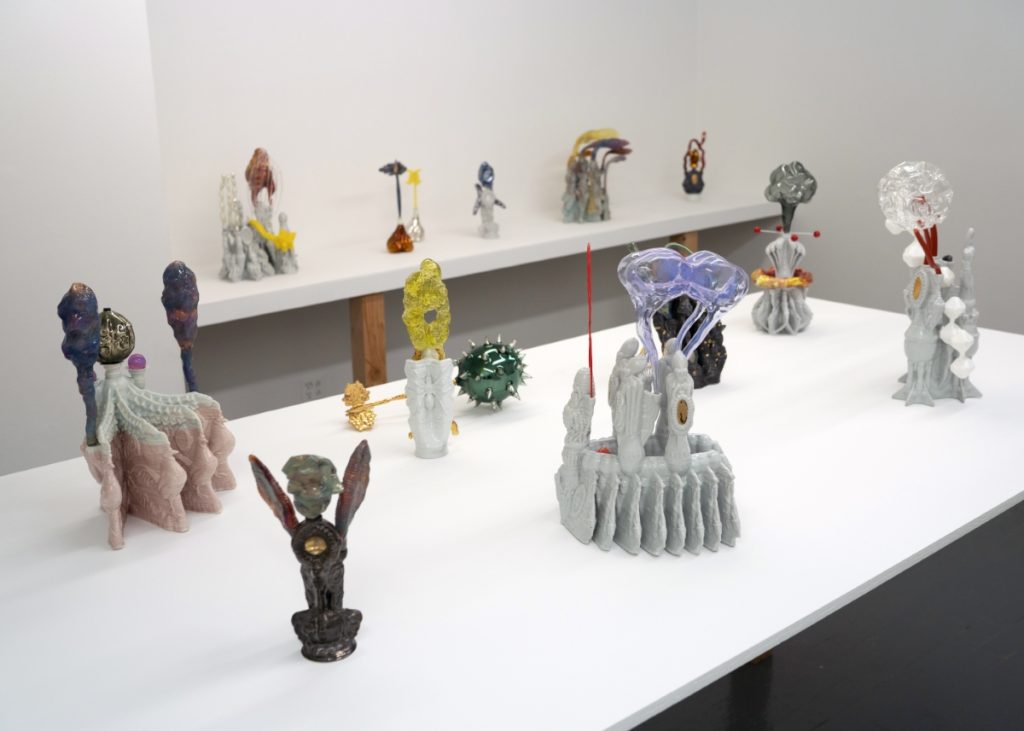 Amy Lemaire & Nicolas Touron: Second Nature is on view at SARAHCROWN, New York
December 9, 2022 – January 28, 2023
SARAHCROWN is pleased to announce an exhibition by American artist duo Amy Lemaire and Nicolas Touron, Second Nature. Working in 3D printed porcelain and borosilicate glass respectively, Nicolas Touron and Amy Lemaire's collaborative sculptural works reconsider nature from a post-anthropocene perspective.
Second Nature showcases all works of the duo's series titled "Nature" side by side, turning SARAHCROWN's gallery space into a mystical garden, both terrestrial and aquatic. Through this curatorial approach, Lemaire and Touron's works become one large-scale installation of natural and artificial phenomena, reminiscent of 15th century Flemish master Hieronymus Bosch's paintings with multiple coexistent stories, figures, and narratives.
The collaboration between Lemaire and Touron has much to do with time, humanity, and nature. Their work exists in the past and future at the same time, and is concurrently of flora, fauna, and technology. Lemaire, a glassblower, utilizes a craft invented over two thousand years ago, while Touron uses the contemporary technology of 3D-modeled and printed porcelain. As a result, their works include thousands of years of human innovation as they regard the effects of these achievements and technology on nature. In this sense, their technique and subject matter parallel one another: Lemaire and Touron reveal, in the physical sense and the philosophical, what nature can look like in sync with humans and their technology.
The works flawlessly combine two materials produced by each one of the duo. The ceramics created by Touron function as the base of the sculptures. Often resembling medieval fortresses or futuristic spaceships, they function as a stage for the story to be told. Lemaire's glass work, colorful and even more organic in form, is whimsical and delicate much like nature itself; sometimes they look like otherworldly plants or fungi, sometimes perplexing figures or animals. They represent the actors in this theater.
As an artist, Lemaire considers the role of technology as an accelerant in a multiplicity of narratives that weave together virtual and physical worlds. Touron, who also uses storytelling as a crucial part of his art, constructs narratives without specific beginnings or ending, and in this way become visual embodiments of the living process of storytelling. Together, their work tells a tale of our time: an ongoing story of growth, coexistence, and time.
Amy Lemaire is a multi-disciplinary artist and educator based in Brooklyn, NY. An explorer at heart, her work reveals an interest in currency systems, material language poetics and the production of histories. As an artist, Lemaire works with glass, photography and digital fabrication. Lemaire received her BFA from the School of the Art Institute of Chicago and her MFA from Pratt Institute. She was selected for residencies at the Brooklyn Navy Yard, NY, The Museum of Art and Design, NY, and UrbanGlass, NY, among others. Her latest exhibitions include Through A Glass, Darkly at The Delaware Contemporary, DE, River of Shadows at Heller Gallery, NY, Glass Age at Helena Anrather Gallery, NY, and more. Lemaire's work has been included in exhibitions nationally, and is in many private and museum collections.
Nicolas Touron is an artist and storyteller working in ceramics and painting. As an artist he creates engaging and complex work that, through concepts of movement, evolution, characters, and motifs, suggest larger narratives. Touron received his BA from the Gerrit Rietveld Academie in Amsterdam, the Netherlands, and his MFA from the School of Visual Arts, NY. In 2001, he was awarded a Fulbright Fellowship. His recent solo exhibitions include Objects & Surfaces at Sculpture Space NYC, NY, Parallel Universe at Detais Gallery, Paris, France, and Artificial Moment, ID Center, New York, NY. Touron's work has been featured prominently in the USA as well as internationally in art galleries, museums and public spaces. His work is in numerous private collections around the world.
SARAHCROWN represents contemporary emerging and established International artists and specializes in Postwar & Contemporary Art. SARAHCROWN's focus is scouting new talent, disseminating site-specific projects, and a critical discourse around the curatorial practice.
Contact
info@sarahcrown.com
SARAHCROWN New York
373 Broadway
New York, NY 10013
United States
Photos courtesy of the gallery