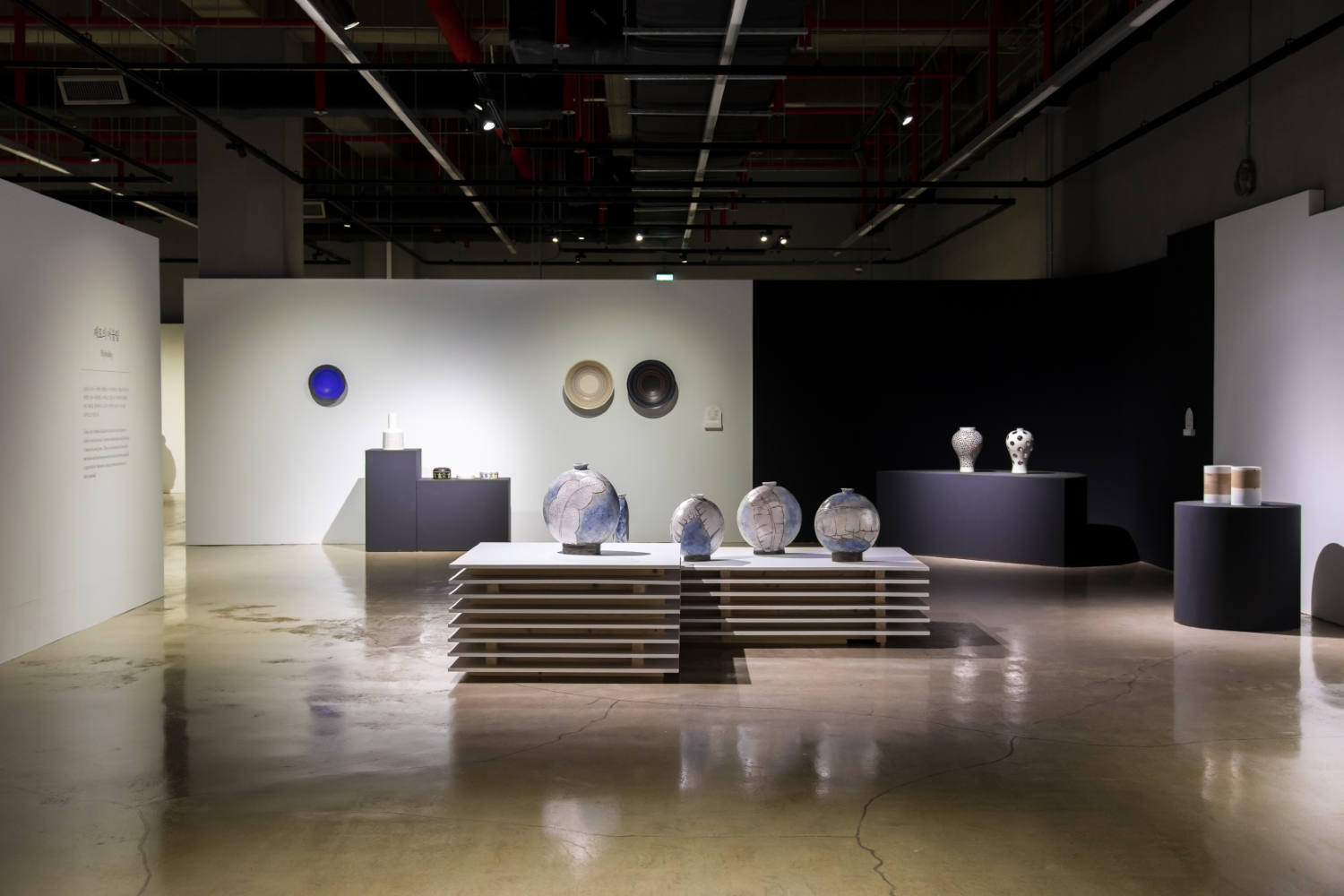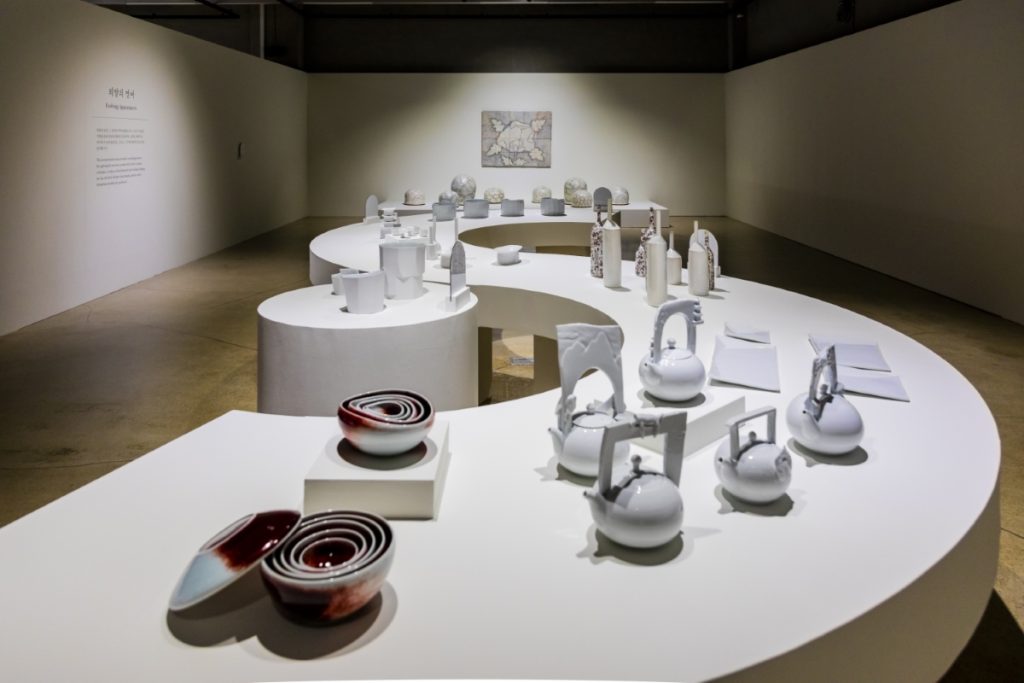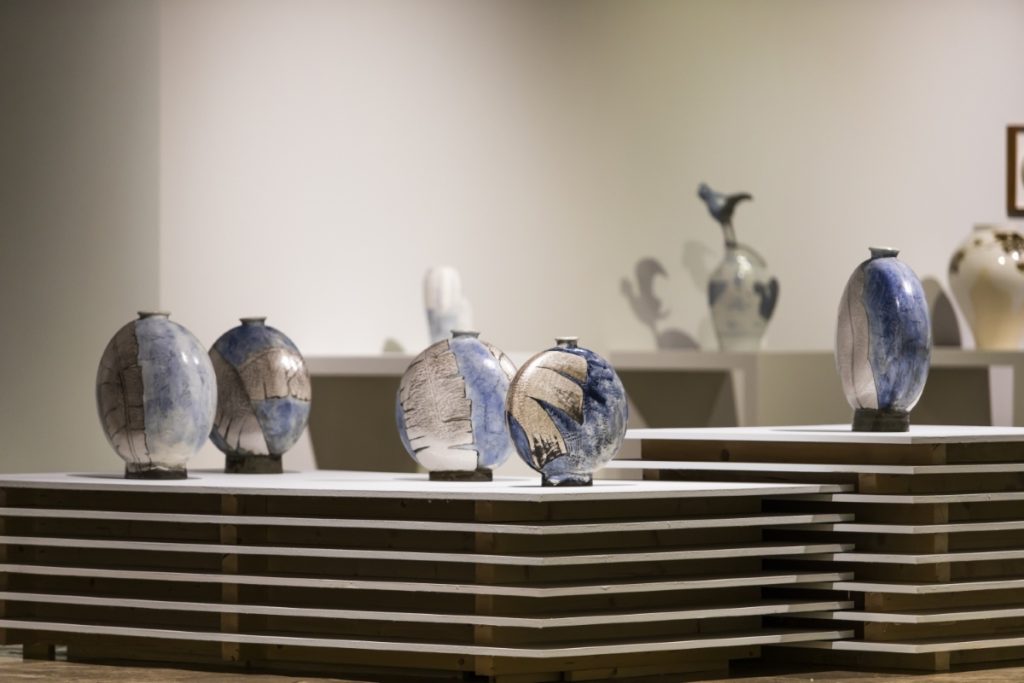 May 2 – July 2, 2023
The Korean Craft Museum and Seoul Museum of Craft Art, both prominent craft centers of Korea, joined forces to spotlight the diversity of contemporary Korean craft. The partnership began in 2022 with a special exhibition, White Porcelain: How Have We Humans Breathed Life into Soil?, hosted by the Seoul Museum of Craft Art on the outcomes of the White Porcelain Craft Box Archive Project. By juxtaposing the contemporary white porcelain introduced in this exhibition with buncheong selected by the Korean Craft Museum, this exhibition offers a broader perspective of 21st-century Korean ceramics. Curators from both museums, in the process of exploring an art form with which we believe we are familiar, discovered colors and textures that had long evaded us because of such perceived familiarity and lent an ear—for the first time—to the stories of artists. In doing so, they considered the possibilities that are embedded in the whiteness of Korean ceramics.
Buncheong and white porcelain, formats that were born in the Joseon dynasty and encapsulate the over one millennium of traditions and lifetimes of skill accumulated by their craftsmen, remain popular among Koreans and are regarded as highly-sophisticated crafts. For both, white serves as a decorative element as well as a backdrop for a wide range of colors and textures.
This exhibition is comprised of four sections, each representing a different figurative language, and features the creations of 22 contemporary artists. As suggested by its title, Anthology of White, it aims to serve as a three-dimensional "collection" of outstanding works of white porcelain and buncheong whose whiteness is their most defining trait.
From White: Surface and Color
The outlines of white clay formed with the artist's hands and the white clay that embellishes backdrops of grayish-black clay embody a world of possibility that is too vast to be properly described by the adjective "white." There is an infinite world of white that lies just beyond it, as can be seen through the ceramic art in this section.
A Storied Newness
Everything new is built upon the old. This section focuses on contemporary ceramists' interpretations of tradition—something which, in the world of ceramic art, is passed down from one artist to the next over hundreds if not thousands of years. It considers a new way, "A Storied Newness," of linking our past with our present.
Hybridity
Today, the ceramic art has two objectives that it hopes to achieve simultaneously: intrinsic advancement and hybridity of materials and genres. This section showcases how white porcelain and buncheong can be mixed with other materials to gain diverse functions, raising renewed awareness of their potential.
Evolving Appearances
This section focuses on an artwork's overall appearance. By exploring the outcomes produced by diverse ceramic techniques, it helps us think about the artist's hands shaping the clay, the lively rhythm of such hands, and the stories behind the artworks they produced.
These works, as well as the tangible outcomes collected throughout their production processes, as displayed for White Porcelain Craft Box, give us much food for thought in an age in which ceramics manufacturing is undergoing significant change: namely, the breaking down of the high barriers that existed between regions and genres. Everything in the exhibition shows how ceramists are altering and finding new uses for nature's materials—the age-old task of breathing life into clay.
We hope that the artworks you see today, all of which began from the most basic of materials and were shaped in diverse ways before being placed before us, give all visitors the excitement of discovering something new and much-needed emotional rejuvenation—like reading an anthology selected on a whim—in these final days of spring.
Host: Cheongju City
Organizer: Cheongju Cultural Industry Promotion Foundation
Contact
Tel. 043-219-1800
Korean Craft Museum
Gallery 3, 3Floor of the Culture Factory
314 Sangdang-ro, Cheongwon-gu, Choengjy-si, Chungcheongbuk-do
Republic of Korea