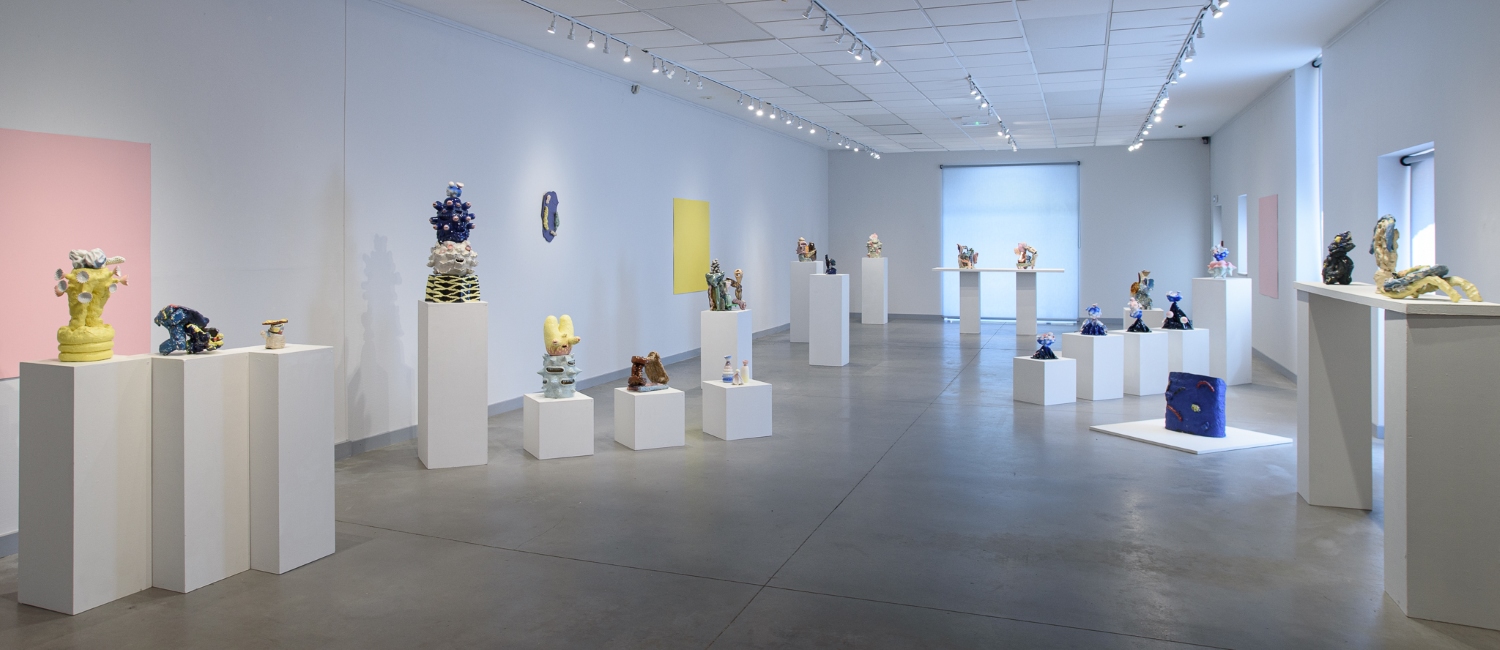 April 23 – June 26, 2022
Three ceramic artists living in different parts of France come together to share their sculptures in this playful show.
If the works of Patrick Loughran, Kartini Thomas and Marianne Castelly have similarities in their use of lush color and abstractly organic shapes, the creative processes of these ceramists are as rich as they are varied. Recombining alphabets of forms, sculpting and drawing in parallel, constructing and deconstructing, reveling in the modular, improvising with constraints, exploring the instinctive and the deliberate… methods which allow for an experimental and mischievous approach to ceramics. Awkward Beauty is an invitation to share in this creative experience and discover their new works.
Patrick Loughran – Bagnolet, France
"My sculpture usually takes the observed world around me as its subject, so I often assemble images or fragments, much in the spirit of still life: a collection of significant, interesting objects transformed by my own ideas, habits, technical skills and emotions.
Fragments, trophies, glaze tests, trials, errors, full plates, flowers, folds, stacks, mezuzahs, hives, bells, chimneys, nests, glands, handles, sprigs, coils, tendrils, tiles, traces, tubes, organs, hills, valleys, drips, stains, beads, toys, tools, coils, slabs, heads, tails, buttons, muzzles, houses, globes, baskets, temples, niches, hats, fish, fountains, igloos, steps, slices."
Kartini Thomas – Toulouse, France
In her ceramics and silkscreen prints, Kartini Thomas creates an opulent microcosm teeming with creatures and forms that are at once charming and unsettling. Inspired by her past work in biology, these playful creations are an invitation to experiment and approach sculpture like a mad scientist.
"Parasites, skin diseases, construction toys, island hideaways, and bubblegum are all sources of inspiration for my sculptural work. Clay seems to me to be the best material for exploring both the beautiful and the repulsive possibilities of organic forms. It's also a risky and moody medium, which means that one has to develop optimism and an appreciation for the ephemeral joy, like a dog perpetually enthusiastic about the next walk."
Marianne Castelly – Le Poët Célard, France
Marianne works exclusively in clay, which she sculpts, paints, deconstructs and reassembles many times as if she were working on a collage. Layers of glaze and stain overlap and mix. Her goal is not to show off a savoir-faire but rather to explore techniques that become invisible and give the illusion of simplicity.
"When I start a piece, I have no fixed ideas, only gestures, improvisation, perseverance and confidence in my instincts. There are all my old ghosts – prehistoric humans, mad painters, cowboys from the far west. I have a primordial desire for color. I am inspired by children, whom I love to watch painting, managing to be both impassioned and concentrated. There is playfulness and freedom, a search for a language with wild but intimate brushstrokes."
Tribute to Alain Déjardin
Concurrent exhibition
For more than 40 years, Alain Déjardin worked on a traditional technic called Lusterware, invented in Perse during the 10 century.
Using traditional forms and techniques, his work got its particularity with the design used on the pieces: floral and abstract drawings, sometimes even geometrical forms, were Alain Dejardin universes. With tonalities of blue, red, or yellow, the metallic oxides come to create new dimensions, to give sometimes 3D aspects, sometimes like a magical effect.
He has been an important figure in the comeback of ceramics in Giroussens, particularly with the creation of the internationally well-known Ceramics Market, created in 1990 and still organized every year since then. The exhibition presents the last pieces that he made.
Contact
giroussens.ceramique@orange.fr
Centre Céramique de Giroussens
7, place Lucie Bouniol
F81500 Giroussens
France
Photos copyright Jérémie Logeay