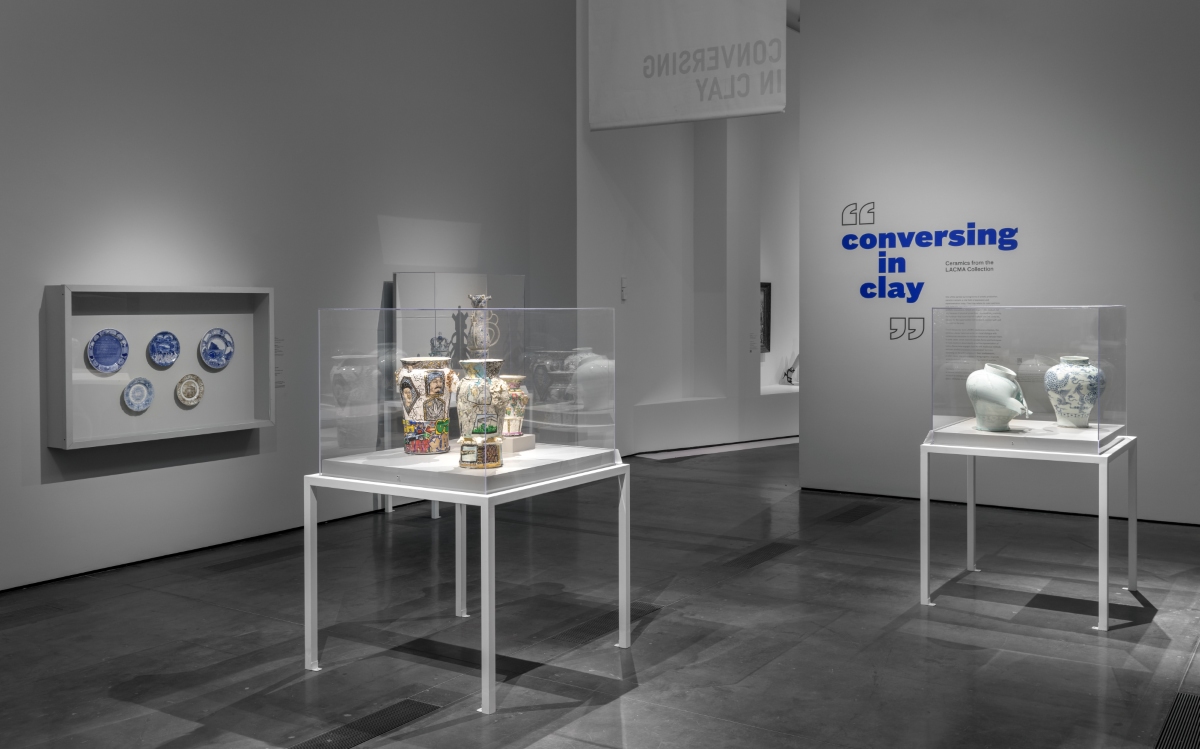 Conversing in Clay: Ceramics from the LACMA Collection is on view at the Los Angeles County Museum of Art
August 7, 2022 – May 21, 2023
The Los Angeles County Museum of Art (LACMA) presents Conversing in Clay: Ceramics from the LACMA Collection, an exhibition that places historical works in dialogue with contemporary examples to illuminate resonances in the creative use of the medium across time and space.
One of the earliest and best preserved areas of artistic production across the globe, ceramics remain a vital field of expression and experimentation into the present. Artists continue to be drawn to the medium not only because of its physical properties such as accessibility, plasticity, and permanence, but also for the opportunities it provides to connect with and comment on the past.
Conversing ln Clay explores the medium through 14 case studies, juxtaposing historical and contemporary works to illuminate symbolic meanings, technical achievements, and other connections between them. It examines how artists working today relate to international artistic traditions of the medium, both through deliberate references to the past and by engaging with aspects of clay's materiality that have inspired makers over the centuries. In some cases, artists explicitly update forms and techniques to raise questions about identity and the representation of history. Some have engaged deeply with traditional methods and even studied processes in established factories, expanding on the achievements of their predecessors. In other cases, new juxtapositions bring together disparate works to mutually illuminate meaning, material qualities, and approaches to making.
Drawn exclusively from LACMA's extensive collection, the exhibition also highlights many recent contemporary acquisitions, including works by Nicholas Galanin, Steven Young Lee, Courtney Leonard, Roberto Lugo, Mineo Mizuno, Elyse Pignolet, and others. The exhibition, which includes works from China, France, Greece, Japan, Hungary, Korea, Mexico, the Netherlands, the United Kingdom, and the United States, highlights the strength and diversity of LACMA's ceramic holdings.
"As curators, we are often drawn to contemporary works for their resonance with earlier works or techniques, and to historical works for what they might illuminate about the present," said Rosie Mills, The Rosalinde and Arthur Gilbert Foundation Associate Curator, Decorative Arts and Design, and Staci Steinberger, Associate Curator, Decorative Arts and Design. "What makes this exhibition unique are the groupings, which bring historical works from different centuries and continents together with an international selection of works produced in the 21st century to show how museums can both inspire and create connections."
"All the works in Conversing In Clay are drawn entirely from LACMA's permanent collection, including many new acquisitions that have not yet been exhibited at the museum," said Michael Govan, LACMA CEO and Wallis Annenberg Director. "We're proud to share these works in this dynamic exhibition that showcases the strength and diversity of LACMA's collection through ceramics."
To accompany the exhibition, LACMA is producing two short films, which will be available online and in the gallery. The films highlight the work of Shinnecock artist Courtney M. Leonard and Long Beach—based artist Elyse Pignolet. The museum will also be organizing a series of virtual lunchtime conversations called Conversing with Collections: New Spins on Ceramics featuring artists Gerardo Monterrubio on September 6, 2022, Julia Kunin on October 18, 2022, and Steven Young Lee on January 19, 2023.
Exhibition Highlights
Conversing in Clay: Ceramics from the LACMA Collection comprises 14 displays representing a wide range of ceramic materials, techniques, formats, and themes. This ceramic show places 21st-century international works in conversation with historical examples from different centuries and continents to illuminate symbolic meanings, technical achievements, and other visual connections.
Nicholas Galanin's I Dreamt I Could Fly (2013) is a dramatic installation of 60 blue-and-white porcelain arrows suspended in an arc as if in mid-flight. By choosing this material, Galanin relates the arrows' fragility to the impact of ongoing persecution on Indigenous people in the United States. The curators juxtapose it with an 18th-century Dutch tobacco jar to represent the ceramic tradition Galanin appropriates because the jar's depiction of Indigenous North American stereotypes also demonstrates the insidious normalization of the subjugation he decries.
Steven Young Lee's Jar with Tiger and Clouds (2019) is directly inspired by Korean 18th-century ceremonial jars like one in LACMA's collection. Lee questions perfection with his intentionally exploded interpretation, and addresses his dual heritage by playfully integrating the original 1950s form of Tony the Tiger (mascot of his favorite childhood breakfast cereal) in place of a traditional dragon.
Courtney Leonard's ABUNDANCE (Red Algae) (2016) is inspired by Indigenous fish baskets and fishing nets. Leonard equates the earthenware's fragility with the threat to traditional food sources resulting from environmental challenges such as increasingly abundant toxic algal blooms. The curators compare this ironically titled piece with a basket-shaped English 18th-century luxury fruit bowl that idealized the traditional crafts of the agricultural communities who grew abundant produce for the social elite.
In both LA: A Century of Gangsta (2018) and From My Cold Dead Hands: A Century of Gun Violence (2018), Roberto Lugo critiques mainstream American historical narratives by revisiting the 1876 Century vase, a version of which is in LACMA's collection. The imagery on the 19th-century porcelain vessel celebrates American independence and colonization. In this body of work, Lugo proposes more inclusive national imagery that celebrates the contributions of people of color and highlights the racism and violence that persist in American life.
Elyse Pignolet's Trophy Wife (2019) appropriates the familiar decoration of blue- and-white pottery to confront misogynistic stereotypes. Pignolet draws connections between the objectification of desirable women and coveted ceramics like the 17th century English Posset Pot in LACMA's collection. The artist invokes the names of prominent women, criticizing the overemphasis on women's appearance and marital status in contemporary culture.
All exhibitions at LACMA are underwritten by the LACMA Exhibition Fund. Major annual support is provided by Meredith and David Kaplan, with generous annual funding from Kevin J. Chen, Louise and Brad Edgerton, Edgerton Foundation, Emily and Teddy Greenspan, Marilyn B. and Calvin B. Gross, Mary and Daniel James, Justin Lubliner, Jennifer and Mark McCormick, KelseyLee Offield, Jen Rubio and Stewart Butterfield, Lenore and Richard Wayne, and Marietta Wu and Thomas Yamamoto.
About LACMA
Located on the Pacific Rim, LACMA is the largest art museum in the western United States, with a collection of more than 147,000 objects that illuminate 6,000 years of artistic expression across the globe. Committed to showcasing a multitude of art histories, LACMA exhibits and interprets works of art from new and unexpected points of view that are informed by the region's rich cultural heritage and diverse population. LACMA's spirit of experimentation is reflected in its work with artists, technologists, and thought leaders as well as in its regional, national, and global partnerships to share collections and programs, create pioneering initiatives, and engage new audiences.
Los Angeles County Museum of Art
5905 Wilshire Boulevard
Los Angeles, CA, 90036
United States
Photo captions
Installation photographs, Conversing in Clay: Ceramics from the LACMA Collection, Los Angeles County Museum of Art, Aug 7, 2022–May 21, 2023, photo © Museum Associates/LACMA
Unknown, 'Ruins, Merchant's Exchange', c. 1820-40, Los Angeles County Museum of Art, William Randolph Hearst Collection, photo © Museum Associates/LACMA
Unknown, 'The Tyrant's Foe, The People's Friend', c. 1840, Los Angeles County Museum of Art, Gift of the Hearst Corporation, photo © Museum Associates/LACMA
Paul Scott, California Wildfires, 2019, Partially erased "Beauty Spots of California" souvenir plate altered with in-glaze screen printed decals, Los Angeles County Museum of Art, Gift of Alison and Jeffrey Edelstein and CeCe and Bill Feiler through the 2022 Decorative Arts and Design Acquisition Committee (DA²), © Paul Scott, photo © Museum Associates/LACMA
Installation photograph, Conversing in Clay: Ceramics from the LACMA Collection featuring Nicholas Galanin's I Dreamt I Could Fly, Los Angeles County Museum of Art, Aug 7, 2022–May 21, 2023, © Nicholas Galanin, photo © Museum Associates/LACMA
Josiah Wedgwood & Sons, Ltd., Twig Basket, c. 1800-25, Los Angeles County Museum of Art, Gift of Dr. and Mrs. Denny B. Lotwin, photo © Museum Associates/LACMA
Courtney M. Leonard, ABUNDANCE (Red Algae), 2016, Los Angeles County Museum of Art, Gift of Néepa Wotáhõmon Hyde in memory of Dr. Loren G. Lipson, © Courtney M. Leonard, photo © Museum Associates/LACMA
Posset Pot with Crown Cover, England, Lambeth, c. 1685, Los Angeles County Museum of Art, Decorative Arts Council Fund, photo © Museum Associates/LACMA
Karl Müller for Union Porcelain Works, Century Vase, c. 1876, Los Angeles County Museum of Art, Decorative Arts Acquisition Fund and Museum Acquisition Fund (M.87.3), photo © Museum Associates/LACMA
Unknown, Jar with Dragon and Clouds, 1700-1800, Los Angeles County Museum of Art, purchased with Museum Funds, photo © Museum Associates/LACMA
Unknown, Hanging Flower Vessel. Momoyama period, 1573-1615, Los Angeles County Museum of Art, Gift of Camilla Chandler Frost, photo © Museum Associates/LACMA
Adam Silverman, Ceramic pot, 2007, Los Angeles County Museum of Art, Gift of Adam Silverman, © Adam Silverman, photo © Museum Associates / LACMA
Roberto Lugo, LA: A Century of Gangsta, 2018, Los Angeles County Museum of Art, Gift of Wexler Gallery and the artist, © Roberto Lugo, photo © Museum Associates/LACMA
Elyse Pignolet, Trophy Wife, 2019, Los Angeles County Museum of Art, Gift of Debbie and Mark Attanasio and Kelly and Steve McLeod through the 2021 Decorative Arts and Design Acquisitions Committee (DA²), © Elyse Pignolet, photo © Museum Associates/LACMA
Steven Young Lee, Jar with Tiger and Clouds, 2019, Los Angeles County Museum of Art, Gift of Debbie and Mark Attanasio and Kelly and Steve McLeod through the 2021 Decorative Arts and Design Acquisitions Committee (DA²)., © Steven Young Lee, photo © Museum Associates/LACMA